In a ramshackle shed, Rob McGowan drags his fingertips through a green blanket of totara seedlings that will one day be planted through the Waitao Valley.
Today, these baby giants grow with silent prospect in Rob's nursery on his small block of land on Waitao Rd. There you'll find native New Zealand trees and plants from throughout the country growing side-by-side, leaf-to-leaf.
Rob works for Nga Whenua Rahui, a unit within the Department of Conservation which provides funding for the protection of indigenous ecosystems on Māori-owned land.
The former Catholic priest, known to many as 'E Pa', is also a leading expert on rongoā Māori – a traditional Māori system of healing which incorporates the use of herbal medicines derived from native flora.
For decades Rob's researched and taught rongoā Māori in a bid to restore the practice in Aotearoa – from running wānanga (seminars) throughout the country, serving as an advisor to the Government and tribal authorities and appearing on several Māori television programmes.
"When weaving baskets they say the first one you make you've got to give away, because if you don't, you won't hold the knowledge," says Rob. "So if I make a beautiful basket and I give it to you, I have to make another. The person who gives away the most baskets becomes the best weaver."
Rob's fascination with native plantstook root at about age five. Just before starting school, Rob and his whānau (family) moved from his birthplace in Auckland to Glorit, a tiny place near Kaukapakapa where his Dalmatian grandparents lived.
"This old Tararā (Dalmatian) took us for a walk up Atuanui (Mount Auckland) one day and we came to a nīkaugrove," says Rob. "He went up to a small tree and pulled the branches off, leaving a white stalk in the middle. He cut it off and gave us a piece each to eat. It was really nice, I never ever got over that."
Soon after, the whānau travelled south to Whanganui where Rob grew up. It was east to Greenmeadows in Hawke's Bay where he entered the seminary, and once ordained, he returned to Whanganui for his first appointment as a Marist priest during the 1970s.
"By the time I got back to Whanganui as a priest, I had a knowledge of native plants, some knowledge of the medicine, and a real determination to learn," says Rob.
He was told his first job "wasn't so much the priest thing" but to learn Te Reo Māori.
One day Rob heard members of his parish making piupiu – a traditional skirt-like garment made of flax strands. Figuring that was where the kuia (female elders) were, Rob sought them out so he could listen in on their korero (speech).
One of the kuia needed someone to take her up the Whanganui River to collect flax for the piupiu.
Because he had a car, that someone was Rob. The kuia, Rua Henare, was Rob's first rongoā teacher.
"I only spent a couple of years with her. I learned about flax and piupiu, and she realised I knew a lot about plants. She would show me all sorts of things you don't expect to learn."
The bush along the Whanganui is very thick, lots of supplejack and the like. On an outing, Rob offered to cut a path with his machete, eliciting the response: "I'm alright boy, you just find your way".
"Next minute there she was up the hill. I reckon once I learned to keep up with her she started teaching me. When I did catch up with her, I watched very carefully. She must've thought: 'Oh well, this fulla's okay' I suppose."
The basis of rongoā is not plants but wairua, says Rob. You've got to heal a person from the inside first so you can heal them on the outside. Today – as it was in the past – when working with rongoā, the first thing isn't diagnosis or examination, it's karakia (prayers).
From there it's discovering the source of the sickness; why that person is sick but not the person next to them. Rob uses the example of someone who's been abused as a child.
"People with that hurting in their background are more prone to sicknesses including depression. "The first thing with rongoā, be it hundreds of years ago or today, is to heal the inside. From that wholeness, you then deal with the actual conditions."
It's not a magic pill, rongoā is best used to keep you healthy instead of waiting until you're so sick doctors can't help you. Hand in hand with Western medicine, Rob believes rongoā can be very beneficial, but only if it's properly understood.
"If you're on warfarin, which helps people with heart conditions, and take kawakawa as well, it makes the warfarin work much better because it's a natural blood thinner, so you can't take too much. It can get a bit scary."
Rongoā practitioners have profound expertise with plants, but they also rely heavily on local knowledge. If you're visiting an area where kumarahou, which can be used to soothe burns and wounds, is not present – what other plants can you use in its place?
"People don't have the knowledge anymore," says Rob. "We're at a stage where it's possible to revive it, another 20 years and it'll be too late. The people will be gone."
Rob remembers asking lots of questionsof the kaumatua when he'd go out picking plants with them.
They would tell Rob all he had to do was get to know the plants and they would tell him everything he needed to know.
A lesson he confesses took years to understand.
"You'd be amazed by how much I learned about kūmarahouby trying to grow it from seed, I could never get it to grow.
"One day I went past Whangamata to Onemana, there was a pine forest and all the trees had been milled, with the rubbish burnt off and replanted.
"The whole hillside was completely flowering with kumarahou, whereas there'd been none there before.
"So I came home, took my seeds poured boiling water over them and planted them the next day. Then my problem was what to do with the hundreds of kumarahou."
People think plants are to heal people, but their main role is to heal the land. Rob says if you heal and reconnect with the land, you find who you are, where you belong and re-establish 'mana' (respect).
"Mana is like clothes you wear. If I take my shirt off I'd get sunburn. The person walking around with no mana, they get hurt.
"Restore a person's mana you give the ability to keep them going forward even in a difficult world. That's the beginning of your healing, that's the foundation of the teaching."
Yet Rob can't teach rongoā to someoneuntil he's surethey can tell one plant from the next. "That's what the old lady told me back in Whanganui."
It's a huge issue and one he's encountered a number of times during the years, saying he knows of people who've cooked and drunk privet thinking it's karamū, or cotoneaster thinking it's kumarahou.
He remembers learning about Rua's dad, a famous healer. When her father died, the whānau decided Rua should hold his book of writings on rongoā, but she worried about it constantly and eventually threw the tome into the Whanganui River.
"She was so frightened that someone would read her father's writing, wouldn't know the plants and might poison somebody or even worse. That's the challenge; how do you teach people to use these plants for medicine when they're not sure if they've got the right one?"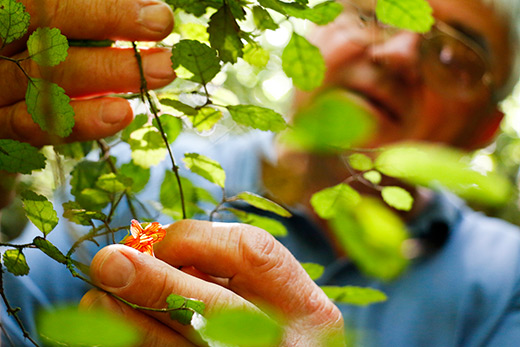 Rongoā Māori is taonga, it is treasured. With the knowledge comes responsibility of caring and keeping it safe. The student must be prepared to accept that responsibility and if there's no-one to share it with "oh well".
Rob says there is a real urgency throughout Aotearoa to try and wake up the knowledge of rongoā among people, while the knowledge is still there to be woke. He says that's the whole thing with running wānanga.
"They are to impart and wake up knowledge. People start remembering things their Nanas did, or told them, or things they saw happen. You take people in the bush, especially Māori, who say they know nothing but you'd be amazed how a lot of knowledge comes back very quickly."
But Rob is scared that before his time comes when he scuffles off this mortal coil that he'll have to ask himself: "Have I done a good enough job of passing on the rongoā?"
"It's happened to a lot of people, I'm just lucky I worked with some of those people. They've also told me how very important it is to be very careful, sometimes it's better to let the knowledge die. "This is because it can be dangerous if it's not properly managed.
"It's a Māori form of intellectual property," Rob says with a chuckle.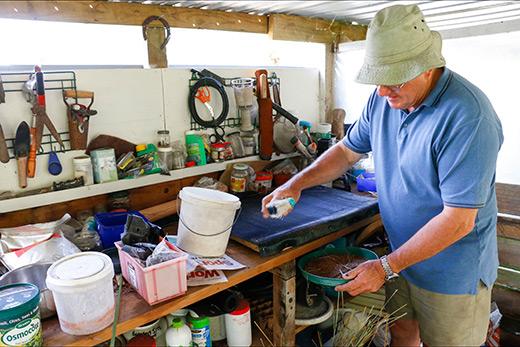 Subscribe to our weekly Newsletter
Email: