"We're being brave," says Jennie Rassell. Brave because Jennie and her colleagues Jeannette Moon and Dr Sandy Dinsdale are advocates of homeopathy – a branch of alternative medicine which has been much maligned.
"How can you prove you can help?" That's one of the most often asked questions directed at Jennie, Jeannette and Sandy of Tauranga Homeopathy.
They are three experienced registered homeopaths who aim to dismantle some of the mysticism, ignorance and cynicism about a branch of alternative medicine which is struggling to find its way.
"Unfortunately most medical people have little or no experience or knowledge of homeopathy, so it's not surprising the same applies to the public," says Sandy.
Homeopathy is based on an ancient system of alternative medicine created in 1796 by Samuel Hahnemann.
Sandy explains the homeopathic consultation is a holistic approach looking at the whole person, including symptoms, sensitivities, emotional challenges, past and present illnesses, accidents and operations, along with family medical history.
"The homeopathic remedy which matches the whole person is then chosen.
"Homeopathic remedies are made from plants, animal products, minerals, and occasionally drugs, and chemicals. Because of the way they're manufactured, by serial dilution and shaking, the remedies don't contain harmful particles or interact with conventional medicines, they're very safe.
"Of course we need modern medicine and the technological advances it brings. But there can be additional benefits from a healing process that honours the whole person as a unique individual."
Sandy says her book 'Medicine with Meaning, a Doctor Discovers the Healing Power of Homeopathy', shows homeopathy's true power to heal and its rightful place alongside conventional medicine.
Sandy is a vocationally trained GP with more than 20 years' experience and completed the National Diploma in Homeopathy in 2003. She views homeopathic treatment as complementary rather than an alternative to conventional medical care and encourages people to be registered with a local General Practice.
"Having gone to medical school, no one mentioned homeopathy," says Sandy. When she went to the College of Homeopathy in Tauranga Sandy realised the holistic approach looking at symptoms on a physical, mental and emotional level was similar to her GP training experience.
Jeannette (Jem) is a registered homeopath, with more than 20 years clinical experience. Jeannette is a core tutor at the College of Natural Health and Homeopathy and has promoted education and professionalism for many years.
Jem says homeopathy helps with flus, colds, menopause and teething. "The biggest thing is we're working with the medical profession, it's not replacing, it's not against."
"It's outside the medical parallel. But there's oceans of anecdotes," says registered homeopath and former scientist Jennie.
"It's too easy for homeopaths to keep their heads down and hide and only the people who know about it come to us.
"We know in the advertising world, there are words we're not allowed to use, one is medicine."
The experienced registered homeopaths share a goal to make homeopathy visible and accessible in our community.
Sandy says there's a long standing division between orthodox and homeopathic medicine and it is time for a change in our thinking.
"But first we need to know why homeopathy remains unrecognised and under utilised in current medical practice in much of the western world."
Sandy's book 'Medicine with Meaning' is available at Paper Plus Mount Maunganui and Bethlehem, Books A Plenty, Wild Herbs, Selene Homeopathics, and Magnolia Minerals.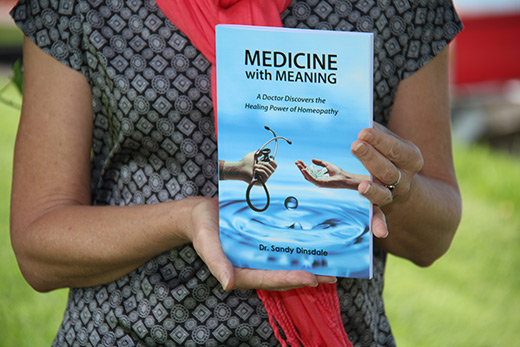 Subscribe to our weekly Newsletter
Email: