I was having a coffee at Grindz with Andy Belcher recently, and we browsed through his book of over 200 photographs.
Girls in red cat suits on the back of motorcycles, someone leaping from Auckland's Sky Tower, the Kaituna Jet, Targa Rally NZ, White Island, the Rotorua canopy zipline and Waitomo Caves - so many photos. Such wonderful wildlife, interesting people and happy moments that celebrate life.
"How long have you been doing this?" I asked. He grinned, and his eye lit up.
Positive and upbeat, it is his cheerful personality that originally drew me to want to find out what drives him. His photographs reflect a lively, vivacious nature, and his body of work is legendary.
We figured out it's been 35 years of photography, resulting in a huge and diverse range of stunning images from the worlds of tourism, travel, adventure and underwater.
Then I turned a page.
A stark photo confronted me. It was one of Andy sitting amongst a scene of complete devastation. His face and shoulders told a story of shock and trauma.
"I nearly got killed by a tsunami in Samoa," says Andy. "It struck on the very first morning of a holiday in 2009. I was running up the hill with the water sweeping up behind me.
"I met Brett Phibbs the day after, and we went down the coast. He said 'show me how you feel', so I sat there, and he took the photo."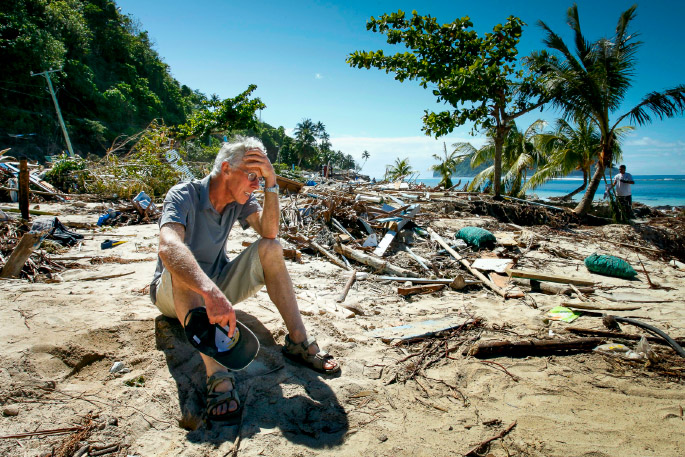 The photo subsequently appeared on the front page of a national newspaper.
Another dramatic moment was nearly drowning in Vanuatu.
"I was on a trip for Ocean Action Magazine and we'd heard there was a tame dugong across the other side of the island of Tanna.
"Some local kids came with us, and stood in the water splashing. The dugong popped up.
"The water was murky so I was encouraged to swim out to get better photos. I was only on a snorkel, not scuba.
"All of a sudden the dugong rocked past me. I got some shots and he came past again. I flipped over to head back and the next thing I knew he came up under me, throwing me out of the water."
Badly winded, Andy struggled to shore.
"I later heard that the dugong had taken a scuba diver down to the bottom, and quickly realised that could have been me. He was trying to get his own back I guess."
His photography started with underwater photography in 1984.
"I spent a week in Papua New Guinea diving, and the water was unbelievable. The coral colours were fantastic and something about that clicked for me.
"When I came home I bought an underwater camera. I didn't have a clue what I was doing, and I hadn't thought of becoming a photographer. I just wanted to take pictures underwater."
He's met challenges along the way with his 'can do' attitude. The ability to bounce back is huge for Andy, and his 'seize the day' approach to life was resonating with me.
"The only way to survive as a photographer is to be versatile. People phone up and say 'can you do this or that?' Even if I've never done it before, I've said 'of course I can'.
"When asked 'can you shoot digital?' I said 'yes'. I then put the phone down and went and bought a digital camera."
From photographing the Rena to many other projects, Andy has found that one job often leads on to the next.
"I had a call from TVNZ in the 1990s asking if they could use my photographs to promote funding for their new documentary.
"I said 'yes', but also asked if they needed a stills photographer for the documentary. Two months later they rang back, said they had the funding, and asked me to join them. I had nine months of sailing through the Subantarctic, Fiordland, Solomon Islands and Tasmania.
"I won first place in the British Wildlife Photographer of the Year awards, and went to England to receive the award from Sir Richard Attenborough. From that I had a call from Japan to go and shoot more projects."
In Fiji he met a filmmaker with a drone. Arriving home he bought himself one, of course.
"Basically, the way I like to work is to think outside the square," he says.
I disagreed somewhat, suggesting he's someone who likes to jump outside the square. Not surprisingly, I learn he completed 421 sky dives in his early 30s. He's written books, photographed weddings and run photography workshops. He tells anyone who wants to learn underwater photography to go and do 100 dives first, then come and see him.
After guest speaking at a Te Kuiti meeting, someone asked if he photographed adventure sports.
"I said 'of course I do'.
"He got me to photograph The Lost World Cave at Waitomo."
Dangling off the cave ropes was Andy's introduction to adventure photography.
"Once word got around that I was abseiling down into holes, that spread, and I got a reputation for doing speciality underwater, tourism and adventure.
"I've got to keep doing it and applying myself to making my images creative. I like to create stuff so people ask 'wow, how did you do that?'
"An opportunity can open something else, and you never know what can come from it.
"Always say 'yes'."
Subscribe to our weekly Newsletter
Email: