Steve Trott is a real Kiwi bloke. There's Tui posters of scantily-clad women on his garage walls and an aeroplane made from beer cans hanging from the ceiling.
But this man plays with toys, expensive toys. Ten prize model powerboats sit neatly on shelves inside the 51-year-old's garage. We're in his workshop, where he spends hours, sometimes hundreds of hours, building and tinkering with his toys.
"You'd start with a 10cc nitro-powered deep vee; they're probably only really capable of about 60km/hr on a really good day. They're primarily designed for rough water offshore-type application.
"Then it escalates to the other end of the scale which is a twin 90 outrigger hydroplane, which is well capable of 140km/hr. Then you've got everything else in between."
Some of the boats are replica of the real thing. "They're built to an exact one eighth of the full size boat," says Steve.
"You contact the owners of the boat and ask for some drawings, you get a full plan set and then you shrink it to the right size and then you just start cutting things out.
"Generally, the true-scale boats are hand-built because they're off a plan and they're very unique. "There's not another one in the world like it, unless there is another guy somewhere who happens to have built off the same plan.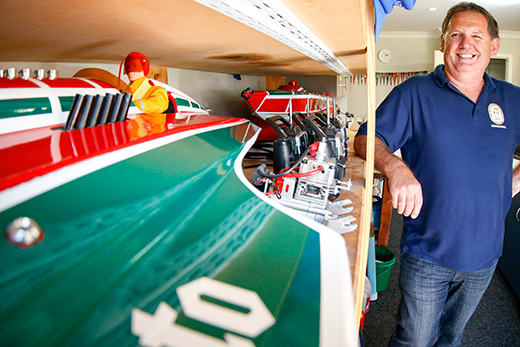 "I've moulded mine because I thought if I'm going to spend that much time on it and make that investment, my mould is my insurance policy. If I wreck the boat in a crash I want to be able to build the same one again."
Steve invests between 100-200 hours building each boat. A lot of time devoted and a lot of money invested.
"We bought one for my son second-hand for $150 and this one is about $7000," says Steve, showing The Weekend Sun his prize possession – a twin 90 outrigger hydroplane.
"Not many people would go that far, but I do because I've been to two world championships and I was within an inch of taking it out last time; and I thought: 'Next time I'm going to go back with the absolute weapon'."
The world championships are occasionally hosted in Australia about every 10-12 years. "The first time I went was 1993, then 2008, so we're hopefully coming up to the next one."
Then there's Steve's other toys – his motocross bikes. It was an accident that caused the 51-year-old Tauranga man to jump from one 'toy' to the other. Steve was 18 at the time, and it happened in Taranaki.
"I've been riding those things [motocross bikes] since I was about 10 and at 18 I had a bit of a prang and was pretty knocked around," says Steve.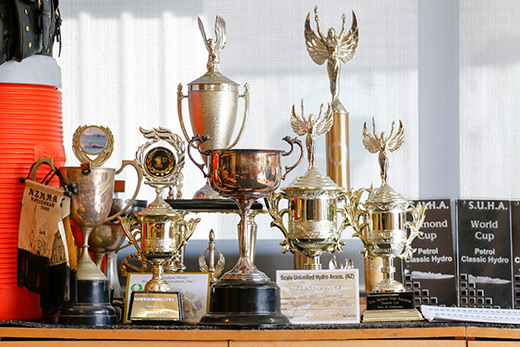 "When I was racing one day in Taranaki I didn't take a jump the right way and ended up going completely upside down. The bike came down on top of me and smashed my shoulder to bits and hurt my back and all sorts of other things." He couldn't walk for a while after a "really bad back injury".
Twelve months later Steve was back on his feet – but not on the bike – and he was walking through Pukekura Park in New Plymouth when he heard the noise and smelled the smells the motocross rider was so familiar with.
"I came across some guys who were racing powerboats and I thought: 'Well they're making the right noise and they go reasonably fast' and: 'Hey that's something I could do'."
So Steve joined Taranaki Model Powerboat Club and model powerboats fueled his need for speed while his body continued to mend.
At age 30, Steve moved to Tauranga with his boats – but had nowhere to race them. So Steve and a fellow model powerboat enthusiasts proposed to Tauranga City Council to clear the gorse-covered stormwater pond at The Lakes.
"When I first went there you wouldn't have known there was a lake there because the gorse right around the lake was way over head-high," says Steve.
"I went down there with a scrub-cutter and a chainsaw and basically cut a path down to the water. It was a band of gorse about 15m wide, so we had to cut a track through that.
"Then we started off just by taking the old lawnmower down and continuously mowing that track a little more at a time. We ended up clearing an area about 30m long."
Working with TCC and area developers IMF, Steve and his friend were given the okay to use the area for model powerboat events. With a new venue came more interest, and the duo and friends became Bay of Plenty Model Powerboat Club, which Steve is now president of. He is also secretary and life member of the New Zealand Model Power Boat Association.
Now the Bay of Plenty Model Powerboat Club's main race venue, the club – which now has about 30 members – has since held three national model powerboating events at The Lakes.
Set up at a picturesque spot with six numbered pit lanes and a pit area, the venue is still being developed into a high-class racing arena.
The club is trialing what Steve calls a NZ-first three-hour non-stop enduro race. "If that goes well, we're trying a 12-hour non-stop enduro race."
Racing one of his model powerboats at The Lakes during a photoshoot with The Weekend Sun, Steve is calm and collected as he fires facts at the reporter. His eyes are focused on the boat and his hands are tight on the controls as he speaks.
"It takes seven-eight minutes before it runs out of gas," states Steve, as his model boat reaches up to 90km/hr.
"With that speed you've got to be really accurate and careful. I've actually won a race with a boat flying backwards and upside down," laughs Steve.
Contact the BOP Model Powerboat Club on Facebook, or visit www.nzmpba.co.nz