Natasha Curd messaged me asking if The Weekend Sun could help with a family mission.
"My grandma's late husband, who passed away nearly two years ago, owned a framing shop. There are some family photos all framed that weren't collected and we have been unable to track down the families."
Many people in Tauranga will have known Trevor Garmonsway through his picture framing business Paramount Picture Framers on Cameron Road, Gate Pa. He died suddenly at home on October 26, 2017. Following his death the paintings, pictures and embroidery work which had been taken to him for framing, were unfinished and left in the shop.
Some framing was completed by Trevor's daughter and son-in-law, Judith and David Lunn, who are themselves picture framers. Judith and her brothers contacted as many people as possible to come to the shop to collect either their finished work or to retrieve their unfinished work.
Unfortunately many items were left at the shop and never collected. Following the closure of the business these were taken to Trevor's home where his wife, Jean, has stored them.
There are paintings, posters, embroidery work and family photographs, wedding, children and baby photos. One oval frame has a black and white photo which was probably taken more than 100 years ago. Also paintings and landscape photographs that people had brought in for framing. A tiger painting is signed 'V.N. Chapman', and there is a historic photo of the Mount area.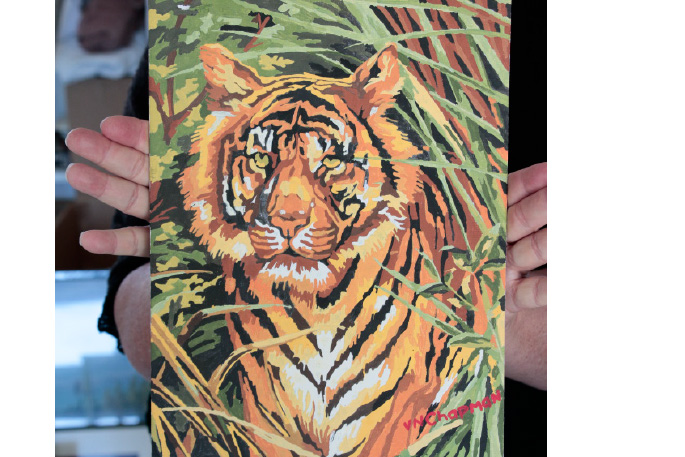 "We tried phoning people where we had phone numbers," says Jean. "Or my husband had left a note on the back of the painting that it was being collected, but it never was.
"I'm so reluctant to take it all to the tip. I'd rather return them to who they belong to or their relatives."
Losing Trevor was quite a shock to the family. He'd been running his business in Gate Pa for 20 years and was 81 when he died.
"He was still working full time," says Jean. "Before that he was in the NZ Fire Service for 40 years."
Trevor started as a volunteer fireman in Raetihi at age 15, later becoming a full-time fire officer and an Honoured Gold Star member of the NZ Fire Service.
"He bought the picture framing business when he retired from the fire service. He was amazing. Looking at him, you'd never think he was 81."
She has a wonderful photo of Trevor, mug in hand, apron on, standing in his workshop, smiling at the photographer. Clearly very happy doing the work he loved.
Some of the photographs and paintings left in the shop had dates attached but Jean thinks some of them may have been left in the shop for a while before Trevor died. It's hard to know.
"He kept good records," says Jean, "and so that was one of the things that we searched through at the time to try and find people.
"We found phone numbers but when we rang them, we found a lot of the numbers weren't working. Or if we left messages on their answerphone, they didn't come back to us."
The family left a notice in the shop window with a contact phone number for a period of time after Trevor's death.
"Trevor didn't have a Facebook page or website," says Jean. "He worked in the old fashioned way with pieces of paper and telephone numbers and talking with people.
"Most of his work came from people who had been going to him for a long time.
"Judith finished some of the work, and a few people came in and collected their photos.
"The shop was closed from the day that he died, and it took us a couple of months after the funeral to go in and clear it all out. These photos are the ones left over.
"It's more the photographs that I'm concerned about," says Jean. "Some of them are quite old, so it would be a shame if they don't go back to the families.
"Trevor was a family man and his family was so important to him. It was important that family celebrations should be remembered."
One of the eulogies at Trevor's funeral summed him up very well: "Trevor was born and died a humble man; honest, caring, the epitome of integrity and decency; all supported and enlivened by his sharp sense of humour. A strong sense of duty and responsibility underpinned his dignity and sense of honour."
Jean says Trevor would want the family photographs to be reunited with the relevant families.
If you recognise any of these photographs or the people in the photographs please contact Jean Garmonsway, phone: 07 579 1918 or email: pommyj123@xtra.co.nz
Subscribe to our weekly Newsletter
Email: