Janice Giles and July Alvos.
The artistic spirit of the late Valentine Scrivener has been brought to life again this week in a Tauranga shop window, showcasing her unique collection of clothing and millinery.
Born on Valentine's Day 1931, Valentine Templeton was raised by an adoptive grandmother during war time, lived an active life, and died on Waitangi Day, 2017 just before her 86th birthday.
Two years on, her daughters Janice Giles and Judy Alvos have decided that it's time to part with some of their mother's creations. I caught up with them at Tauranga's High St Boutique, a fashion shop that mixes the new with eclectic and pre-loved fashion.
Amongst the collection are felted handbags, over 40 felted hats and knitted berets, and an array of clothing all designed and made by Valentine. One of the felted hats won first prize in a Franklin Arts Festival Society competition and still has the winner's red rosette attached. There's so much colour and texture - a pink and purple quilted and appliqued jacket, a white felted jacket shot with gold strands – all showcasing Valentine's artistic flair.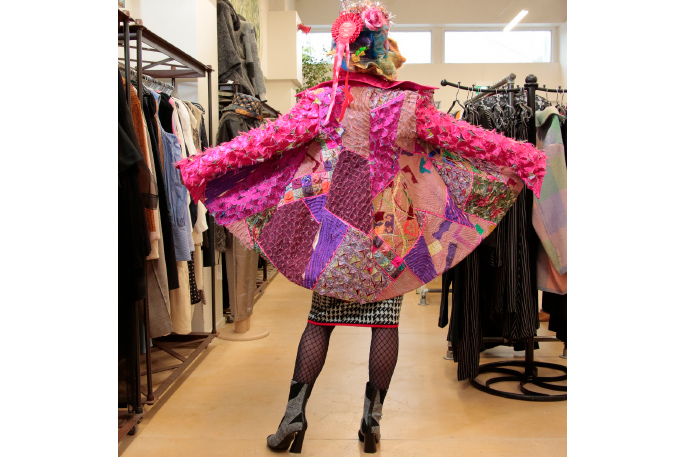 One jacket has been sewn from hand-made fabric.
"It's a work of art, never been worn," says Judy.
"She was always sewing, making and crafting," says Janice. "She was really interested in what was going on around her and had a go at everything."
Her daughters were strongly influenced by their mother, launching design careers of their own, with Judy establishing Expozay and Janice working as a designer for Moontide. Janice had a couple of shops in Auckland as well as a stall at the famous Cook St Market for seven years. She volunteers one day a week at Macandmor Art Gallery in Tauranga and works as an artist.
"My mum would have loved High St Boutique, because of the way that Mary Borman mixes the old with the new," says Janice.
"She was very innovative and interested in new techniques and ways of doing things. She had a great hoarding of artistic and creative resources.
"Mum was always very athletic. She was a netball player and later a national level netball referee. I remember her paragliding off the back of a boat. She'd play three games of 18-hole golf a week and she took up flying, going all over NZ in her tiger moth."
Captain of the Tauranga Aero Club for a couple of years in the late 50s or early 60s, Valentine made all her children's clothes, and like many women of her generation, did plenty of knitting.
"She held down two jobs, working during the day as an office manager in my dad's factory, and at night working as a cashier at the local picture theatre," says Janice.
"On weekends she went flying.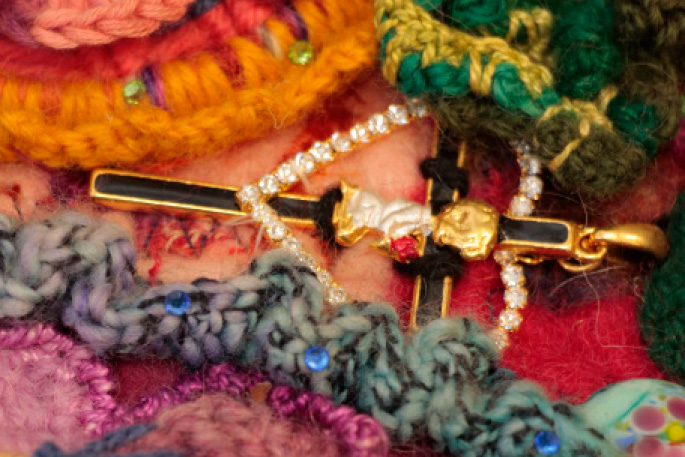 "She loved making fancy dress costumes, and always did the breast cancer march every year."
Valentine travelled overseas widely from the late 70s, collecting a huge stack of designer shopping bags. Later, she sewed these together, creating plastic jackets lined with calico. These are now on display in High St Boutique's shop window.
Subscribe to our weekly Newsletter
Email: