Over the last month or so, Nicola Bettley and her brother Stew Weir have been busy emptying their music shop at the top end of Devonport Rd.
If you haven't heard - Bay City Music is closing down, and there are two grand pianos, one drum kit, some violins and guitars left. Plus a lot of the bits and bobs that musicians need to restring and enhance their instruments and music.
This coming August would have marked 25 years of the music shop being a part of Tauranga's downtown retail landscape. The doors will probably be finally closed by the end of June. For Stew and Nic, and their parents Norm and Eleanor Weir, it's been a family tale of two cities and plenty of music.
"We don't quite make the 25 years, but we've had an amazing ride," says Nic.
She estimates thousands of guitars and pianos have sold over the years.
"We put a grand into the Chateau about ten years ago," says Stew. "I've also taken a grand piano to Russell, over on the ferry."
"In the old days, every weekend as kids we were in the car, delivering pianos," says Nic.
They've sold dozens of guitars in the last few weeks, as people flock in to secure one of the last few instruments at a bargain price, and enquire why they're closing down.
"Good time to move on," says Nic. "Time for a change."
"I grew up in a family business. My parents opened Weirs Music Ltd, a music store in Hamilton, in 1979, so Stew and I have been amongst it our whole lives.
"There was an opportunity in the early 90s for us to open in Tauranga with Technics Musical Instruments, which was a big brand name back then.
"We found premises in Hamilton St, and I opened the store in August '94."
At just 21 years old, Nic moved across from Hamilton to Tauranga to start a new life and run the new business. In 2000, she relocated the shop up to Devonport Rd, opposite Farmer's, and it's been there ever since.
"We had a great start coming in cold," says Nic. "Had some fantastic brands and family support."
Other music stores in town at the time were Tauranga Music World and Mayers.
"They were long-standing and well-respected stores. Tauranga Music World was taken over by The Rock Shop, I think about eight to ten years ago. And Mayers is now Music Planet."
"We've had great staff, great customers, great brands."
When Technics ceased manufacturing in 2000, Bay City Music formed a new relationship with another Japanese company, Yamaha.
"The store has been a huge business," says Nic. "There's been highs and lows with retail of course, in terms of changing times. People's interests have changed, technology's changed."
The Internet has opened up a new format for people to buy.
"And there's so much more information available for people to research and give reassurance, and obviously pricing.
"You could come in here once upon a time, and that was all the information you had. But that applies to every sector of society."
"We were lucky enough to have all the good years, and made the decision now as a family to have a new direction. We've had a wonderful time."
Nic and Stew's children have grown up in the world of music. She plays piano and Stew plays guitar.
Parents Norm and Eleanor moved to Tauranga about 12 years ago, with Stew running the Hamilton store until closing it in 2015.
"It was Stew the last ten years with Dad involved on a part-time basis," says Nic.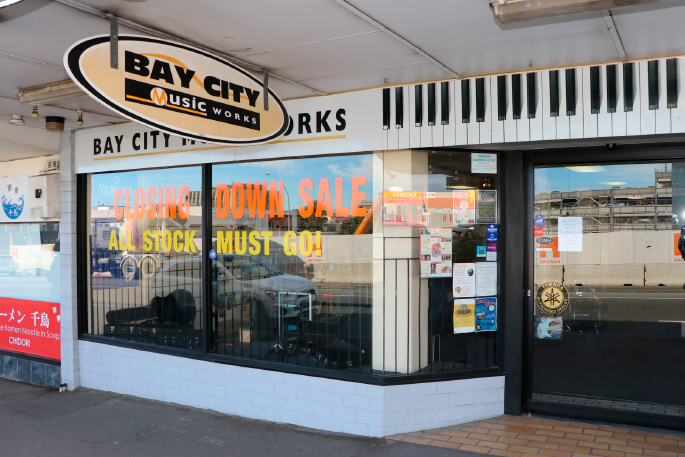 "Dad and Mum have been travelling a lot and are excited that we have the opportunity to do something different at our age and at this stage."
She's enjoyed the family environment with children and families coming in.
"We've had 80-year-olds who have always wanted to learn piano, come in and bought one. Wonderful stories.
"A husband wanted to buy his wife a grand piano for a significant anniversary."
Customers have returned each December to wish her a merry Christmas, and children have returned as adults.
"It's 'horrifying'," laughs Nic. "They buy their first guitar aged 11, and come back six foot tall in their mid-20s. It makes me realise how long I've been doing it for."
She has seen two and three generations of families being a part of her music store experience.
"I once had to fix a guitar for Graham Brazier from Hello Sailor," says Stew. "It was last minute before a gig. He gave me free tickets."
He shows me a photo taken about five years ago with his daughter and Hank Marvin. He thinks about other well-known musicians who passed through.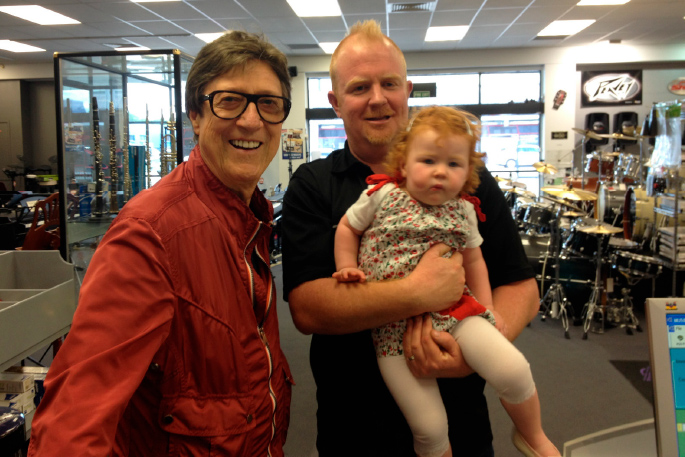 "Joe Satriani, and Paul Gilbert - the guitarist from Mr Big," says Nic.
"There's always been emergencies with musicians," says Nic. "Last minute fixes. In the old days, after hours, getting drum sticks, fixing something."
Soon, the doors that opened to thousands of musicians, children, families, schools and churches will close for the last time, as Bay City Music becomes a part of Tauranga's rich music history.
Subscribe to our weekly Newsletter
Email: