When we think about wine and winter, it's generally a cosy image of open fires, winter food and a glass of red wine that comes to mind.
But, for those of us who just don't love red wine (as much as we love white wine!), there are white wines which have real winter appeal too.
The reason we pair red wine with winter food is because red wines are generally fuller bodied and more flavoursome, and so are able to stand up to the richer food we eat in winter. Red wine tends to have a higher alcohol content too, which warms us. However, there are some white wine varieties which are also full bodied and flavoursome enough to pair nicely with winter food. An oaked Chardonnay is the obvious choice, but another interesting wine, and one of my favourites, is Viognier (Vee-on-yay). This White wine is right up at the top of the 'wines-by-body scale' along with Chardonnay. It originated in Southern France, and requires sunny regions with cool nights to grow well. So, in NZ Viognier is mostly grown in the Hawkes Bay and Gisborne regions. In Australia, Eden Valley (Barossa) and Adelaide Hills are Viognier regions.
Viognier is typically made in two styles…new oak aged which gives a rich, creamy taste, and neutral/no oak aging (made in stainless steel) which produces a wine with more floral and tropical fruit flavours.
At The Barrel Room we have two fine examples of Viognier.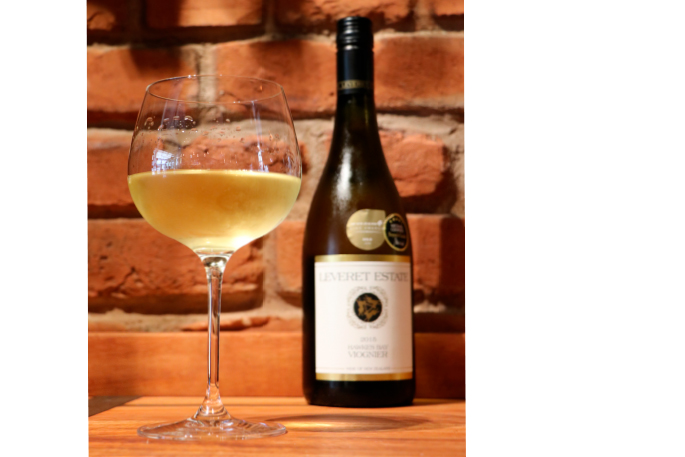 Leveret Estate 2016 Hawkes Bay Viognier – this wine is only produced when the fruit is deemed perfect enough. It has been matured in both oak and stainless steel. It has a lovely dried apricot and smoky aroma. It is full of peachy, nectarine flavour, with a hint of oak. Lovely and smooth. 14 per cent ABV.
Yalumba Eden Valley Viognier 2017 – this wine is wild fermented and matured in both oak and stainless steel. This wine has bright floral aromas and a fresh, intense fruit and spice flavour.
Both of these wines are beautiful food wines that complement spiced dishes.
When pairing foods with Viognier, dishes with almond, stewed fruits and aromatic herbs help to enhance the fruit flavours and creaminess in the wine. Viognier is great with roast chicken, curried chicken, or a personal favourite…Moroccan spiced chicken tagine with prunes and apricots.
Also perfect with a baked Brie with apricots!