While walking through Yatton Park in winter, it's clear something magical is happening. As I crunch along the frosty path, I hear squeals of laughter and excitement as a toddler bends down to pick something up.
Clutched in a tiny hand is a small rock with a painting on one side. On the back is written #Tauranga Rocks.
A quick search on social media, and there it is on Facebook – the Tauranga Rocks group, with over 4,000 members.
Tucked behind trees, on logs, and near park benches at Mount Drury, the Historic Village, Fergusson Park, Kulim Park and many other places, are small painted rocks, left hidden for someone else to find and hide again somewhere else around Tauranga. These pet rocks, now numbering hundreds, are being taken on car trips from one park to the next, accompanied by 'oohs' and 'aaahs' as they are found again and again.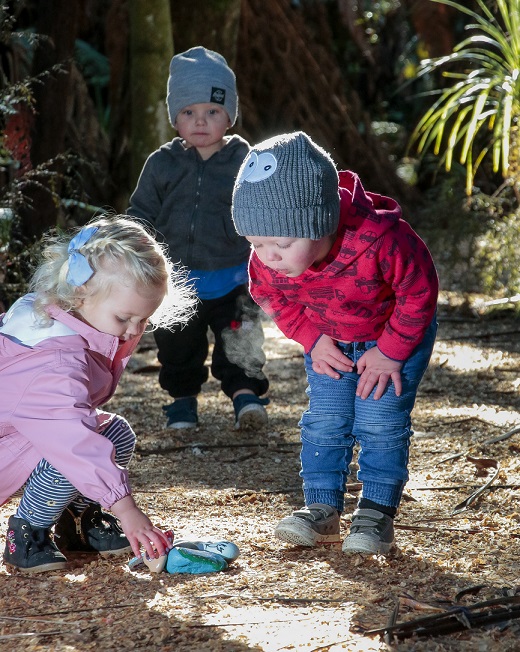 Katie McKoy, Moss Crawford Saunders and Theodore Burkhart on the bush walk at Tauranga Historic Village. Photo: Bruce Barnard
Lisa Pomare started the group in January 2017.
"I'd been down in Wanganui visiting my mum with my daughters," says Lisa. "Mum got a whole lot of rocks and paint out, and said 'today while you're visiting we're going to paint these rocks and then take them and hide them at the lake'.
"It was such a cool thing to do and so therapeutic, and we just sat around the table painting rocks and chatting. No one was on their phone for once.
"We took the rocks up to the lake and put photos of where we'd hidden them on the Wanganui Facebook page. Weeks later we were just excited, seeing when people had found our rocks and posting on the page.
"It was such a fun thing so when I came home to Tauranga, we decided to join here. There was no group so I thought 'how hard can it be' and started the page and it's just grown really quickly from there."
On discovering the online group, my niece Rachael McKoy soon found it was a fun activity to do with her toddler Katie, as well as her sister Christa Burkhart and my daughter and their cousin Ché Crawford, with their toddlers Theodore and Moss, respectively. Each mother also had a newborn. I met up with them at the Tauranga Historic Village.
"I was introduced to it by a friend, Stacey Marsh about four months ago," says Rachael. "She paints and hides the rocks herself, so she took us to the Historic Village one morning."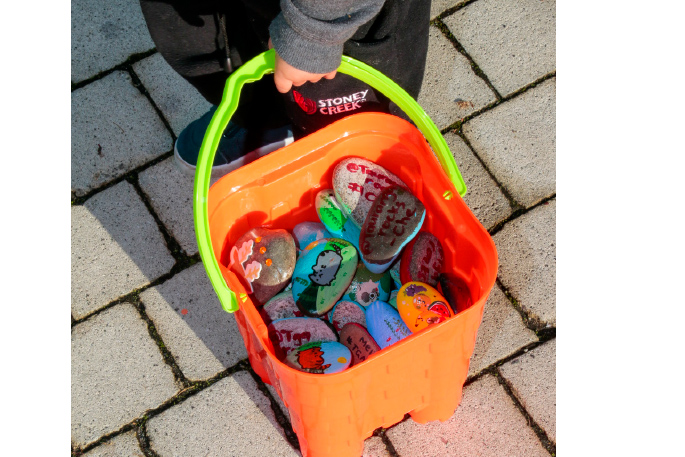 Moss Crawford Saunders with rocks painted by his parents Ché Crawford and Ford Saunders that are being taken to hide at Tauranga Historic Village. Photo: Bruce Barnard
"I joined up with the Tauranga Rocks Facebook page via an invite from a friend," says Ché. "What I instantly discovered was an amazing community of people who enjoy painting and hiding rocks for others, especially kids.
"Rock hunting has given us something amazingly fun to do for free. We get fresh air, we get to go to different parks, and the delight on the kids' faces when they find a painted rock is priceless. Sometimes we take a rock home for a couple of days and display it for them to enjoy, but mostly we rehide them so other families can continue to hunt too."
Moss's dad Ford Saunders is a keen participant.
"Ultimately I do it because it entertains Moss and we get to go out and about, and then get donuts," says Ford.
"Theodore just loves it, it's really fun," says Christa. "You get outside and be active with your child without realising you're being active. They burn off energy so have a good sleep.
"Painting is something that Theodore and I can do together at home. It keeps them away from the TV and it's a creative outlet for me too."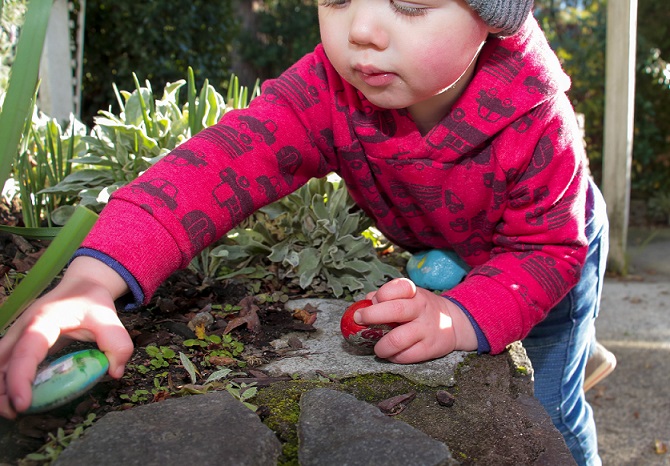 Theodore Burkhart finding a painted rock. Photo: Bruce Barnard.
"Katie straight away just loved it and was just so excited about finding these rocks," says Rachael. "We took them home and she played with them in the garden. It became the new fun game with 'hide the rocks' and then find them again straight away. So that kind of hooked us."
Monika Schaffner, who works at Octopus in the Piccadilly Arcade, started painting rocks in January.
"They had a Kiwiana-themed competition, so that's when I started painting rocks for the first time."
She hid them around the Tauranga Historic Village, keeping watch on the page to see when people found them and posted a photo.
She recently ran a challenge herself, hiding 50 of her 'cute'-themed rocks near the Tauranga Marina, sending messages to all those who wanted to participate in the rock hunt.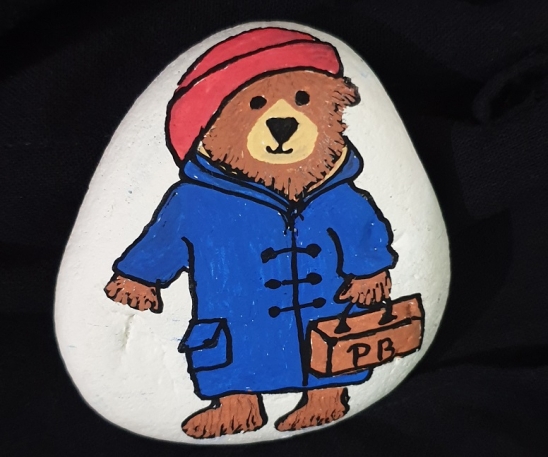 One of Monika Schaffner's painted rocks
Most of the artists use Posca paints which don't run or smudge, and source rocks from local rock suppliers.
"I really enjoy painting them because it's such a small canvas. You can finish one picture in an evening and then start fresh again the next day," says Christa.
The Facebook group, administered by Lisa, Kerry Dawson and Ollie Jade, has guidelines.
"If you find a rock, post a photo to the page, take a couple home, and re-hide the rest for someone else to find."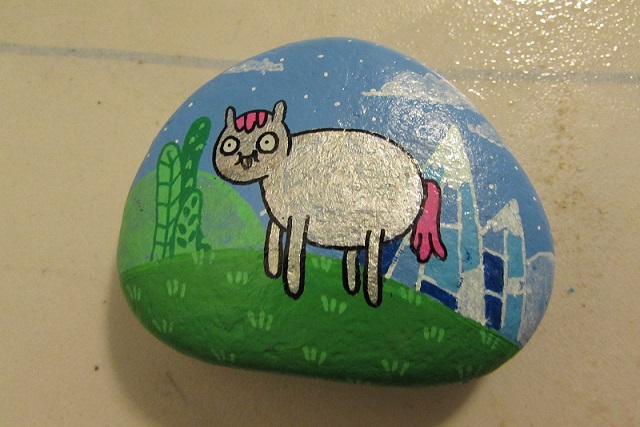 A rock painted by Ché Crawford
"This is a really great way for me to teach Katie, and raise her to be somebody who's giving, and community-minded and thinks of others," says Rachael. "To paint rocks herself so that she can hide them not for any personal gain, but just to bring joy to others."
I've painted a couple myself now and can only describe the final pink glittery mess as 'unicorn poop'. It's a start!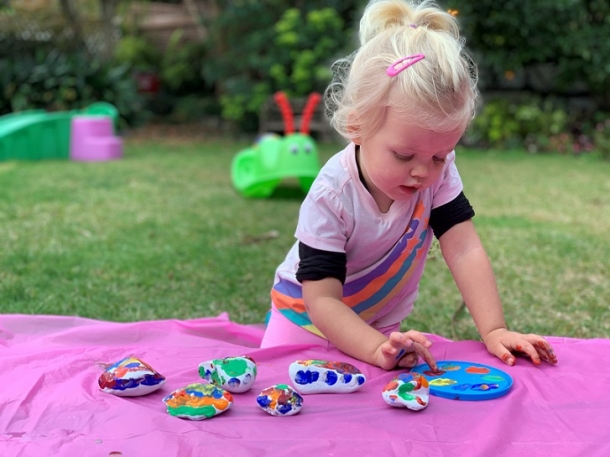 Katie McKoy painting rocks in her garden. Photo: Rachael McKoy.