It's said that if only people were immersed in the art of cuisine and gastronomy, we would all be wiser and better.
We'd also have that warm feeling of a satisfied appetite after indulging in the tastes and flavours of pleasant and delicious food.
The word gastronomy was derived from the French word gastronomie, coined in 1814 by Joseph de Berchoux as the title of a poem he wrote on good living. It's that time of year again to do some of that good living while doing justice to the cuisine and new flavours emanating from Tauranga's downtown restaurants and cafes.
For the whole month of August, Taste Tauranga 2019 is a scrummy, savoury festival of food in Downtown Tauranga.
With over 28 eateries involved, there will be an abundance of delicious food and beverages to taste. There will be events, workshops, tapas trails, a burger competition, speciality menus, and the opportunity to win a pair of diamond earrings from Peet Jewellers.
Events
In 2018 Taste Tauranga featured unique events from degustation menus, wine and cheese matching, a whisky night, meet the winemaker and much more. This was so successful that in 2019 the number of events has doubled.
"Last year we found almost all events and tapas trails sold out," says Millie Newitt from Downtown Tauranga. "Our businesses in the city centre realise the value of putting on an event that is unique and special.
"For August 2019 we have over 30 events taking place including the tapas trails, a real feature event of Taste Tauranga."
The month begins with a French wine and cheese night at Liquorland, followed by many other events including a Ladies' hour at Brooklyn Patio and Bar, the Tauranga Coffee Festival and a Double Dragon Noodle Night Market at Our Place, pub crawls with mini pub quizzes at each pub, a whiskey tasting at Macau Lounge, and wine tastings and a beer mini-festival.
Providore's Winemaker Peter Bartle will be expounding on the qualities of wines at The Hop House and local brewers from Funk Estate, Slab Brewing, Fitzpatrick's Brewing, Rocky Knob Brewing and Lumberjack Brewing will be part of a weekly series at The Barrel Room, introducing attendees to the best craft beers Tauranga brewers have on offer.
The Syd Workshops at Our place will delve into the delicious textures, aromas and tastes of homemade pasta. Learning how to make fettucine, gnocchi, ravioli and bowtie pastas could be a perfect date night out.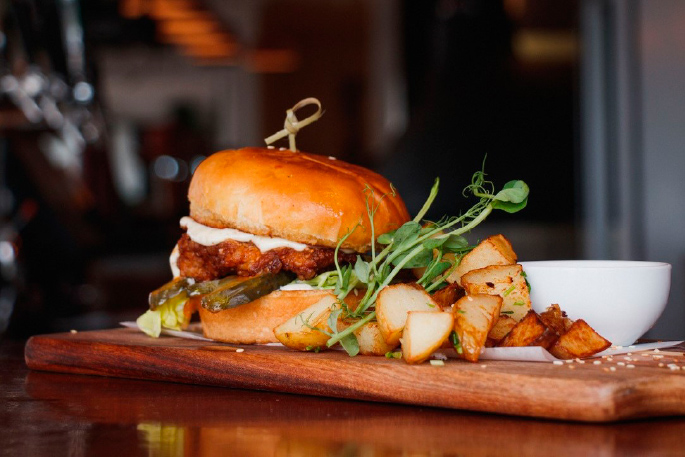 Vote for the best burger
"We've introduced a burger competition this year," says Millie. "There are over 13 businesses participating. You will have a chance to vote for your favourite burger by filling in an entry form, plus go in the draw to win dining vouchers to the value of $300!"
The burgers look amazing. The Brooklyn Burger is buffalo chicken, McClure's pickles, aioli with a side of herb potatoes; CBK has the Dr Cheese burger - charcoal smoked prime beef patties with grilled cheese, a branded bun, relish, tomato, tangy sauce and finished with gooey liquid cheese.
Over at the Loop Deli Café is the Angus beef burger, and Cornerstone has a 220gm NZ ground beef patty stuffed with mozzarella cheese and an egg yolk, served with tomatoes, lettuce, gherkins, crispy pancetta and truffle mayonnaise on a sesame rosemary bun. The Full Monty Python burger at the Crown and Badger comes with 200gm of Angus beef brisket with bacon, crumbed camembert, fried egg, caramelised onion, cheddar cheese, sauce, beets and salad in a toasted Volare brioche bun topped with a pickle.
There's burgers with kumara croquettes, mushroom duxelle, ketchup, mustard and aioli pearls and burgers laced with Marmite, bacon, provolone cheese and fried pickles, and served with creole fries. And a coffee and cake special at Robert Harris Café in Willow St.
There's plenty of quizzes going on around town too, as part of the Tauranga Pub Crawl. Sample three Tauranga pubs, each with their own mini pub quiz, from 3pm-8pm on Tuesdays to Sundays, and 12noon – 8pm on Fridays to Sundays during August.
Tapas Trails
The Tapas Trails will certainly disrupt the hum drum of winter providing an evening of sensational flavours, divine cocktails and a great night out with friends.
Running on two Tuesdays, one Thursday and two Sundays during August, the Tapas Trails take the appreciative diner on a journey of three to four iconic restaurants and bars. Tuesday's trail starts at Oscar and Otto, then on to Macau, then next stop Nomad Food + Wine, ending up with dessert at Clarence Bistro. The Thursday Tapas Trail is RYE Bar & Grill, The Phoenix and Lone Star. The two Sunday Tapas Trails start at CBK Craft Bar Kitchen before heading on to the Cornerstone Bar & Eatery, then The Crown and Badger, finally ending up at The Hop House.
"The Sunday one is crafty, based on quality beers," says Millie. "The Tuesday Tapas Trail is full of spectacular flavours; and Thursday has a real street food - American cuisine feel. Each Tapas Trail has its own unique character."
Specialty Menus
Many of the restaurants and bars also have specialty menus for August, from Tapas Thursday at Macau Lounge where people can enjoy delicious Asian fusion bites to Takara for a seven-course dinner special of authentic Japanese dishes. And there's an added surprise at Barrio Brothers Tauranga with their delicious Taste Tauranga Pineapple Express set menu where anyone who orders it will go in the draw to win two full mountain ski passes.
And what better way to celebrate winter than head over to Alimento Eatery which will be serving up a seared lamb rump with roasted winter vegetables, parsnip puree, red wine and plum jus; served with a red wine to match the dish.
Subscribe to our weekly Newsletter
Email: