As a child, at the start of spring, a little Yvonne Perry would bring bunches of flowers from the garden – and the neighbours' no doubt – and insist on arranging them in Agee preserving jars around the house.
"I recall how proud it made me feel to brighten up the house and see the family smile," says Yvonne, who as owner of Neptunes Linen Chest & Gifts at the Mount now puts flowers into designer vases.
Having bought Neptunes from Jan and Lyndon Tong, who founded the store at 188 Maunganui Rd in 1980, Yvonne says the store was already a renowned linen store.
And she's continued to develop and establish the business with a successful website and is now clearly visible on social media, while still maintaining the great face-to-face customer service.
For newcomers it's possibly the best-kept boutique secret, awaiting your discovery.
New to the retail and linen trade, Yvonne lived and worked in Morrinsville and once the children moved overseas she was looking for a new challenge.
"I was always keen to have my own business," says Yvonne, who has always held an appreciation for quality linen.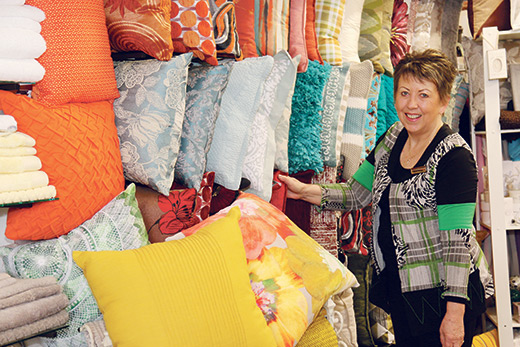 Yvonne happily embraces change, but holds true to fine quality and sincere customer service.
There are many styles and designs in bed linen, comforters, cushions and throws, table linen, baby bed linen, devine giftware as well as plush towels, bathmats and face clothes to bring style to the home.
Inside Neptunes, a warm, fuzzy feeling takes you to a place of comfort. The iconic bed sits front and
centre, lovingly dressed in a different and luxurious design each week.
This week showcases Bianca Lorenne in neutral and bright red shades, with towels to match and a posy of red roses. Snuggled in front is a flower-patterned ottoman with spiralled legs. The bed always looks cosy and inviting.
Yvonne's closeknit co-worker Sheenah Baker says the bed has been a 'must-see'.
"I can always remember being keen to visit Neptunes and check out the beautiful bed on holidays to the Mount."
At left the store bursts with every colour of cushion imaginable. At right a window display features a sumptuous duck-egg comforter with complimentary towels and gifts to complete the look. Neptunes also offer an extensive range of NZ-made Alpaca and Mohair throws that compliment any decor.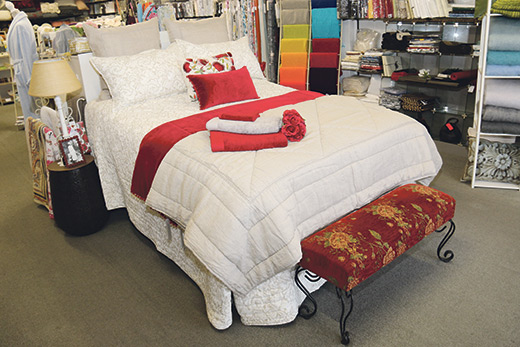 Some items take you back in time, such as a stand of beautiful hankies and a selection of handcrafted doilies.
Yvonne and Sheenah pride themselves on friendly informative service backed with a sound knowledge of linen and textiles.
"We often suggest customers bring a sample or an item for colour and possibly a photo to help get the ball rolling with the selection process. Finishing touches are our specialty."
The ladies' fathers worked together decades ago at Morrinsville's butter factory, and now their daughters work together. "I think it's divine intervention," says Yvonne.