What do you look forward to doing on a Friday or Saturday night? A social drink with friends? A night in front of TV? Or even just a night off from regular duties with an easy takeaway meal?
Not so for one man. Every third or fourth weekend, at about 7pm on either a Friday or Saturday night, grandfather-of-12 Max Brew packs a small bag with warm clothes and drives the 83km from his home in Morrinsville to Tauranga. He heads to the Get Smart building at the Historic Village to meet up with the other volunteers in his team – Carol, Jeanette, Duncan, Taro and Easter.
Max and his team are one of seven groups which dedicate one night every third or fourth weekend to supporting the young people of Tauranga, who might need help during the course of their night out.
Earlier in the day another Street Help volunteer has stopped by Raymons Pies in Judea and BakeShack on Hewletts Rd to collect pies donated by the local bakers. The team heats the pies in the kitchen at Get Smart, ready for their night out – whatever that might shape up to be – and loads up the van.
The night I joined one of the teams, our first stop was some way down Cameron Rd, where four girls in their mid-teens were planning on spending their evening out roaming the streets – something they say they regularly do.
Perhaps home is not a good option for them? Their stories are similar – blended families and frequent moves, an unstable environment at home with different people coming and going.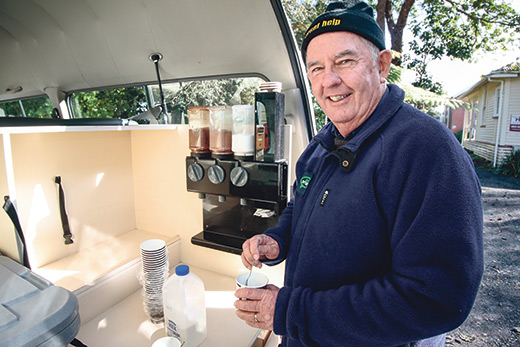 The girls appear confident but there are some cracks and it's easy to see that underneath they are really craving some stability and consistent direction in their lives. We have a long chat with the girls and they seem happy that someone is interested in them and their welfare.
A young boy, aged nine or 10, comes out from a house across the road and asks for a pie – it's about 9.30pm but he's hungry. He's back about 10 minutes later asking politely if he can have a couple more pies for his cousins, who are casually hanging around the front yard watching the Street Help van. Soon after he's back again with one of the cousins to see if Mum and Dad can have a pie as well. They are happy to stop for a chat with the Street Help crew, and all seems okay in their house, which is home to a big extended family. It's just that money is tight for everything, food included.
Then it's in to Tauranga CBD, to be greeted by throngs of mostly 18-23-year-olds heading in for a night of action. It's a well-oiled machine – the donated pies, along with pizzas from Domino's Bethlehem are eagerly devoured by mostly young people for whom a night out in town often didn't have food factored in. Spirits are high on the streets as they pour into the city centre, having pre-loaded at home to get the best bang for their buck.
The Street Help van is well-known to many and there is no shortage of takers for pies, pizza and sometimes a coffee or Milo. There is a heavy police presence on the streets – at least a dozen uniformed officers stationed along the road outside the bars, and also roving police cars. Clearly they are keen to firstly deter and then stamp out any trouble before it escalates. However, the atmosphere is largely good-humoured. And while there are lots of young people for whom walking a straight line would be a considerable challenge, tonight we see no-one who is completely inebriated. It's also good to see that the young people are in groups, and look out for each other when necessary.
There is a steady flow of young people calling in to the Street Help van. The pies and pizza are all gone by about 11pm, but people are still keen to stop for a yarn. There's a few regulars who look out for the van every week – streeties who are grateful for something to eat and a cup of coffee, and appreciate a quiet chat with the teams, who they have got to know well. One girl has taken a nasty tumble from her killer heels and has blood pouring from her knee, so she's patched up and sent away. Only to return half an hour later having come a cropper a second time. Those heels were very ambitious!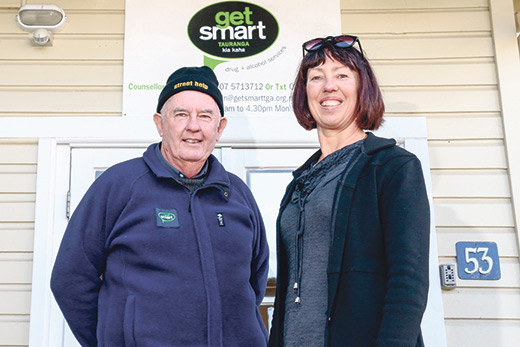 Often the van will give a lift home to young people who have got separated from their friends, or who just need to remove themselves from the situation they are in. There's never a fixed schedule – the team will help anyone who needs it, and their night only finishes when it looks like the evening's revelries are coming to a close for most. That might be 2.15am, or it might be 5am if there's a big event on in town like the One Love Festival in February. Only after that does the team head back to base, clean up the pastry flakes and spilt Milo from the back of the van, and finally head home to their own beds.
For Max that means heading back over the Kaimai Range to Morrinsville, sometimes only getting his head on his own pillow as the sun comes up. It's a trip he's made regularly for the last 25 years, since he moved to first Paeroa and then Morrinsville from Tauranga, where he and his wife had signed on as volunteers at the very start of the Street Help van in 1991.
Max has, of course, seen many changes during that time. "In the early days there was such a problem with young children out on the streets. One night we took home 68 kids during a period of four hours.
"Some of their parents thought they were at home in bed but they were climbing out the windows and heading into town."
He's pleased to see the drinking culture among young people has improved in recent years, with not as many young people in town, and the Police getting on top of the boy-racer problems. But for Max this is a calling from God – to provide a safety net for the young people of Tauranga, and he's not about to hang up the van keys any time soon.
Max and the other volunteers on the Street Help van are committed to working alongside the Police and other agencies to try and have a positive impact on the community of Tauranga in an effort to keep children and young people safe from the harmful effects of alcohol and drugs.
The Acorn Foundation has supported Get Smart Tauranga Drug and Alcohol Services regularly since 2009. The Street Help van is run entirely by volunteers, many have been serving in this way for 10 years or more.
Get Smart has its own endowment fund with Acorn. If you would like to support the work they do, you can make a contribution of any amount to their fund. It will be pooled and invested, with the investment income used to support the operating costs of Get Smart Tauranga Drug and Alcohol Services every year.
Subscribe to our weekly Newsletter
Email: