Photo: Gerard Carmichael.
I first met Baz Mantis when Marilyn Collins-Smith floated happily past me last October, Baz beside her, both dressed up 'fab'. I snapped a blurry phone photo, capturing the moment.
Later I realised they are also two of the people behind Xanthia, the 2019 Tarnished Frocks & Divas show.
Marilyn, or Maz as many of us know her by, is a sparkling creative talent and it's quite marvellous to see she's found Baz. He's at the helm of Musicworks Tauranga which seems a perfect role, given he's also a musician, recording artist, audio engineer, music video director and producer.
They met while working as volunteers at an event at The Incubator.
"Marilyn turned up on the crew one evening," says Baz. "I didn't have a chance to speak to her - she was busy doing her job and I was doing mine.
"At the end of a second gig in April 2018, I mentioned that, 'I wish there was an after-party somewhere', and she said 'Oh, I know where there's one'."
They ended up talking for hours and quickly Baz realised he'd met his soul mate.
"She's just awesome. The most incredible woman on every level. It's been fantastic. Just the other day we had our 18th month anniversary."
Within a couple of months of meeting, they were both working on Tarnished Frocks & Divas, Marilyn as the director and principal writer, and Baz as musical director, sound engineer and contributing writer.
"It's all consuming. We'd wake up at four in the morning so many times and be talking about the show and where it could go.
"Sundays we'd meet at Tauranga Boys' Gymnasium. I'd set up my PA system, Marilyn would be doing an amazing job, directing and choreographing the walks.
"It was eye-opening and gave me a completely new appreciation of what it takes to bring a production of that size and scale to an environment as challenging as an arena."
Although Marilyn has a long history in theatre, Baz hadn't been involved before. A local Tauranga resident for about 14 years, Baz was born in Auckland, moved to Christchurch in his 20s, and arrived in the Bay just before the first Canterbury earthquake.
"I was expecting to be landing in the central hub of it all here, in terms of the music scene, having been in it while in Auckland and Christchurch, but found Tauranga still had a way to go to develop."
Since arriving he has made music videos, photographed bands and gigs, and recorded and released albums, such as 'The D Day Saints' in 2012.
"That got me networking with a lot of local musicians, and I became a fan of bands you don't really hear about through mainstream media."
He formed a Black Sabbath tribute band which opened for Hamilton band Knightshade in Totara Street in 2015, and has seen the Tauranga music scene develop over the last 14 years.
"It's still got a way to go, but just being part of it, helping in some way is a worthwhile occupation."
At Musicworks Tauranga which is in the same location as the predecessor business Bay City Music, the slogan is 'musicians helping musicians', which Baz says is the whole ethos behind the company.
Prior to the retail manager role starting in July, Baz was retail manager at Tauranga's St Vincent de Paul, and has previously been manager of the Christchurch City Mission, helping people.
"The Musicworks role is like the dream job. I've done both retail management and music, but never brought the two together."
Prior to his Vinnie's role Baz had worked as a court security officer, hospital orderly and security guard.
Discovering the band Kiss as a five-year-old was Baz's inspiration to follow the path into a world of rock and roll. All the makeup, costumes and pyrotechnics proved unforgettable.
His first album was Pieces of Daylight – "It was worlds away from rock, it's like a new-age relaxation/meditation album performed on electric guitar."
His next band Legion of Dissent, blended fast paced vocal delivery with funk and metal. After that came Ten Ton Terror.
"It was a hard rock band. We released some music videos, never played live unfortunately.
"Then I was asked to audition as a guitarist for Electric Universe, made up of Shane Davies, Patrick Hawkins, Jeff Nilson and Michael Furness - all well-known identities in the local music scene. I was blown away when they invited me to audition."
Marilyn is also a backing singer in the band which has produced an album and five music videos, three of which Baz has directed.
"We're busy recording our second album at the moment, and aiming for some great live shows in 2020."
He and Marilyn plan to record their own album under the name of The Grand Bazaar.
"It's going to be a bit avant garde, not so commercial."
He loves the process of learning to play a musical instrument.
"As long as you can move your arms and hands, you'll have an interest and a creative involvement which will stay with you until the day you die. That's one thing that people can't take away from you. It's always within you and you can enjoy it by yourself or with others for as long as you're alive. Music gives you that.
"Music's just awesome."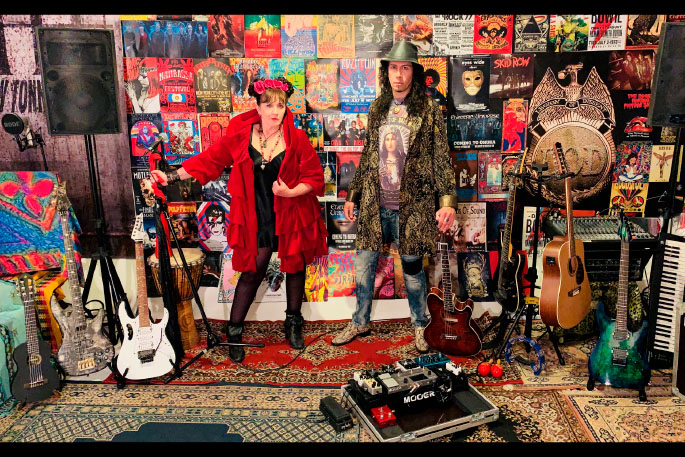 Baz & Maz
Subscribe to our weekly Newsletter
Email: