I've discovered that the charity shops around town have much more than just pre-loved items. Often it's possible to find unused treasures, once bought and now extravagantly discarded.
You can while away an hour or more discovering the quirky, vintage, retro and sometimes amusing oddities. Even a valuable collectible can be snapped up by the savvy shopper.
I went for an exploration of Greerton's Waipuna Hospice charity shop. It's one of six shops that Waipuna Hospice run across the Western Bay of Plenty and Tauranga regions. Being Christmas I wanted to find something unusual for my aunt.
Wandering around it was astonishing to see the displays and goods for sale. A tie stand, shelves of puzzles, furniture, art, crystal, glassware, Christmas decorations – it's all quality stuff. It seems light years from my memories of helping out in a charity shop, where an unwashed smell seemed to cling to everything, and helpers sat on stools knitting, surrounded by piles of unsorted clothing. Instead I feel as though I'm in a smart department store.
I discover that the network, or local retail chain, of six humming shops and one depot, in Greerton, Katikati, Papamoa, Fraser St, Mount Maunganui and Te Puke are all run by efficient managers, overseen by James Turner, who has been the Waipuna Hospice business manager for about ten years.
"When we established it ten years ago, we had a small shop in Greerton, and a larger one in Fraser Street," says James, who has a background in shop fitting. "We had a number of really good local business people to help us set up the depot and the shops, and build it up.
"We recognised that we had to have professionally designed and run stores. I've been able to bring my skills, plus our manager's skills, and we recruit people that have got really good retail experience to bring that quality level of expertise."
Waipuna Hospice is an incorporated society providing the best possible specialist hospice palliative care, enhancing the quality of life for those facing end of life and bereavement.
"Waipuna Hospice look after approximately a thousand patients every year," says James. "We provide services across the region from Pongakawa to Waihi Beach. To look after those patients and their families we make approximately 32,000 contacts with them each year, whether it's a phone call or visiting them. It cost about $8.8 million to run the hospice this year, so we have to raise funds through bequests, donation appeals, fundraising events and the charity shops."
I recently visited a long-time family friend at the Waipuna Hospice in Te Puna after she'd received serious news of having only days left to live. She was smiling, brave and hopeful, surrounded by her husband and sons. The staff are fantastic and attentive, making sure families as well as patients are supported.
A lot of people think of Waipuna Hospice as being a building where you go to spend your last days, but in fact they do so much more than that, also providing grief counselling, family support services such as child, youth and adolescent therapy, social work and chaplain services.
"The majority of the services we provide are actually outside of hospice itself. Much of it is visiting people in their homes which is where most people choose to be," says James.
To maintain the service standard, much needed funds are required to be raised. One of the main income resources is from the six charity shops.
"We have approximately 25,000 transactions a month and we have about 750 volunteers. To support all the services Waipuna Hospice provide to our Western Bay of Plenty community, about $88,000 has to be raised every week."
It's clear that the shops play a very important part of that.
I estimate that's about 300,000 transactions a year, so that's everybody in Tauranga, three times a year, coming through their doors, with each person buying two or three things.
"The volunteers are really the lifeblood. Without them, there's no way we can provide the services for people in the community.
"It's really worthwhile being part of an organisation where at the end of the day it's not about making money, it's about helping other members of the community. It's a real privilege to be able to do that and I'm sure that's why we've have the number of volunteers, donations, customers and level of support."
Naomi has been the Greerton Waipuna Hospice charity shop manager for about three months, having come from a retail background.
"Our shop's doing really well," says Naomi. "We did our best month last month, and are going from strength to strength.
"It's the volunteers that make that possible."
I don't have much time to spend volunteering, but I know I can help do my bit by shopping for Christmas presents there.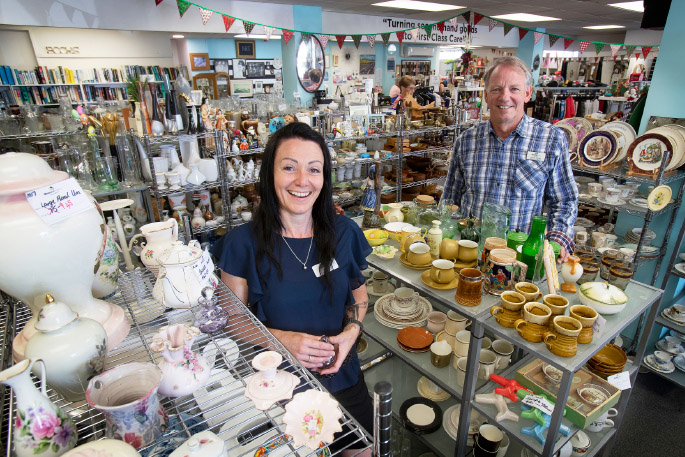 Waipuna Hospice Shop Greerton manager Naomi Harrison with Waipuna Hospice Business Manager James Turner.
Subscribe to our weekly Newsletter
Email: