Good Neighbour's community gardens at Bethlehem and Welcome Bay are the result of awesome foresight and a lot of planning by some incredibly insightful individuals.
In partnership with two generous landowners, the gardens were built with the aim of transforming communities, one garden at a time.
In the five-plus years they have been around, they have made a difference.
At each site there are individually-rented gardens beds for families to grow vegetables for their family and friends, community garden beds for members of the local community to harvest something to contribute to a meal and the soon-to-be launched 'Gardening for Good' beds; sponsored beds to enhance the gardens capacity to grow healthy, nutritious food for distribution to organisations in our communities, and in doing so provide beds for learning to garden.
Volunteers will be able to work in these garden beds, learn more about gardening and know that their efforts are going back to community organisations that need what is grown.
The volunteers at each garden are totally hooked by the garden manager's mantra: 'growing souls through soil'. The gardens are a place where paying attention to plants makes people pay attention to themselves, their gardening buddies and their communities and, in doing so, create an enjoyable space to play during the volunteer mornings in the gardens.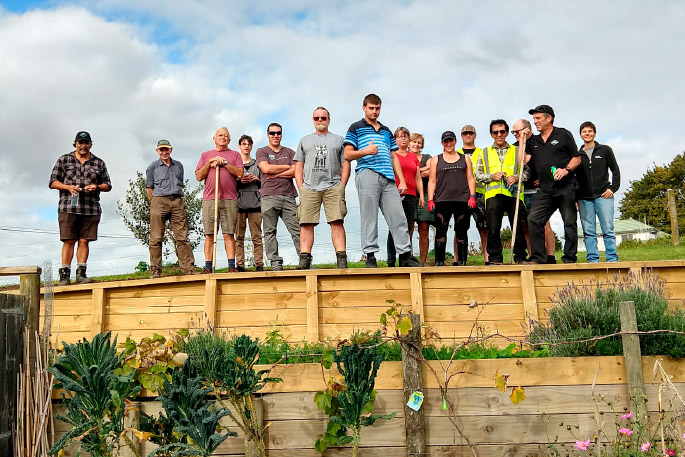 Volunteers can work in the Bethlehem Community Gardens on Wednesdays from 9am–12pm or in the Welcome Bay Community Gardens on Fridays from 9am-12pm.
In addition to volunteer mornings in the gardens, Good Neighbour will be running workshops focussed on the art of growing a small contribution to your food consumption in your own backyard.
These workshops will be run on the second Wednesday evening each month starting in March.
Topics vary; some are hands on, some are information-based and some are random fun topics connected to gardening. Let's make growing food doable.
And there's been great response to the community gardens; people have commented across the two gardens with fantastic feedback.
"What an awesome community garden! Keep on planting. You guys rock!", said one Bethlehem visitor. "Thank you guys. Job well done. Much appreciated. Keep it up," from a Welcome Bay Resident, "Excellent learning experiences, great social aspect with other volunteers. A sharing sense of contribution to a good cause," from one visitor and "The range of vegetables is extensive, and it is enjoyable sharing ideas and knowledge with each other… I can see how fantastic the Good Neighbour initiative is for those involved and the communities where the gardens are sited," from another.
One person commented that the community garden gives them a place to chill out, be present and enjoy the company of friends in the making. "Together we have a great time and know we are making a difference, no matter how small that is. I look forward to my time in these gardens. It's one of the highlights of my week!"
The Bethlehem gardens can be found at 173 Moffatt Road and the Welcome Bay gardens at 260 Welcome Bay Road.
Subscribe to our weekly Newsletter
Email: