Daniel Hines was only three when he ran away from home with his two-year-old sister in tow. He was heading to the local dairy – the Welcome Bay Foodmarket.
"I jumped the gates at home. We were determined to go to my nana's house, but we had to go via the dairy first to get lollies.
"We went down our driveway, crossed the busy Welcome Bay road and were on the run to the dairy."
Daniel is telling me this while gazing at the shop's lolly section. We're there to chat with the Kumars who, after 23 years running the popular 'blue dairy', are selling it on to new owners.
"My mum was hanging the washing out and had no idea. She got a panicked phone call from the neighbour saying there's toddlers doing a runner across the road. She had to run out and stop us."
He remembers the dairy's lolly wall being iconic.
"You don't see them like this anymore.
"I used to always get the number 16 – the cola bottles. My sisters used to get the sour ones at the top."
Mrs K gets the tongs and pulls out a large green Mayceys' killer croc. Daniel's eyes light up.
It's the end of an era for the much-loved Mr and Mrs Kumar. On their last day in January, many locals stopped to say goodbye, with a constant tooting from passing cars.
"I've been a local for 20 something years," says Tui Sanders, who brought in a box of Belgian chocolates and flowers. "The Kumars are really special, they really are.
"They've always been here, always been available to us. When you've had a problem you just come in and put it on their shoulders and they'll help you to sort it out. They've always got a smile."
The dairy has been open seven days a week from 7am – 7.30pm on week days and 7.30am – 7.30pm on weekends.
A Lotto outlet was added a decade ago. Mr Kumar thinks it's time 'the big one' was won.
"We've sold three second division but we haven't sold any first yet," says Mr K. "Heaps of other small ones. One lady who came in to play was really emotional because she had won - first win ever. It's nice to see your local people winning and you're part of it."
For Mrs K, the couples' arranged marriage was like winning Lotto.
"Not first division, but the jackpot!"
The smiling couple agree marriage is give and take.
"Once you meet a new person, it doesn't matter who it is, both sides have to compromise from time to time."
As well as the dairy, the couple have been involved in the community in other areas; Mr K as a trustee and treasurer of the Snatan Dharm Trust which built the first Hindu temple in the Bay of Plenty, and Mrs K providing a translation service.
They've always lived on the dairy site.
"When we first came, we lived in an old army shed behind the shop," says Mr K.
They built a house raising their two children while running the business, with their son and daughter also helping out in the shop. They've seen a few well-known faces come through the door.
"Michael Cullen. Tony Ryall from time to time. Some rugby players. And Simon Dallow came in and got pies. He was standing by the pie warmer and said 'gee I'm blown away that you've got so many pie flavours'. Stuart Crosby used to come for chips and a paddle pop iceblock. And pies occasionally."
Daniel, who did a paper run says he always got himself a pie.
"Always mince and cheese. They were always the best, not over-cooked. Always perfect. And then the lollies. I'd get a couple of lollies but not every day, only a treat once a week."
He looks quite angelic as he says this.
Having worked 16 hours a day seven days a week, and barely taking holidays, the Kumars are now planning to help care for an elderly parent, and have a rest. But they'll be sorely missed.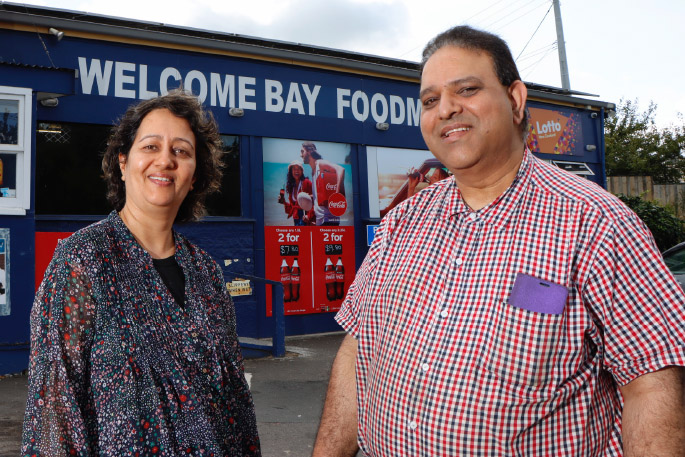 "It's very convenient having a dairy next door," says Lemongrass Catering owner Belinda Lombard.
She's often found herself popping over for castor sugar as well as staples like bread and milk.
"We always have a bit of a joke that we would swap food sometimes, so they'd have a western and I'd have an Indian takeaway. She spoiled me with her Indian cuisine because it's so authentic and fantastic. We'll miss that. We wish them all the very best and have a bit of a 'relax' after 23 years. Go and put your feet up."
"I'm going to miss so many of my local customers," says Mrs Kumar. "I've made a special bond with them. They're just part of a big family, so thank you. We wouldn't be here without them."
Mr K agrees.
"A big thanks to all the community. They have given us good support in the past 23 years."
They plan to spend the first couple of weeks of their retirement helping show the ropes to the new owners.
"I hope that everyone will carry on with the new people here. They are a really good couple," says Mr K.
Subscribe to our weekly Newsletter
Email: