Lobo the labrador looks gentle, loving, and makes you want to pat him. But please don't. This lovely lab is a working dog, not a pet. The assistance dog is also six-year-old Georgie Farrell's best friend.
The black labrador goes everywhere with Georgie – to school, to the library, to the local café and to bed.
That's because the Omokoroa girl has autism spectrum disorder, global developmental delay and speech delay. She was diagnosed at age three.
Lobo acts as a guide and an anchor for Georgie. Lobo can stay and lie down, which reminds Georgie she has a task to do – such as putting her school bag on – before she can keep going.
"The process of doing things is calmer now," says mum Liz. "We used to get into school and Georgie would just bolt to the far end of the field. But now we just walk to the classroom and it's nice and calm."
The black lab gives Georgie a familiar routine at school – Lobo gets out of the car first and waits for Georgie to be ready. Georgie stays in her seat until she says she's ready to walk to school with Lobo and the rest of her family.
Out and about people just want to pat Lobo. Liz says it's difficult because Lobo is a working dog, and needs to focus on his job when he's working.
"He's a great dog, he's really obedient; and he's a goofball when he's not working. But when we're working he's focused."
The Farrells celebrated one year with Lobo on September 2. The black lab is the only working assistance dog in the Bay, says Assistance Dogs New Zealand Trust volunteer and puppy raiser Linda Scott.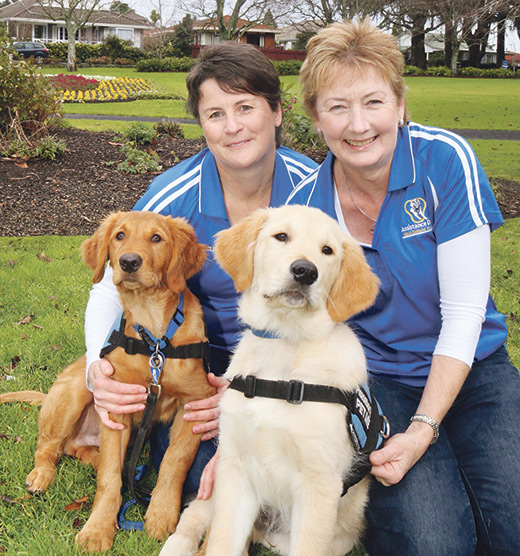 Linda has trained seven puppies to become service dogs around the country. "I love watching the dogs and what they do when they leave me.
"It's always heartbreaking, but I love dogs and being able to help somebody else is really important to me."
Now Linda has Asher, a four-month-old golden retriever. Asher will stay with Linda for 12 months before he's ready to go for formal training for six months before working with someone living with a disability.
There are different dogs for people with different disabilities. "We look at what they love to do. If we've got a dog that loves to retrieve and is very busy, then it's perfect for someone in a wheelchair, while a quiet dog that likes to lean on people and be touched is great for epilepsy or autism."
Asher has all of the characteristics for someone with autism or epilepsy. "He's going to be a big dog so he'll be great for harnessing or anchoring a child, because he'll hold his ground and the kiddie can't run into danger," says Linda.
ADNZ is a charitable trust providing trained dogs to clients with a disability. The organisation evaluates each applicant individually and provides assessment, training and follow-up to meet each individual's specific needs. The life cost of an assistance dog is $48,000.
Dogs receive an assessment, obedience, social and task-specific training to suit the disability the dog will support.
Asher and a second assistance pup in training – Harvey – are currently being raised in Tauranga with Linda and ADNZ's funding development manager Wendy Isaacs respectively.
New Zealanders have helped ADNZ Trust raise a new record total of $45,000 during their annual Appeal Week – $13,000 more than the charitable trust collected last year.
A total of $11,573 was raised in the Bay of Plenty for ADNZ.
"Every single cent donated by members of the public will go into helping our ADNZ pup programmes – from breeding and kenneling, to training, development and placement – and in turn help support more Kiwi individuals and families living with disabilities," says Wendy.
The majority of the organisation's funding comes from community-based donations, through events and programmes such as Appeal Week and puppy sponsorship.
Appeal Week is ADNZ's main event and is a huge national fundraising campaign.
To volunteer, email: wendy@assistancedogstrust.org.nz, or text/phone 022 137 4090.
For more information, to donate direct or sponsor a puppy, visit: assistancedogstrust.org.nz