Life is an adventure best spent outside for Cathy and Brad Taylor.
The couple own Walking Legends, a multi-day hike guiding business that tour seven of the North Island's most magical spots – from the Coromandel's breath-taking pinnacles, to New Zealand Great Walk, the Tongariro Crossing.
Despite offering about 100 trips over six months of every year and working for, partnering with, and now owning Walking Legends for more than a decade, Cathy and Brad's love for the outdoors hasn't worn thin.
In fact, family holidays during the off season are usually spent hiking with their daughters Annabelle, 10 and Jolie 8.
"We come home from our holidays completely knackered," says Cathy.
"We're definitely not 'sit by the pool and drink cocktails' kind of people."
Cathy and Brad's appreciation for fresh air and scenic views has passed on to their daughters – they enjoy any walk with a waterfall and a place to swim.
Annabelle and Jolie's fitness must be commended. Their last family holiday was spent walking around Lake Waikaremoana, which can easily turn into a 40km trek, depending on the route.
"It's good for them to get a healthy sense of where they come from and what makes New Zealand cool.
"When they inevitably head off overseas to explore more of the world, they'll know exactly what they've got at home, and be proud of it."
Brad is Walking Legends' main guide. For him, hiking is just as much about people as getting outdoors.
"There is something about a hike that makes people really open up to you. It always amazes me the deep conversations you end up having with people," says Brad.
"It's flattering, because it shows they're relaxed enough to open up to you."
The positive impact of being in nature isn't something to be underestimated, says Cathy.
"There's a Japanese term that translates to 'forest bathing', which recognises how time outside is a release that's good for our mental health. We can definitely vouch for that."
Brad began his tourism career as a white water rafting guide, taking groups through the rapids of popular Rotorua rivers, like the Kaituna.
Hiking has been his main muse for more than 12 years.
Cathy may take care of the admin side of Walking Legends, but her sense of adventure is just as keen.
Her favourite walk is Great Barrier Island.
"I first went with Brad when he was designing a Walking Legends itinerary, and it just got under my skin.
"There were trees, birds and plants there that I'd never seen on the mainland. It's absolutely pristine.
"It doesn't take much convincing to get me there."
With Cathy being from Matamata and Brad Te Puke, it would be easy to assume the pair met in the central North Island.
Somewhat unsurprisingly, they met on another kind of adventure.
"We met at a summer camp in Maine in the US. We were the only people from the North Island there."
When the camp finished, Cathy and Brad travelled for three months together, covering 29,000km of North America in a trusty van, which doubled as their accommodation. The rest is history.
"I think if you can live with someone in a van for three months, then you're pretty solid," says Cathy.
Their travels made them appreciate their rural backgrounds. They've owned their Pongakawa lifestyle block for ten years.
"We have a tiny, 83 square metre cottage on almost a hectare of land, and we love it.
"It leaves heaps of space for the kids to play outside and to grow our own natives, so there's tonnes of bird life around."
That's not to say they didn't try the New Zealand city life. After returning from the US, Cathy studied in Wellington and Brad in Auckland.
While Brad's audio engineering degree didn't end up defining his career, he brings his guitar to every hike.
"At night on a tramp, you have to entertain yourself, so it's great to have music, a deck of cards… and good New Zealand wine."
Cathy's previous job as a draftsperson makes her appreciate her nature-filled lifestyle even more.
"I worked in an office every day, sitting in front of the computer getting very little exercise compared to what I do now.
"The thing I appreciate most is having the flexibility to structure my day, so I can go watch the kids' school cross country, or go on a field trip with them. As a draftee, I had very limited opportunity to do that.
"We get six months a year when things quieten down and we get to spend quality time with our girls – we are so grateful for it."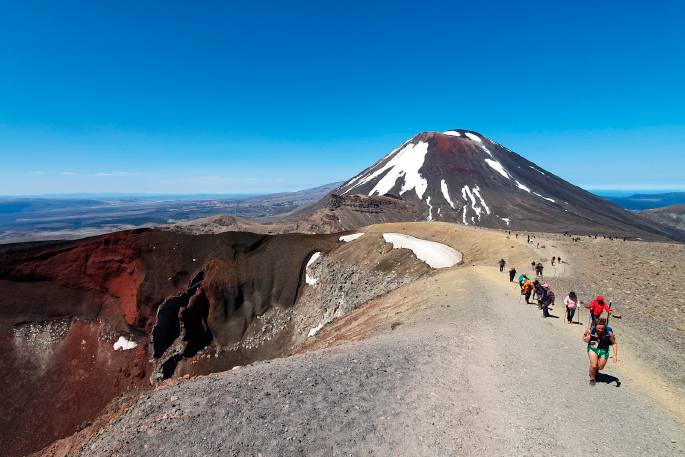 Subscribe to our weekly Newsletter
Email: