Dancing, food fights, dress-up and self-defence are only a few features of Craig and Mikkayla Leckie's action-packed YouTube channel.
The dad-and-daughter duo from Mount Maunganui have been uploading to their channel, My Hat is Awesome, for almost two years.
In that time, they've created more than 50 videos and accumulated over 40,700 views – it's become a part of their lifestyle.
"We film on Saturdays," says Craig.
"I go to Mikkayla's house after work twice a week and we go for a run, and edit our videos."
The antics come quite naturally to the close-knit pair, who've always enjoyed the humorous side of life.
"I've never thought 'oh I'm too old for this' or 'too cool for that', I just enjoy having fun," says Mikkayla, who's 26.
"I think I get it from Dad. If we walk on the beach and a shell looks cool, we'll still pick it up. We haven't lost the wonder for life."
It's something Craig lives by.
"There's a great quote: 'don't let growing up ruin the adventure'.
"Having my daughters taught me that you're never too old to play and have fun."
It seems fitting, then, that Mikkayla works as an early childhood teacher.
Craig's job as a copier technician may seem more left of field, but driving between jobs presents the perfect opportunity for last-minute prop buying.
Mikkayla and Craig both describe themselves as shy and reserved – something that's impossible to spot in their videos.
"My Dad and I are big believers in bettering ourselves, so I decided to start streaming live videos on Twitch to help myself become more confident," says Mikkayla.
"YouTube has become such a big part of our culture, so it seemed like a natural next step. I wanted to create content with someone reliable who never fails to make me laugh – and that's my Dad."
Craig says being in front of the camera continues to get easier, even if he still struggles to watch a few of the videos back.
"Mikkayla convinced me to get involved by saying 'even if nothing comes from this, we'll have a great time together'.
Amongst the more light-hearted videos are self-defence demonstrations for women.
Craig has trained in several different martial arts, including his favourite, Ninjutsu, for 30 years.
"I'm a bit of a weekend warrior, but it's been good to use the skills for something practical that will help others."
Mikkayla says self-defence demos are amongst the channel's most popular videos.
"Self-defence unfortunately remains necessary for women. I think that's why those videos get good views."
Two 'Patience Test' videos, where Mikkayla sees how long she can withstand having food including vinegar, fizzy drink and noodles thrown at her by Craig, win the popularity contest. They have around 10,000 views each.
Mikkayla and Craig's favourite? The one where they try to prank mum, Sharon.
Spoiler alert: Mum wins, and the bad guys end up trapped in a tree.
"My wife says she's a YouTube Widow," Craig laughs.
"But she's always willing to be our third pair of hands."
Mikkayla's older sister, Sarena, always features in videos when visiting from Australia.
"Having the family together is the best. I'm very proud of the fact that we can work together and get on so well." says Craig.
"Sharon and I worked hard to make sure the girls were sisters in every sense of the word. It paid off, they're still really close.
"They are happy, questioning and confident girls, and we couldn't be prouder."
The family show their unity in ink: they have matching batman tattoos.
"That includes Mum, it was her first tattoo," says Mikkayla.
"Sarena and I also have each other's names on our wrists."
As well as Batman, the Leckie's share a love for cartoon Adventure Time.
"It's where we got the name for our channel – 'my hat is awesome' is a line from the pilot episode."
One family member yet to make his My Hat is Awesome debut is Mikkayla's partner of 10 years, Corey Sandbakken.
"Dad has been teaching Corey Ninjutsu since we've been together. I thought it would make a great video seeing if I could take him down, but it's so not his thing!
"He may not want to be on camera, but he's our biggest fan."
Craig and Mikkayla's relationship strikes a chord with viewers.
"There have been some sad comments saying 'I wish my Dad and I did that', or 'I don't have a Dad'," says Craig.
"It's interesting that the videos connected to people in that way, when we're just having fun and being idiots.
"I think that's what Mikk wanted to show everyone: you're never too old to hang out with Dad."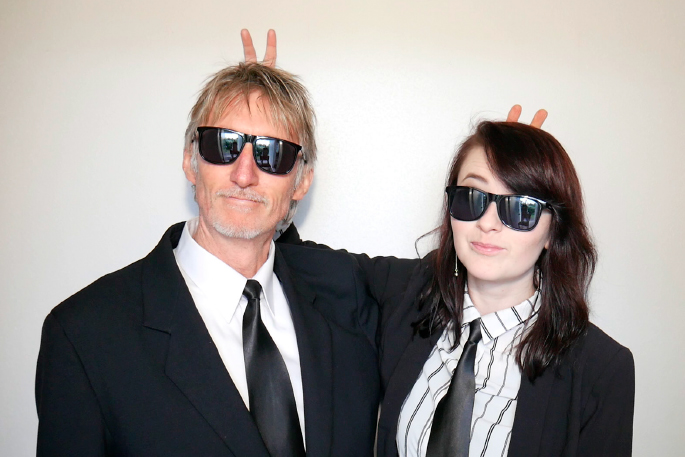 Subscribe to our weekly Newsletter
Email: