"I don't do this for the publicity. I only do it for the penguins."
Julia Graham, spearhead of the Western Bay Wildlife Trust, is unbelievably passionate about the fuzzy little blue penguins.
So much so that when Rena hit the reef five years ago, Julia stopped her university presentation mid-way through and left to help.
"I was at university studying environmental management, and penguins were actually my major project, so I knew all the penguins were there."
Rena hit Astrolabe Reef 12 nautical miles off Tauranga and grounded in the early hours of October 5, 2011, and created an unbelievable mess to clean up, including covering more than 300 penguins in oil.
"When Rena hit, it was actually kind of funny because that day, that very day that it hit, I had to stand in class and give my penguin presentation, and part of it was about oil spills," says Julia.
"I remember standing there, giving this PowerPoint presentation, looking at everyone, and I got to the part about oil spills and I was like: 'Why are we here? We need to go, I have to go'."
Julia started by helping where she could, just like everyone else. But soon that wasn't enough for Julia, she knew she could be doing more.
So Julia teamed up with grey faced petrel surveyors Paul Cuming and Tim Short, and the two started night expeditions to save the birds.
"Between us we started going out at night to rescue our birds, because there was all of this daytime stuff being done but no night rescue, and all of the birds that we knew were nocturnal."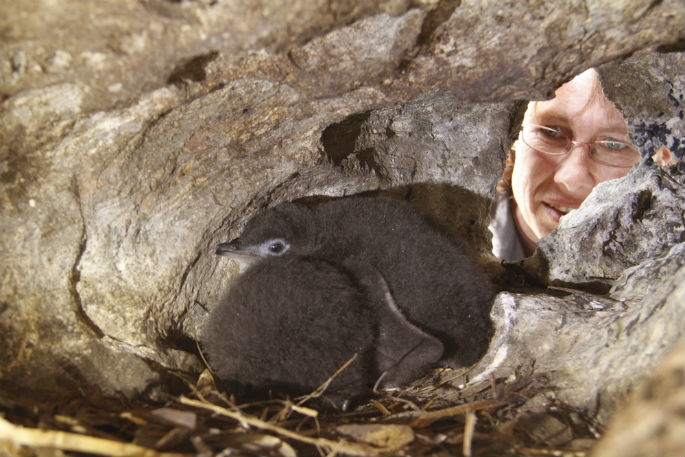 Julia would work all day, then she would go out at night to save her birds.
"We ended up leading teams every month, and during the day we led teams cleaning the rocks."
Cleaning the rocks was of particular importance, says Julia, as that was where the birds lived, bred, and would die if the oil stayed.
"The top of the rock would look clean, but you bend down and look under it and it was just a pool of oil."
She says the seemingly endless days and nights cleaning rock, penguin, and everything in between paid off in the end.
"It was worth it though, especially that first penguin release [November 22, 2011]. It was just a moment where, I think I just cried like a baby really. And to see them now when I'm out monitoring, when I find the Rena ones I always look at them and go: 'Yeah it was worth it, because here you are right in front of me – healthy as, feisty as, ready to defend your territory'.
"They're very full of character, every one of them is different."
And Julia says that just because the Rena mess has been cleaned up, that doesn't mean people can stop taking care of the environment and save the penguins.
"Once people are involved, once you've put your hand into Mauao and have planted a tree, or picked up that bit of rubbish under a rock that you never saw was there because you've never looked under a rock before, there's a community spirit.
"People spent so long cleaning this place that they are never going to forget it, and they will always want to defend it."
Helping is easy. "Get involved with your local environment groups and the Western Bay Wildlife Trust, pick up rubbish on the beach, every little bit helps. Rubbish will kill a penguin just as quickly as an oil spill.
"Make wise choices in everyday life from a consumer's point of view, turn of a light switch – that's a simple one! Even if it's going to one event a year and picking up a bit of rubbish – every little bit helps. All of these things that you do will contribute."
For more information and to help, visit www.westernbaywildlife.nz
Subscribe to our weekly Newsletter
Email: