He pinches his index finger and thumb tenderly around a stem, tipping it slightly so his eyes meet the stigma. Then this gentleman's soft spot for the species comes tumbling out.
"There's always something new opening – that's one of the lovely things – you have a new variety of orchid opening every month," says Barry Curtis as he shows Life + Style around his collection.
It hangs from baskets, climbs ponga, and sits in pots around his Rea Rd home near Katikati. And there's more gently tucked inside his orchid house and glass house, thriving and thrilling Barry as they grow.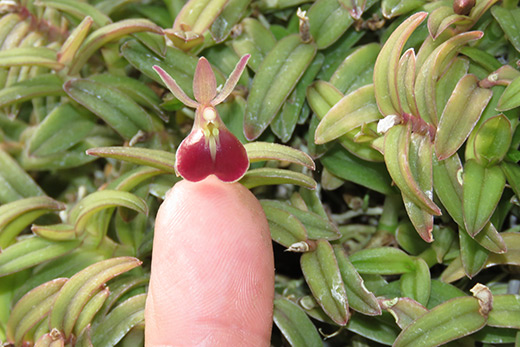 He says the beauty of an orchid flower is how long it will last. "It's not like a daffodil, which you put in a vase and three days later it's finished. An orchid in flower might last for three weeks or even a month."
And the many varieties – and their differing needs for certain growing conditions – sprout real challenges to growers. Barry loves finally getting them to flower. "When they pop open they are pure pleasure so I bring my flowering orchids into the house. My wife Elizabeth is very happy to see them."
In fact, not a month goes by when Elizabeth's table doesn't have a flowering pot of orchids because Barry's addiction extends to more than 1000 orchids that flower at differing times throughout the year.
The Tauranga Orchid Society president says he's been growing orchids for "umm, well, back about 30 years or more".
"I collected a few from my dad and once you buy one and see how nice they are and how easy they are to grow…"
The appeal? "It's strange, orchid growers seem to just get bitten a little bit, then start to buy another orchid here and a different orchid there".
"There are just so many! Most people only think of the Phalaenopsis – moth orchids –or cymbidiums. But when you get into collecting there is a huge range of shapes, sizes and colours.
Thousands, that come from right around the world and we are so lucky to be able to grow most of them here in NZ, especially the upper North Island. They can be easily grown in glass houses or shade houses without heating."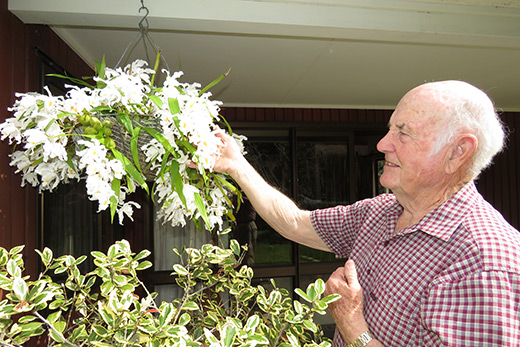 And his gems? "Oh, there are some gorgeous new varieties coming out and they're always a treat. Cattleas are amazing, really beautiful – and people are now developing those so they are smaller and so easy to look after that you can grow them in your windowsill.
"Many varieties have a full scent so you'd think the grower had a full vase of roses in their house."
After a tour of appreciation, Barry waved me off. I suspect, returning to his little haven in this world – his orchid house.