Behind every great dog is a great owner. In Alfie's case, he owes his life to Betty Hall.
In the spring breeze and picturesque rural surroundings of Alfie's home, their full story evolves.
Betty, an animal services officer for Western Bay of Plenty District Council of 28 years, rescued Alfie late last year from the Tauranga City Council Dog Pound. "We couldn't have him there over Christmas, people are not really looking to adopt at that time of year. So I took him home with the intention of having him re-homed.
"He was hobbling about on three legs. Turns out he had a fracture although his obsession with balls made it tricky to diagnose it didn't seem to slow him down. He was in pain, but after the council team kindly all pitched in to the hat, we got his leg fixed." It was through this healing time that Alfie seemed to have imprinted on Betty.
"I was not intending to keep him, but he sort of grew on me."
People saw Betty was the match for Alfie before she even realised it.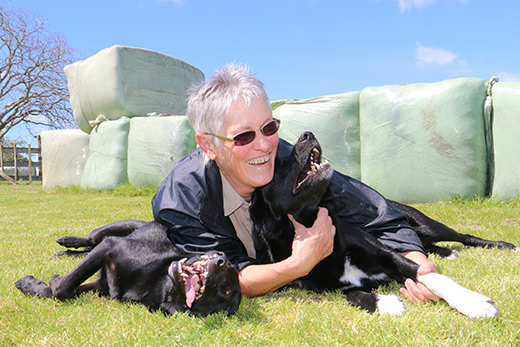 "I have two other dogs at home, but he was just so cool," says Betty, lighting up as she talks about Alfie.
"I did have some pre-requisites for him though – he had to come when he was called and he had to leave Maggie's chickens alone. Maggie is Betty's neighbour.
"At first, he really loved the chooks – not in a friendly way – but then, with some training and within the week, he knew they were out of bounds," Betty laughs.
People may remember earlier in the year Alfie being named NZ Office Dog of the Year – he even had his five minutes of fame on TV's 'Seven Sharp' programme. And he continues his centre stage role at the Western BOP council, recently being the 'face' of the new Dog Policy and Bylaw introduced in October. Alfie has warmed the hearts of council staff, and has started winning over those of the wider doggy community, leading the 'Wander Dogs Club' dog walks around the area.
And when he's not 'Alfie the Spokesdog' at council, he's chasing shadows of butterflies at Betty's farm, popping balloons or playing rugby. He shows off his half-back skills while Betty cheers him on. "Nice move Alfie! I've gotta get him an All Blacks jersey."
Not only is it a busy life for Alfie, but for his human mum, Betty too – who is also mother of two other dogs Jake and Quinn. Jake is a Border Collie-Labrador-cross, and is an excellent gun dog. Quinn is a Kelpie-cross and is Betty's agility dog used in her puppy schools.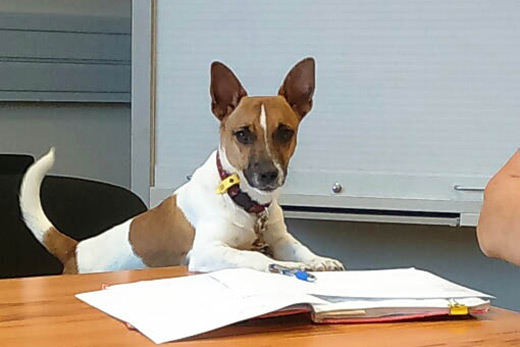 In her spare time, Betty runs educational dog training, voluntarily, at vet clinics around the area. It is no wonder she's earned herself the title of 'dog whisperer' or 'the dog lady' with her valuable input to the dog owning community.
"I love meeting dog owners who want to get it right – it's really nice to see.
"I like to refer to the saying 'a man changed against his will is of his same mind still' so it really comes down to education – you have to educate people on the right changes, for it to be a win-win situation.
"Learning the right way to handle a dog means a happier dog, and happier family. We would much rather educate people to change their ways to better dog welfare, than fining them. I get a real buzz out of working with families, helping them with their dogs," says Betty.
Humanisation is becoming trendier, but it does have its implications. Betty explains. "A dog can be confused with its role – and sometimes thinks it has to look after the owner. This can cause separation anxiety and bad behaviours, which then make owners feel worried. We educate people on using dog language – we need the right means of communication with dogs so they know how they should act.
"I really love dogs, but I love people as well. I get paid to do what I love, how cool is that?" Betty replies, when asked about her role.
"The job is hard, because you sometimes have to put animals down. But mainly we can try to avoid this with education and enforcement."
The average dog life span in New Zealand is currently just three years, which Betty says is really sad.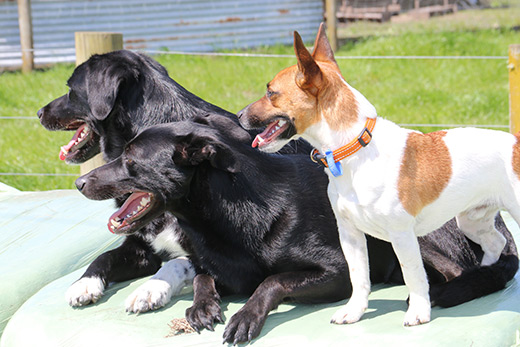 "A lot of dogs are being put down due to lack of training, for biting or going AWOL or barking. If we [council] can get there in time to change the behaviour, it is amazing.
"The other day we picked up 13 dogs from three properties, not one of them were registered.
"The policy council now has in place is really good. Now, we have minimum standards for the welfare of dogs."
Asked about her most memorable rescue, Betty says it's hard because there have been many.
"I do have to say there are a couple – Jake was part of a litter found at a property where he and his siblings were so hungry they were eating their own poo. He's such a sweetheart, I adopted him myself.
"We took three litters from that same property, the little darlings just kept coming; and they wouldn't have their dogs spayed.
"Another rescue I will always remember is Wiki. He was a dog taken to the vet as the owners couldn't afford to fix his shattered leg – it was so bad the bone was poking out.
"The vet asked if there was anything council could do. Staff at council once again reached into their pockets and donated money to get him operated on.
"He's now getting on so well with his new owner; a family member of the council adopted him. "Having only three legs does not seem to hinder him! The support from our people at Western Bay council is just so amazing."
Subscribe to our weekly Newsletter
Email: