It's known as a highly versatile, natural resource – one of the world's fastest-growing plants.
This special plant can reach maturity in about four years compared to the typical 25-70 years for commercial tree species. It's grown without pesticides or chemicals, said to be 100 per cent biodegradable and naturally regenerative.
And it's Cathy Powell's new favourite plant. Bamboo is the special ingredient in Cathy's new fashion range – Bamboo Textiles – at Lemonade Fashions at the Cruise Deck in Mount Maunganui.
It's soft, protective and natural. That's what it says on the posters. "And it feels nice," says Cathy. She runs her hands over the fabric and gestures for this reporter to do the same.
"Bamboo clothing is softer than the softest cotton, has a natural sheen surface and feels similar to silk or cashmere." The fabric's softness is confirmed and we move on to style.
"The range is for women from all walks of life and we stock plenty of colours," says Cathy. There are camis, short sleeve or sleeveless blouses and pants for casual wear and T-shirts, shorts and full and three-quarter leggings suitable for active wear.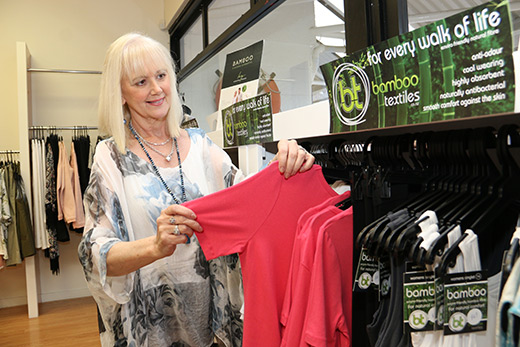 Now we move from style to science: The bamboo plant is harvested in China, processed into bamboo fibre, spun into bamboo yarn before being woven into bamboo fabric.
"The fabric feels cool and light to wear," says Cathy. Bamboo fibre clothing is naturally anti-bacterial and does not require treatment with harmful chemicals.
"It's comfortable, highly absorbent and thermal regulating which keeps the body cooler, drier and odour-free."
When you consider it, bamboo is a very logical choice of fibre for many clothing items. It's easy to wash, has excellent strength, shape stability, washable, colour fastness, shrink fastness and comfortability against the skin.
According to Bamboo Textiles New Zealand, bamboo fibre is naturally bacteria inhibiting, particularly absorbent and breathable. The fibre is also grown and manufactured without the use of harsh insecticides, serious pollutants or land degradation.
Cathy says her customers are loving the new and exciting bamboo range. "We decided to stock it to give my clientele the option of comfortable but fashionable clothing."
Customers are browsing items from the range as Life+Style visits the store.
"We love the new range," they say. "We love how it looks and feels."
So if you're starting to warm to the more temperate weather, it might be time to update your wardrobe, and there's no better place to do that than Lemonade Fashions.
With the new bamboo range, Cathy says her store is perfect for new summer looks.
"Our new range of bamboo wear really helps to keep you feeling cooler during the summer months."
And choosing the perfect fashion piece from the bamboo range doesn't break the bank. "One of the things we pride ourselves on most is quality fashion at affordable pricing," says Cathy.
So if you're ready to pack away the heavy winter clothing for more ethereal and colourful summer looks, head to Lemonade Fashions to get the perfect outfit and complimentary accessories.
Cathy would love to help you pull together some great summer outfits. The bamboo range will always be in stock at Lemonade Fashions at the Cruise Deck.
"Come in and try our summer range today, and keep an eye out for our winter 2017 range too," says Cathy.
Subscribe to our weekly Newsletter
Email: