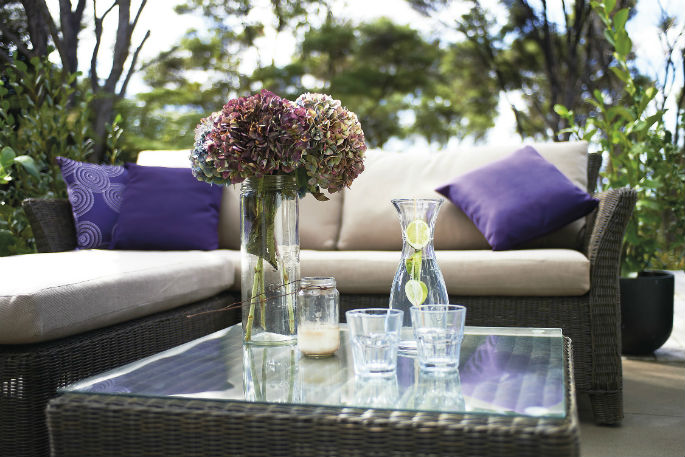 Is your outdoor living area ready for summer? If your outdoor lounge setting is looking a bit tired, or you're thinking of replacing the umbrella, now is the perfect time to do it.
And Mitre 10 MEGA in Tauranga is the perfect place to go to for anything and everything outdoor living.
"We've got one of the widest ranges of outdoor furniture and New Zealand's biggest barbecue brands all under one roof," says Mitre 10 MEGA Tauranga owner Nicky Bold.
With an expansive variety of umbrellas, cushions, outdoor heaters, outdoor furniture and a whole lot more, Mitre 10 MEGA has everything you need to set up your home for a season of entertaining – whatever your space or style.
With an outdoor furniture collection that is bigger and better than ever before, Nicky says Mitre 10 MEGA has a great range of on-trend designs, including classic and contemporary pieces and everything in between.
And they have plenty of options to consider.
Choose from dining settings, day beds, occasional furniture, and amazing outdoor lounge settings that'll have you relaxing in no time. You can also choose what materials you want; from wood to aluminium and wicker.
"Plus, you can mix and match our many different styles to create your very own look," says Nicky.
And if you're dreaming of that quintessential Kiwi cookout, Mitre 10 MEGA has a huge range of barbecues to peruse – including leading brands such as Broil King, Weber, Char-Broil and Masport.
But before buying a new barbecue, Nicky suggests you conduct some research into the way you want to cook – do you like gas, coal, grill or smoker? Consider the size and space allowance you have at home for your new barbecue, this often determines how large you can go.
"We have a range of sizes to suit your outdoor area, from portable right through to the larger barbecues with rotisserie and storage features."
No outdoor area is complete without the finishing touches; the details. Mitre 10 MEGA has plenty of umbrellas, fire pits, outdoor gas heaters, outdoor fires, cushions, rugs, dinnerware and storage to finish the look.
To help set the mood in your dream outdoor space, consider installing your own outdoor lighting. Mitre 10 MEGA makes it simple with quick-and-easy lighting solutions.
"Installing your own outdoor lighting in your garden can be a relatively easy job that requires minimal tools and basic knowledge."
Outdoor lighting kits can be bought – all you will need to do is plug the end into an external power point that a registered electrician has installed.
And landscaping can really assist in finishing your outside living space. Landscaping a garden will not only help to create an area you will enjoy and get the most out of but can show off your style turning your garden in to an asset that compliments your home, says Nicky.
"Building a retaining wall is a great DIY project and with a bit of pre-planning and patience can result in a great asset to your property."
A retaining wall can be built up to 1.5m high without a building permit, but Nicky suggests checking in with Tauranga City Council or Western Bay of Plenty District Council to discuss your project and obtain advice before starting. If a retaining wall is built to support a driveway or carport a building permit will be required.
If you're needing something to anchor the indoor-outdoor flow of your home, consider a deck.
"A deck is a great addition to every Kiwi home," says Nicky. "Ideal for entertaining, sitting back and relaxing, a deck adds a whole new room to your home."
Building a deck is the ultimate DIY project, says Nicky. And like most jobs, a huge amount of this project is in the planning.
Going through the project step-by-step on paper is essential to creating a fantastic area that will be a huge asset to your home.
Nicky suggests a bit of time should be spent doing research on what type of decking material is appropriate for your location.
And the flow from the deck to the garden is just as important as the flow from inside to outside. Garden paving is a great way to achieve an easy drift from the deck to the garden.
"Whether you're looking to pave a path, set out a deck or add edging and embellishment, paving adds style and allows you to let your creativity loose," says Nicky.
"A well designed house should link the house with the garden, not only physically but also visually."
Creating an exterior paving area is a great do-it-yourself job; with a little patience and planning you can be sitting back enjoying your space in no time at all.
So no matter what you're doing with your outdoor living area this summer – whether you're after tips and advice or new outdoor furniture and the finishing touches – the knowledgeable team at Mitre 10 MEGA in Tauranga can help.