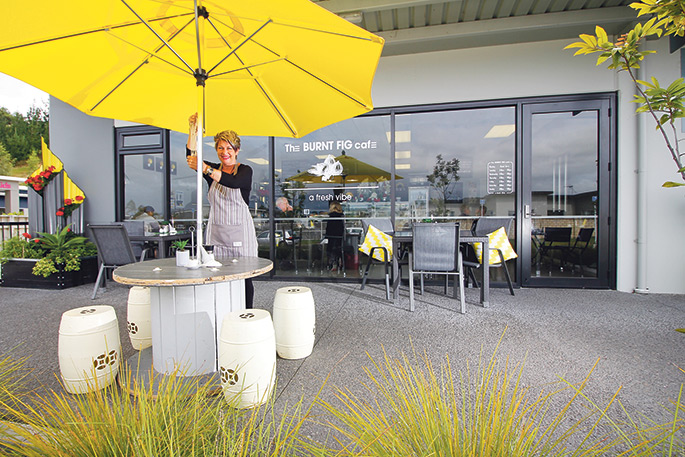 Life is all about treating yourself and those you care about.
If you've been out in the garden, you deserve a break. If you've taken your dog for a walk or cycled around the Brookfield boardwalk, it's easy to pop in for a well-earned delicacy.
If you're wanting to show your appreciation to mum, dad, or someone special, why not take them out for a stylish experience? Alternatively, you may belong to a coffee group, a walking group, or doing real estate caravans. Why not pop in for a breather?
The Burnt Fig café is a treat in Brookfield's The Ridge Plaza, and owner Shelley Archibald says she strives for flair.
"This is your place, we really want you to feel at home."
With eye-catching décor in shades of grey and cheerful yellow, The Burnt Fig offers more than just an aesthetically-pleasing environment. With excellent coffee and a range of treats from the menu or the cabinet, Shelley says their food adds something different to the café scene.
"We cook each dish from scratch. You can't get it fresher than that!
"A lot of people are tired of the same-old, same-old. Our thing is a fresh vibe; we put a new spin into some traditional recipes.
"Additionally, we have vegetarian and gluten-free options available, and a reduced presence of white sugar. We know what's in everything we make, which is important to a lot of people these days."
The Burnt Fig team go the extra mile for their customers and their food.
The Burnt Fig's chef and baker Angela Lawes has more than 50 years' experience and by the way is gluten-free herself.
"She absolutely knows what she's doing," says Shelley.
The staff work hard to bring their best to the front of the house.
From regulars to summer staff, The Burnt Fig has a diverse range of experience, ethnicities and skill.
Mitsuyo Sakata – the main barista – has previous restaurant experience and crafts wonderful coffee according to their customers.
"Customers love our team, we get compliments daily about our service, our food and our coffee."
Their food gets wonderful feedback daily on presentation and taste, and Shelley says they work hard to give their customers the best.
"How we present our food shows we really care, and we cater for a wide range of needs."
Aside from the food, The Burnt Fig is a "cool, funky place just to hang out".
"We try to accommodate for everyone in the family with cushions and rugs, including the dog with treats and a water bowl.
"And if you're a little late or a little early we try
to accommodate for that, too."
If you're looking for a café with a twist, easy parking, a friendly vibe and great food and drinks, The Burnt Fig is the place to go.
If you're hosting your own intimate soiree at home, you don't have to compromise on quality.
The Burnt Fig offers a catering service – and
they go the extra mile to provide personalised touches.
They create and serve finger food nibbles for easy eating with a punchy taste.
"If you're entertaining at home and you want something a bit special, and very very tailored to suit your home décor and need some special touches, then that's what we do well," says Shelley.
"The catering is something that your guests will remember. They will be impressed."
So treat yourself – to a spectacular coffee, a meal out, or a sweet indulgence.
"We have pretty much everything to make you feel really comfortable," says Shelley.
"Because it's all about the experience."