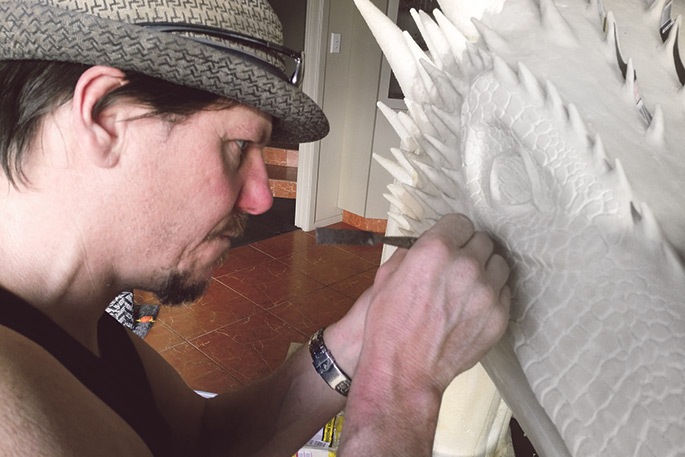 Paul de Wild is building a dragon is his kitchen. Drogon from 'Game of Thrones'. Life size. Wearable.
"This is our 'normal," says the boat builder by trade, referring to how he and wife Rozanne spend their spare time at home. As we talk, Rozanne is also working on a life size wearable Ludo from 'Labyrinth'.
Boats are in Paul's blood. "Mum and Dad started building a yacht when I was eight. They finished when I was 12, and from there we sailed around the Pacific through the Panama Canal and onto Europe."
Paul and his brothers were educated via the New Zealand Correspondence School, collecting their school work from the General Post Office at their next port of call, with exams sat in whatever city the family was closest to.
"We went to high school in Hawaii for a while, travelling onto Alaska, then down the coast, before sitting School Certificate in a public library in San Diego, with the librarian watching over us."
Returning to New Zealand, Paul looked for a boat building apprenticeship but was unable to find one. "I did a cabinet making apprenticeship instead. Then the firm I was working for was bought. By a boat building company." Serendipity.
He was good at his trade. Following the boat build projects between the McMullan & Wing and Martin Yachts, by 25 he was a senior tradesman at McMullan & Wing. Paul laughs. "Being a senior tradesman when you're 25 just seemed wrong. I thought it made me sound old."
He's worked on – Shenandoah, Merit Cup, Spirit of Adventure 4, Telefonica Black– to name a few. Price tags are high; the most expensive was about $33 million. Not your average Kiwi runabout.
When offered a job in Italy, the New Zealand-born European-passport holder headed over and led a team of similar Kiwis, well-known abroad for their work ethics – hard workers, putting in the long hours, and producing a quality product.
Rozanne and children Stephen, then 10, and Kali, then 5, followed shortly after. For Paul, already well-seasoned to new and different cultures, the move was simple. For Rozanne, the extent of culture shock was completely unexpected.
The family was based in the small Italian holiday town of Fano. [So] 65,000 people in a place the size of Katikati." The locals didn't speak English; the de Wilds didn't speak Italian.
"Suddenly our kids went from an outdoor living environment to a third-floor apartment, and overnight our five-year-old and 10-year-old are sharing a bedroom the size of a standard Kiwi bathroom."
It required a big change in Rozanne's mindset. "What came natural to Paul, I had no experiences of how to adjust to. The experience was isolating; I didn't handle it, the kids weren't handling it, and then September 11 happened." Rozanne and the kids came home.
Paul completed his contracts, and continued to take on others. "Before we got married, Paul had never flatted. Since we've been married, he's gone flatting a dozen times with a bunch of the boys, having now worked in Tunisia, Spain, China, the United Kingdom and more."
Outside of work, Paul puts his skills to use at home, during the years building a lot of the family furniture, and now for Cosplay, a passion the whole family share.
Cosplay is the art or practice of wearing costumes to portray characters from fiction, especially from manga, animation and science fiction to portray a fictional character by dressing in costume.
Rozanne says while Paul enjoys making the furniture, it's so close to his day-to-day job that sometimes it's like he's just bringing his work home with him. Cosplay adds another dimension to his creative hobbies. And there are no limitations, especially when you decide to build a wearable, life-size dragon.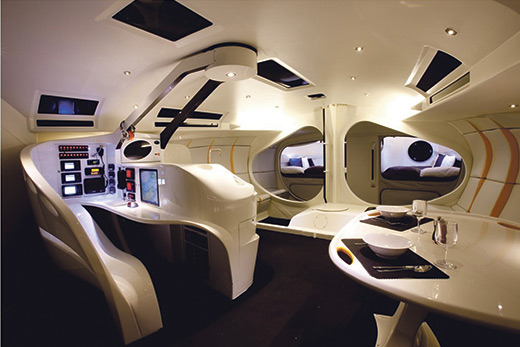 "Boat building uses the latest technology," says Paul. "You're always innovating, you're always trouble-shooting, and creating, so its second nature to be dealing with complicated or innovated designs, and constructing things that might not have been done before."
Race yachts are at the cutting edge of technology. "We often think outside the square. With Cosplay, you're always thinking: 'What is the most screen-accurate yet cost-effective way to build the character?'"
"We often walk through shops, not knowing what we're looking for, but then you see something made for a completely different purpose – and it's perfect for the part you're building."
Drogon is Paul's first sculpting project, with the head and neck being crafted using oil-based modelling clay on a base of polystyrene. The completed head sculpt has been covered in Rebound 25, a brush-on silicone product used to make flexible moulds, and popular with the special effects film industry like Weta. The final part of the process will involve using that mould to create the dragon's skin, using a high-performance silicone rubber product called, ironically, Dragon Skin.
They're aiming to debut the dragon at Armageddon Tauranga in May 2017. To see progress updates, visit: www.facebook.com/dewildcosplay