Tony Hicks is the third part of a three-part harmony. "But only by mistake."
He's part of that distinctive amalgam of sound that is the signature of The Hollies – the 1960s pop rock Hall of Famers, who are heading to Tauranga – or Tower-runga with a hard 'g' – as Hicks calls it, in February.
But then the Poms, who invented the language, also say 'wrong' and 'sing' and the likes with a hard 'g'. The air in Papamoa is thick with hard g's.
Anyhow Hicks, being a Mancurian transplanted to North London can be forgiven. If for no other reason than he is a likeable bugger and he's spared some time to chat with The Weekend Sun about The Hollies Highway of Hits Tour this month. And he rang me, he paid for it.
Now, when Tony joined the Hollies they were a two-part harmony – Allan Clarke, the original lead singer, and Graham Nash, who would later achieve superstardom with Crosby, Stills, etc.
Hicks, who was a newbie in the band, says he got too close to a microphone one day while recording at Abbey Road. "I was just mumbling away pretending to make a contribution and someone said: 'That's it'."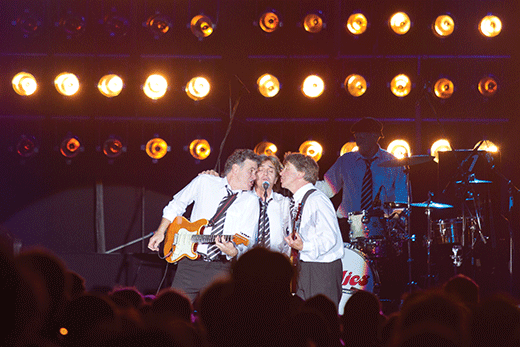 That's what? "That same someone said: 'That's the bottom harmony and we like that'." So Tony's spent the ensuing 50 years being the bottom part of three and mumbling away into a microphone because of one fatal day when he got too close to a microphone.
Mind you, it beats the hell out of the alternative. He was an apprentice electrician in a cotton mill. "And at 15, happily so." Five-and-a-half days a week for two pounds and 50 pence.
"Working over the looms wiring things up, these massive machines crashing back and forth and they never turned them off, production never stopped."
He suffered some massive shocks. "I was up on a trestle and as soon as it went to earth, it threw me so far across the room I thought I would never come back."
Life could have been so different for Tony. No concert venues chock-full of screaming, adoring fans demanding 'I'm Alive', 'Bus Stop' and 'Carrie Annie', no international tours, no worldly experiences and none of the Henley-on-Thames trappings of a rock lifestyle.
And if that electric charge in the cotton mill had done its worst, the Hollies would have been a two-part harmony forever.
Instead Tony will be packing his guitar, sandals and knotted hanky and heading down under for a fortnight to escape the northern winter. "What a joy."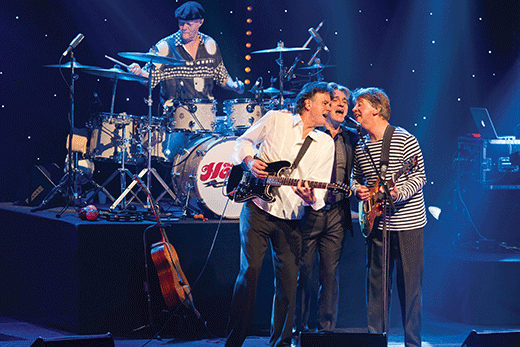 "Bob [drummer Bobby Elliott] and I do it because we love doing it." For half a century they've been "doing it" and Tony has just edged into his 72nd year. "And we all get on so well. We don't have to stay in separate hotels because we don't like each other – which is the case for a lot of bands."
Elliott and Hicks have been there since the beginning. There have been 12 other members along the pop highway, a lot of chefs, but the food remains very palatable, very satisfying and true to the original proven recipe.
I know – because a couple of years ago this reporter's thinning grey hair was amongst all the grey bobs and spectacles at Auckland's Aotea Centre for another Hollies gig. I was in the front row, I could have reached out and touched Hicks' shoelaces, which I probably would have done in the 1960s.
But no. We remained seated, we did not scream or bop in the aisles. The most outrageous behavior was singing along with 'The Air that I Breathe'. "The audience always claims the chorus as their own."
And because we are older and wiser I sat, listened and observed – and I remember Hicks laughing and smiling – no rock star hubris here. He was enjoying it. That only assisted digestion.
As for Tony's favorite Hollies song: "Anything the audience likes". But away from 'work' he enjoys the Doobie Brothers and Steely Dan. "As far as the modern stuff, well DJ Calvin Harris puts some good music together."
Tony stays enthused because they "keep trying things" and they keep up-to-date with technology and what they offer on stage.
And they are assisted by "a clever little devil".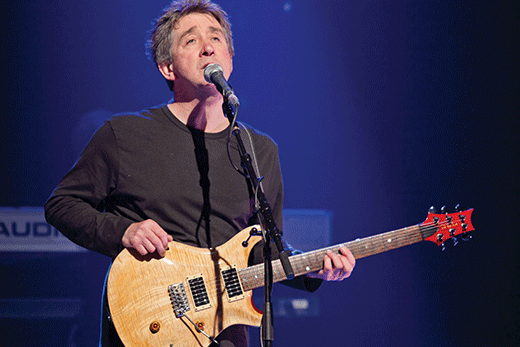 Tony's son Paul Hicks pulled the music together for 'Love', Cirque du Soleil's interpretive circus-based stage show of the Beatles' music in Las Vegas. The boy keeps the father honest.
Paul works with George Harrison's son and has won three Grammys. Clever little devil indeed.
"Three Grammys more than his dad's got," says Tony. "Which annoys me a great deal."
I had an inkling but I didn't know – the Hollies were named for the Christmas garland and an admiration for Buddy Holly?
The Hollies Highway of Hits tour plays at ASB Baypark Arena, Mount Maunganui, on February 26, at 7.30pm. Tickets are available through Ticketek.