It's time to sort out your tired bathroom! Whether you are updating to suit the needs of a growing family, wanting something more accessible or are picturing the latest trends sitting in the most important room in your house, the team at Bay Bathroom Design and Build can help by providing a quality built bathroom without the hassle – as they will manage the project from beginning to end.
Bay Bathroom Design and Build was established right here in the Bay in 2001 and has renovated more than 400 bathrooms to date.
"We pride ourselves on bringing a unique service by offering a complete package from design, to the finished project with everything in between," says Bay Bathroom Design and Build owner Darryl Roach.
"We are also lucky enough to be living and working in one of the most sought-after areas in New Zealand.
"Tauranga's growing population and booming house market has seen an increase in home renovations, with bathroom updates taking top priority," says Darryl.
"We have dealt with many houses in well-established areas such as Matua, Bethlehem and Mount Maunganui; helping turn older-style houses with interesting colour and décor combinations, leaks, or just needing some attention in general, into modern, practical and stylish spaces."
The Bay Bathroom Design and Build team is made up of skilled designers, licensed builders and competent tradesmen that have been taught the skills of putting together arguably one of the most complex and important rooms of the house.
Along with full bathroom renovations, Bay Bathroom Design and Build also caters for the partial bathroom renovations – including shower upgrades, shower glass installations, waterproofing – right down to just upgrading a single fixture.
"We also work closely with a cabinetry firm with an 18-year relationship and can build that special cabinet. From custom bathroom furniture to laundrys – and even that special piece of furniture you have always wanted inside the house – we can make it happen," says Darryl.
And if you're interested in anything from an entire bathroom up-haul to a new faucet, Bay Bathroom Design and Build makes it easy and stress-free.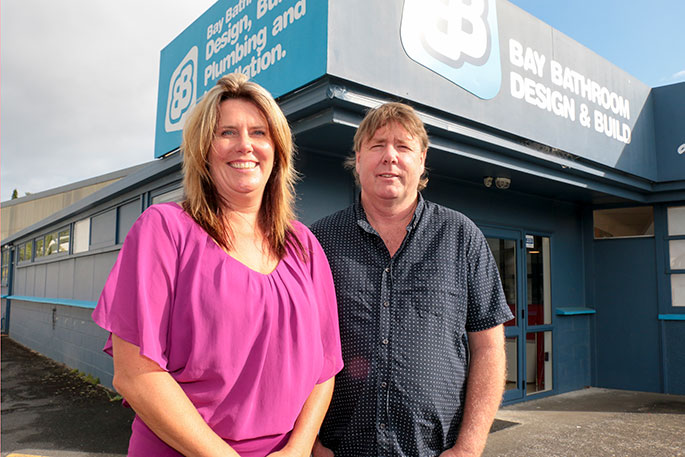 Vicky Gillespie and Darryl Roach from Bay Bathroom Design and Build.

"We are happy to talk to you about your requirements. We will arrange for someone from our team to meet you at your place to take photos and measurements to produce a fixed priced quote for the renovations required," says Darryl.
"From there, you consult with our designer and project manager Vicky Gillespie, who will listen to your ideas, offer some of her own based on her vast experience, and showcase the large range of fittings, furniture, shower, bath and vanity options we have available to us."
The opportunities really are endless and the team love hearing everyone's different ideas and helping turn them into a reality.
Bay Bathroom Design and Build's Judea showroom displays just a small handful of the many different options available with tiled spaces, acrylic showers, accessible/wet room bathrooms, curved showers, compact vanities, larger vanities for big spaces and the latest in soft close toilet suites and fittings in different finishes including the classic chrome and on trend black.
"Bathroom trends are continually changing," says Darryl. "And we can help work towards your wants, needs and budget while combining style and functionality for the perfect finished room."
So call now or come and talk to the team at Bay Bathroom Design and Build and make that dream bathroom a reality.