There's a loud collective gasp as Keely Tyler-Dowd does 'the drop'. It looks dangerous, potentially is dangerous. It's guaranteed to set a couple of hundred little hearts pounding and leave an equal numbers of little faces wide-eyed and anxious. It's a fundamental of the circus ring, the unexpected, the element of surprise; it never fails.
"I love the audience," says the aerialist and tightrope walker 21-year-old Keely Tyler-Dowd. "It's the reason I do this." And when she hears that gasp, or a clap, or a cheer, it's her reward. Job done.
'The drop' is aerial acrobatics, a freefall from about three metres above the circus ring. The fall is arrested just a few centimetres from impact by slings, or silks as they are sometimes known. They're suspended from the roof of the Big Top. And at the bottom of the fall Keely waits, hanging upside down in a pose, as an audience regathers itself.
"That's why they pay for their seat. There's an expectation they will be excited, thrilled, scared, whatever, and have a laugh. It puts the pressure on you."
Keely is a vivacious, carefree West Australian, who's been camped up in a bright red-and-yellow caravan in the 11th Ave corner of Memorial Park recently. She belongs to a circus. The Aotearoa Circus.
"I love it."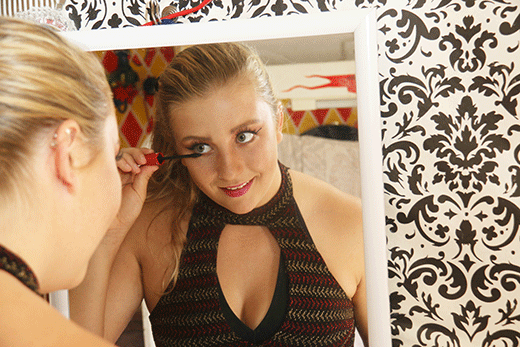 Keely Tyler-Dowd, aka 'Sparkles.' That's a generic name. "All we aerialists are called 'Sparkles'." And Keely aka 'Strong Woman'. "Because I used to throw another person over my shoulder and carry them into the ring. And also because I was at the base of a human pyramid." Normally a job for the blokes.
Apart from an explosive smile that would melt a man 10 metres back in the bleachers, she's been blessed with beautifully set square shoulders. They're eye-catchers. "A gymnast's shoulders," she explains proudly.
And no, she wasn't another muddled, messed-up, troubled teenager who ran away to join the circus. "When all my friends were deciding what they wanted to do at uni, I wanted to keep doing what I was doing." That was gymnastics. And to turn that into a career she found circus.
"I auditioned for the National Institute of Circus Arts at Swinburne University of Technology in Melbourne. They love having gymnasts to teach all this cool circus stuff to." It wasn't an academic romp. There were papers in anatomy and biomechanics, arts management, physiology and technique and cultural theory and representation, amongst others. Three hundred units all told.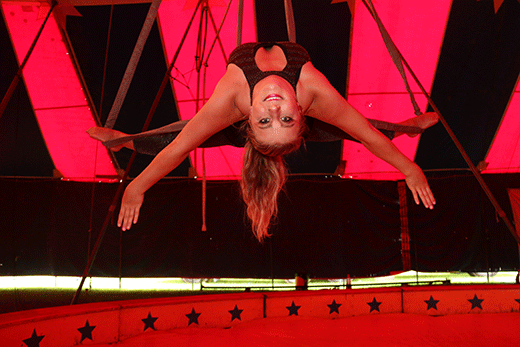 So there's more to circus than grease paint, candy floss and high wires. Keeley came out the other end with a degree – a Batchelor in Circus Arts. "It's a silly piece of paper." But it's still a piece of paper. And it's a very transportable piece of paper. The degree will eventually take her overseas – to Europe, to new circuses, to new places, for new experiences.
"I was raised upside down and hanging onto things, hanging off things and doing flips and stuff." Her parents owed a gymnastics club and are very supportive.
"I just think about the audience and showing off to them. Here's all the things that I can do."
And after just a couple of months of circus she's already playing her audience. "If there are little girls and boys ringside when I do my slings act I wave and smile at them and they go all: 'Oh my God.' I can make them feel really special." And they feel they know the circus girl, there's a connection. "You can see them thinking: 'She is waving at me'."
And even when the ringmaster announces her and she emerges from the curtain you can hear them go: 'Wooow! She's amazing, isn't she beautiful?' They get swept along in the moment."
And you can't buy that satisfaction. You can't put it in a pay packet. "That's why I do it. It feels great."
By the very nature of a circus act, there will be mishaps. Keely didn't wait long for hers.
"It was the very first week of this tour in January. I was stepping off the tightrope onto the platform and crash. The high wire went down and the platform tipped up." It wasn't as planned and Keely had a very undignified landing.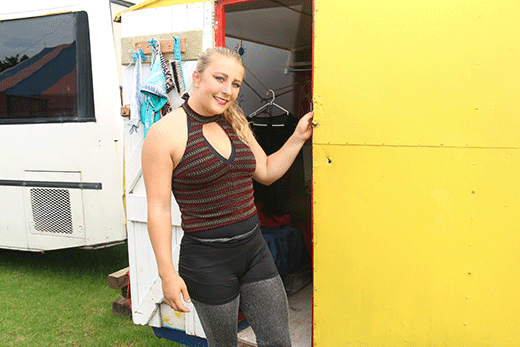 "I got a hell of a fright. I whacked my arm." She had a few days out of the spotlight and was then straight back up on the tightrope. "I just forget about it when I am performing."
What about life outside the Big Top, the dynamics of circus people? "We spend 24/7 with each other. "We work, eat and play together. We have a good crew so I am pretty lucky. We all get the work done, we aren't lazy and we share a sense of humour, we laugh a lot."
But she's heard some "rough stories" from the past where people have been put in caravans together and things haven't worked well.
And this April 13 in Rotorua will be a special performance for Keely. It's her 22nd birthday and Mum, Dad and three siblings are flying in from Perth to be ringside. "They're all arty people too, we are all over the shop."
So 5000km of travel to hear the ringmaster introduce 'Sparkles', to watch their wee girl emerge into the spotlight, to see her teeter on the tightrope and 'drop' out of the sky on the slings and then take in all the adulation. And love. And pride. There might even be 22 candles and a birthday cake when the Big Top empties out that night.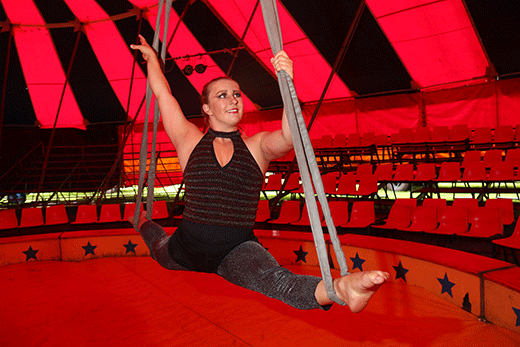 Subscribe to our weekly Newsletter
Email: