Morris McFall believes there are three types of collectors. "There are hoarders; people who collect [items] and like to keep them in their working clothes. And people like me, who want make them look like new again and restore them to full working condition.
"So I'm in that third category; that spends a bit more time and effort on them."
About eight years ago the founder of McFall Fuel took a step back from his family's Mount Maunganui-based petroleum business and dived into restoring vintage farm tractors.
"It became a bit of a hobby – and I suppose a passion," says the 82-year-old.
"I had a couple of tractors for 20 years or so; and because we're in the petroleum industry I also had a number of vintage petrol bowsers dating back to the 1910s."
Now his private collection, aptly named McFall Museum – a 50m by 25m warehouse nestled in Mount Maunganui's industrial area – sports more rare machinery delights than one could ever chance to see.
There's vintage farm tractors, stationary engines, petrol bowsers and memorabilia that Morris has collected and restored. "Everything in my museum is fully live," says Morris.
The tractors represent 15 brands originating from Germany, England, Scotland, Australia, the United States and Canada.
And the collection has expanded to classic cars. "I have a Cadillac, a Rolls Royce, a Thunderbird and a Studebaker. And there are two others outside the collection; a Mercedes and Jenson Healey."
"They are all classics and all are very low mileage and mint condition-type vehicle."
So how did cars come into the museum? "By accident," jokes Morris.
"Well at various stages, because I guess people got to know I collect things and make them new again, I've had offers from time to time for cars as well.
"But I'm 82 now and as years go on climbing around cars repairing and servicing them isn't quite as easy as it used to be. Whereas on tractors the working bits are much more accessible."
So how many hundreds of hours has he spent restoring each of these machines to their former working glory?
"It used to be full-time but I'm getting older and lazier," says Morris. "That comes with vintage. I've had a few health problems the last 12 months, so I've had to slow down quite considerably.
"And I do have one McFall Fuel staff member, who gives me a hand a few days a week as well.
"Because they do take quite a lot of maintain just to keep the batteries charged and the dust off them."
Morris says it can take up to six months to recondition a tractor. "And they're painted in the latest high gloss paint and fitted with new tyres – they look like new when I'm done with them."
But he's enjoyed his time unwinding all the bolts and nuts with his son Bryce.
"Bryce is a tetraplegic as a result of a quad bike accident about 14 years ago. One of the reasons I got built the museum was it was something Bryce could spend time with me, killing the days.
"He has no use of his arms or legs, but there is nothing wrong with his brain – and he just enjoys being with me and watching the progress.
"And with my youngest son Allan taking over McFall Fuel, this helps my wife keep me off the streets."
So has Morris got a favourite piece in his collection? "I don't think so; my collection is different to most others.
"One, are machines are fully reconditioned working models; and they represent a very wide range of brands. Whereas most other collectors concentrate on one or two brands."
But is there a special one? "Well, they've all got a story to them," says Morris.
"So depending on what you call over half of them I could call special.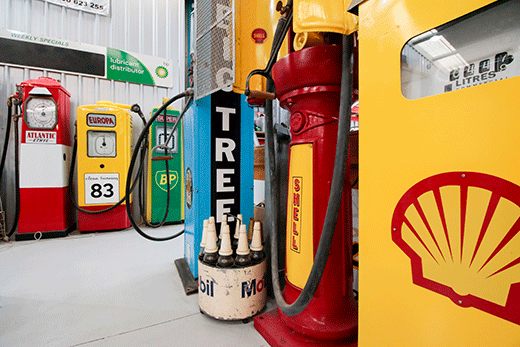 "One is the most expensive tractor in its brand model ever sold in the world – new or second hand –that's a 1936 Farmall F20.
"And the very first diesel tractor the John Deere brand ever made is special in lots of people's eyes.
"There's a little Ford Fergusson, which was built in the United States and has got a long history to it. "The first of those was built in 1939 and the first Fergusson wasn't built until 1954 – so it's way ahead of the regular Fergusson you see about the place."
"There's also a Hart Parr that was born in 1926 and was taken over by the Oliver Corporation in 1928 – so they are pretty rare little beasts."
So is Morris' private collection complete? "Well, we put one-and-a-half new projects into the museum in the last 12 months but these days I'm getting pretty choosy.
"One because space is starting to be taken up; and two, for me to want to put anything else into the museum, it has to have a story to it. It has to be special."
Morris is open to groups visiting the museum if requested. You can contact him at: mcfall@kinect.co.nz