There's a calm serenity in the way Robbie Lavën speaks, it's like Pachelbel's Canon verbalised.
He's a thinker. Before every answer there's a slight pause, a half-beat, before offering up an insight with metronomic rhythm – you could set your watch to his words.
Yet when the topic of 'music' comes up there's a cadence in the 72-year-old's voice, the beat of his delivery quickens slightly and you know you've struck a chord.
"Everyone is born with a particular passion, a vocation almost, music is mine, I can't resist. When I was two or three, if my parents took me somewhere and I heard music I'd run away and find it.
"Since then I've discovered more and more about people with that inborn passion. It could be a genetic thing, it could be just your own make up, they can't resist it, and they have very little choice over the matter."
Robbie's father adored jazz, he'd play vinyl records every weekend, exposing his son to artists like Louis Armstrong, Django Reindheart, Duke Ellington, "almost from the day I was born".
Born in Amsterdam in 1945, Robbie discovered his aptitude for music while walking and whistling to himself at age 10.
He would master his first instrument a year later – the snare drum – an instrument he discovered via a local youth club's marching band at age 11. Soon after, his parents purchased him a guitar.
The Lavën family then immigrated to New Zealand through a government sponsored scheme in 1959, arriving in the country at the same time as the electric guitar revolution reached our shores.
While studying at Auckland University during the 1960s, the folk revival hit NZ and Robbie was further opened to a strange and beautiful new world of instruments.
"I remember hearing Ravi Shankar and was completely blown away by his improvisations. A local music shop had a sitar which I purchased, took it home and mucked around with it."
There was no stopping the learning after that. Instruments he's mastered to date includes lap steel guitar, mandolin, fiddle, sax, flute, harmonica, percussion-like washboard, and a range of ethnic folk instruments. You could probably give Robbie a kitchen sink and no doubt he'd make it sing.
Robbie was a spectator at the very first National Jazz Festival at Memorial Park in 1962, but has also performed at the annual event a handful of times.
"I played last year with Bay Dixie, and in 2007 with the Wellington City Shake-'Em-On-Downers – a band which my son plays in and that was a lot of fun. I've also had two or three performances with Bonjour Swing, a gypsy jazz group which my wife Marion Arts and son Oscar formed."
But you won't be able to escape Robbie during the 2017 National Jazz Festival which is taking place across the city centre this Easter weekend, April 13-17.
That's because he's performing with three bands this year – Bay Dixie on the Dixie Land on Grey Street stage this Saturday, then back-to-back shows with the Bay City
Ramblers and Kokomo on the Eve's Realty Stage on The Strand on the Sunday.
"Bay Dixie performs mostly 1920-1930s Dixieland jazz and almost has iconic status as some players have been around since
beginning of Jazz Festival. Kokomo
performs a lot of blues and roots, and
Bay City Ramblers repertoire's mainly swing and blues focussed material, using stringed instruments.
"I am going to be a busy man, but it's going to be great. Going back to the irresistible passion of music, you get in the zone and you keep on going forever."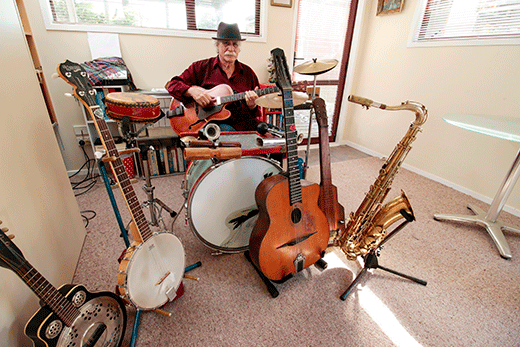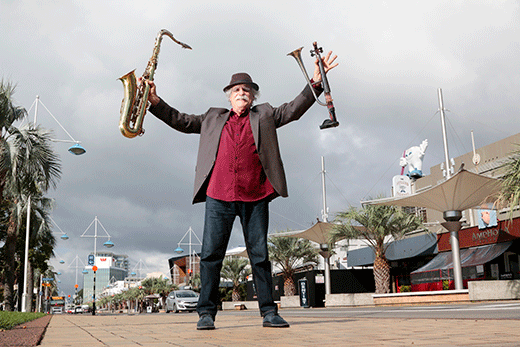 Subscribe to our weekly Newsletter
Email: