Bringing a Mediterranean style of cooking to your kitchen is easier than you think, and it's a small change that your taste buds will thank you for.
Using quality ingredients makes simple meals come to life. Open a can of true Italian tomatoes or a pack of Italian bronze nozzle air-dried pasta and you'll understand. And making the switch to high quality ingredients is easy, convenient, and won't hurt your wallet.
Now in Tauranga, Vetro Mediterranean Foods is a premium food store that stocks the hard-to-find items as well as your day-to-day grocery needs, which means you don't have to search high and low and you'll find everything without spending an exuberant amount of money.
Though Vetro may look like a luxury supermarket, that's not the case at all. In fact, real, high quality Italian pastas cost about the same as their industrialised supermarket counterparts.
Whether it's real Italian pastas, tomato passatas and sauces made and bottled in Italy, or delightful New Zealand salmon – Vetro in Tauranga has it, and they have it at a great price.
"The idea that you can buy a can of Italian tomatoes, which are salt and sugar free and taste fantastic because of their growing conditions and climate, for only 99 cents, is something we feel is really important," says Vetro's Liz Gore.
"It makes top quality everyday products accessible for everyone and once you try them you see how they are just that much nicer."
At Vetro they are committed to providing quality ingredients at every day prices. Oils, vinegars, gherkins, olives, French, Italian, Greek and Spanish meats and cheeses, not to mention a superb range of tomato and pasta products are all available.
In addition, Vetro is becoming increasingly known for its extensive range of quality dried fruit, nuts, seeds, grains, beans and lentils at really good prices.
As Liz says, "Although we are not a 'health food shop' we stock a lot of healthy food, hard-to-get flours, bulk nuts, seeds and dried fruits not to mention all the olives, anchovies and olive oils. We even have some gluten-free flours and pastas".
With freezers stocked with beautiful gelato, ice-cream, duck, poussin, NZ berries, stunning French pastries and quick-to-prepare pastas and Greek filo pastries, there really are wonderful
culinary solutions at Vetro.
The family-run store is known for its friendly helpful staff who are happy to explain how to use certain products and give great ideas for everything from a simple family meal to a more sophisticated dinner party.
Ask staff for a 'what to do with…' list for any of those products you may not be sure about.
If you're looking for a gift, Vetro has two great solutions – either a voucher or a beautiful wooden custom made box which you can fill yourself,
have them help you with, or just grab
one of the ones ready to go.
Their easy-to-get-to location on the industrial side of Third Ave has plenty of parking out front and along the side of
the building to help make loading your groceries even easier.
So if you want your cooking to have a difference you can taste, try buying your groceries at Vetro in Tauranga.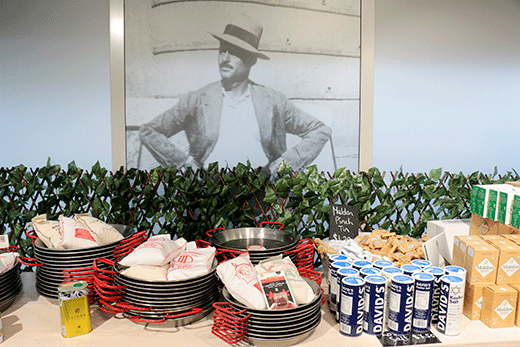 Subscribe to our weekly Newsletter
Email: