It was a way of helping others when she couldn't help herself. A way of filling the bellies of those in need when hers was always empty.
Brigitte Mouat started the meal-delivering charity Arms of Angels because she is unable to eat.
"I have gastroparesis, and my stomach is paralysed; it doesn't actually do anything."
Instead of letting the situation get her really down, Brigitte started making large amounts of food and dropping it off at a local koha (donation) centre in Kapiti for people who can't always afford to put a good meal on the table.
"I started making all of this food to give away. People started lining up on a Friday when I took the food down and one girl asked how I made the food."
So she decided to go one better – the next time she was at the centre, she brought with her the ingredients and the recipe for the girl.
"She cried actually. She said: 'Nobody has ever done something like that for us'."
That was the first one. The first time Brigitte supplied someone in need with everything needed to prepare the food themselves.
Brigitte isn't just providing people with food, she's teaching them to cook for themselves. But she didn't set out to start a charity.
"It wasn't deliberate. It was because I couldn't eat food myself."
She made the huge quantities to stay connected to food – she could touch and smell and see it, but she couldn't eat it.
"I mean I have to admit at the beginning, when I was doing that, I would cry sometimes because I would be making it and think: 'I want to eat this so badly!'."
Eventually, Brigitte was feeding seven families through the koha centre, all on her own dime.
She would push two trolleys full of food around New World Kapiti.
"One day the supermarket owner said: 'Gosh you get a lot of groceries' so I told her and she said: 'We'll make all of the packages up for you'." Brigitte started telling people what she was doing, how much it cost, and people started signing up.
"All of a sudden I had a charity."
So Arms of Angels started in Kapiti and has now migrated to Tauranga.
Arms of Angels feeds local families in need and is sponsored by local families – a real community mission – and it's delivering good nosh. Think pork and apple cider sausage bake, mince chow mein, Mediterranean meatballs.
It's a similar concept to Nadia's Food Bag but for families in need. Good food, delivered to your door; that you learn to prepare yourself.
"We're all volunteers, every single cent goes on the food."
It works through anonymous nominations – people can nominate a family they think are in need, Arms of Angels will give them a call and see if they could use a little help, and then somebody sponsors that family for six weeks. But it's not expensive – six weeks of sponsorship amounts to a $90, or $15 a week.
That $15 a week will provide at least one hearty, healthy meal for a family, and teach them how to cook it.
"My condition is for life, but I'll always want to eat food because I know what it's like. I know what it tastes like. I'm always hungry so I know what hunger feels like!"
To eat, Brigitte connects up to a feeding tube that slowly drips small quantities of nutrition-packed liquid into her intestines, bypassing her stomach.
"It just drips out at 100ml an hour and I have to do 1000ml."
"When I get dehydrated, I have to fill a litre bag of water and put it through the machine and that's another eight or nine hours, so I'm on it for up to 18 hours a day."
She can't use the feeding tube lying down because she runs the risk of aspirating, so on long days Brigitte will have to try and sleep sitting up.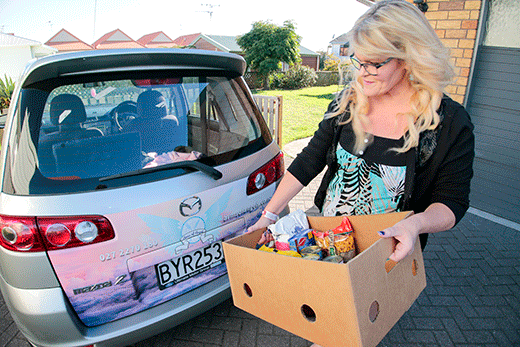 "You never sleep, trust me; you're awake all the time."
"Every now and again I won't put a feed through at night; I'll do as much of it as I can during the day so I can lie flat and sleep."
A charity that has come at a great personal expense. Brigitte can't go out for dinner and catching up for a coffee and a chat is difficult.
But despite all this, Brigitte remains upbeat and positive. She's thrown herself at the opportunity to help others enjoy food, even if it means working from a hospital bed at times.
"But I always think: 'Y'know what? I can get out of bed every day; do my hair, do my makeup and get dressed' and nobody knows. You just carry on."
For more information and to get involved, volunteer or sponsor a family, visit: www.armsofangels.co.nz
Subscribe to our weekly Newsletter
Email: