Ken Evans is never short of an idea. A fence post for the roof. "So you don't fall off." A honeycomb roof for privacy and warmth – and, something called a wheel-less trailer.
"Did you get that? A wheel-less trailer." We did get it, but it sounds improbable.
There's also the Showerdome, an idea that's made Ken a very wealthy man. His company's just sold its 100,000th dome.
Ken's home is full of inventions. "But I won't bore you with others things."
But we want to know more. "Okay then, come and see my workshop." It's an invitation that opens up a world of whacky, but very useful, creations.
"You're going to love this one," says Ken. The wheel-less trailer is Ken's latest invention. "I'll show you." The 77-year-old yanks it off the fence, throws it over his shoulders and hooks it to the rare of his vehicle.
"It's in the production stages, this is mark six." The demonstration begins. "It's got lights and a number plate. It doesn't need a Warrant of Fitness or a registration." He's checked with Police.
Ken's an inventor, an ideas man. "That'll do, yeah." He claims that title proudly. "I'm a DIY person, with a background in engineering."
Ideas just pop into his head at random. "If there's a problem there's got to be an answer to it. There's always got to be a better mousetrap."
Just like his most successful invention, the Showerdome – an acrylic cover placed on top of the shower to stop moisture forming in the bathroom. Ken had a problem and he fixed it – and he's fixed it 100,000 times for people throughout New Zealand.
"Let me tell you the story." It's a story that began in 2004. "I used to be so annoyed. I'd come out of my bathroom and the walls were running, the mirrors frosted, the ceiling was always needing painting." He's acting out the scenario for the reporter.
Ken refers to a television commercial for a stove. He watched the water bubble away inside a glass kettle. Ken took notes. "There was no steam."
Then, the lightbulb moment. "I went down the road, got a sheet of flat safety glass cut the right size and put it on top of the shower. Perfect."
But the water condensed on the shower glass and dripped cold drips. "Plan B. I designed a dome by hand. Perfect."
He showed the dome to shower manufacturers in Auckland. "I thought: 'They'll be the right people, they'll just love this'. No. They thought I was insulting their showers."
Ken had the idea, but needed the tenacity and grit of a salesperson. Enter, Maurice O'Reilly. "He's a different animal to me. He's the marketing, entrepreneur-type, fantastic guy.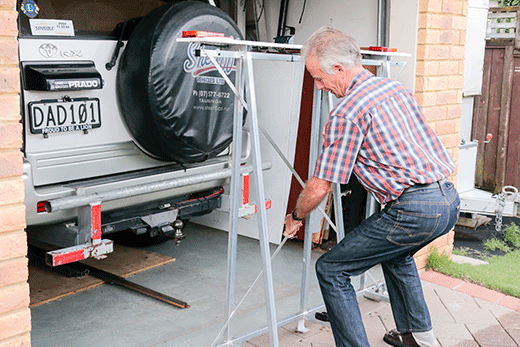 "A lot of people need a Maurice O'Reilly to get that next link, someone to bounce ideas off."
Following a couple of years perfecting prototypes and test marketing, the company formed in 2007.
"Initially, the market was difficult – people couldn't get their heads around it." So Ken explained. "No steam is created with a Showerdome."
It's specifically designed to keep out the cooler air while generating the circulation of warm air within the shower. "That's become our biggest selling point," says Ken.
Domes are now made in 12 different shapes and sizes by Plastic Formers Ltd in Tauranga, with agents throughout NZ. "We're just run off our feet. Sales went up 40 per cent last year. In one year that's phenomenal."
And those doubting Auckland manufacturers are now intrigued. "They still make their product, we compliment it."