She could 'do the job' as a right-handed batting fielder. "But no runs to boast of."
She played cricket just for the enjoyment. "But I love the game."
And her name is uttered in the same breath as New Zealand cricketing royalty. Kane Williamson, Martin Guptill, Neil Wagner, Suzie Bates, Amy Satterthwaite, Neil Wagner – and Rebecca. Rebecca Yee.
While cricket's glitterati were being honoured at the ANZ New Zealand Cricket Awards for their deeds on the pitch, Rebecca was being celebrated for achievements just beyond the white picket fence at Bay Oval. Her citation read: "Best female engagement strategy". A winner without facing a ball, bowling a ball, catching a ball, but imperative to development of schoolgirls' cricket in Tauranga.
Put simply, Rebecca is out in the schools sharing her enjoyment and love – and droves of Tauranga schoolgirls are sensing that love and buying into cricket. "Well, if they don't feel your enthusiasm then you can hardly expect them to buy into what you are offering.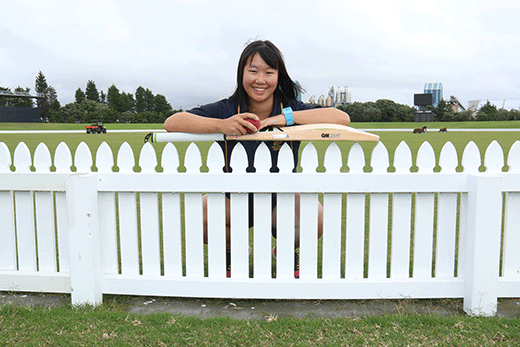 "The girls need to see some effort being put in on their behalf," says Rebecca, who is the vivacious and infectious 26-year-old Bay of Plenty Cricket's women development officer.
"Playing since I was eight, coaching since I was 14; so cricket is a big part of my life," says Rebecca. Raised in Mount Eden, she played for Epsom Girls' Grammar School, and Cornwall. Now she's paid to grow the game among schoolgirls in Tauranga. Money well spent it seems.
"Everyone else who won development and service awards that night had been doing the job for 15 to 30 years." Rebecca, the winner and 20 hours a week part-timer, has been in the job just two-and-a-half years. Big laughs and smiles – she enjoys that fact.
And Rebecca's numbers are stacking up. "Women's cricket has been tracking okay and there's lots of talent like the Nensi Patels and Brianna Perrys." But the participation numbers have soared since she got involved.
"It's reflection of what we are working on at junior level," says Rebecca. The Year 4-6 level, the eight to 10-year-olds. It's called 'Go Girls'."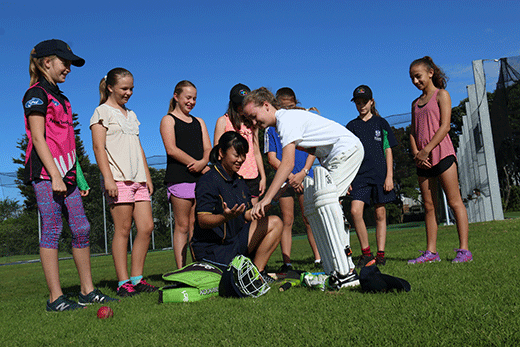 Rebecca goes into a school to give an hour-long coaching session – maybe at lunchtime or sometimes during school time. "Getting an hour off school is an incentive to any kid."
It all leads to festival days – an eight-aside Rainbow World Cup competition and in Term Four the Super Six competition.
It's played at Bay Oval – but last year because of numbers it spilled over into Blake Park. "It was a sight," says a proud Rebecca. "A visual representation of what's happening in girls' cricket and how far we have come."
Now this is telling. When Rebecca started, she delivered Go Girls to eight or nine schools. "Not too good, not too bad." But last term alone she went into 15 schools – and 25 teams from those schools took part in Super Six. "We have done pretty well."
Rebecca says it's about providing schoolgirls with something they want to do and with lots of options, lots of opportunities to play cricket. "Because there weren't many before we began all this. They always enjoy cricket once they start and the more they play the better they will get and the greater the enjoyment."
One measure of the growth is a local intermediate school, which has gone from no girls' teams to four in just one term. "Incredible," says Rebecca. But they are building from the bottom up.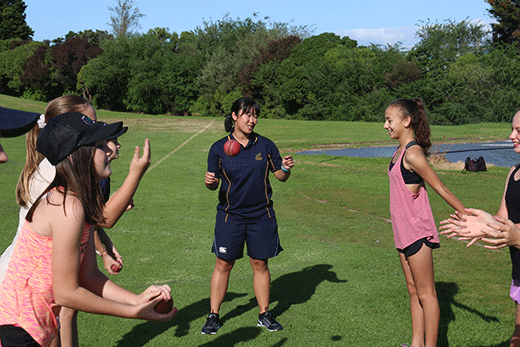 When she's not organising Go Girls, Rebecca's looking after the secondary schoolgirls' representative team and driving to Auckland with the under-14 girls' rep team. "I am busy. But I am trying to get more managers and coaches so I don't have to do everything. I am slowly building my army of people."
When Rebecca fronted up at the cricket awards she took a date – Dad, Tony Yee, an 18-year girls and women's grade convenor at Cornwall Cricket Club as well as a coach and board member. "He was very proud because he was the one who got me into it."
They are third and fourth generation New Zealanders of Chinese extraction.
"Some of the cricket kids are a bit surprised when they see me," laughs Rebecca. "But most just see me as Rebecca, who comes in and does cricket and they don't think too much about it."
"Me and my parents are Kiwis at heart because we were born here. We don't have a great connection with China."
But they do have a very big and successful connection with the institution of cricket. And the game is richer for it.