At the heart of Tauranga's emergency housing programme are some superb
street food cooking classes.
"Stephen Wilson is coming in regularly," says Te Tuinga Whanau social worker Jena Young at one of the Cameron Rd houses.
Chef Stephen lived in France for 26 years, co-founding Kiwizine restaurant in Paris.
On his return with his family to New Zealand he shares his passion for the best of French cuisine and culture through cooking classes, team-building chef challenge events and weddings.
He starts with an introduction.
"My name's Stephen, I was born in Tauranga Moana, I was the 11th child. I was the baby. My parents had a restaurant at the Mount where the Social Club now is. My job was to peel two bins of onions. That onion took me from New Zealand
to France."
The group of mums gather around. There's laughter. Rosemary sticks. A chance to cook, eat and share new memories.
"What we want is for our whanau to learn to cook delicious healthy kai," says Jena. "And to give them cheaper ideas but also something fun to do."
People enter the 12-week emergency housing programme through a Ministry of Social Development referral. Te Tuinga Whanau assesses the family's need and works alongside them.
Some families just need moral support and others need help getting a house.
Stephen shows the group how to cut an onion. All the time telling stories.
"You've got the French with their onion soup, you've got the Spanish who make their red onion into a beautiful caramelised onion. In Italy they do it with their pasta to make their sauces. In Indian they do it with their curries, and then the Asians with their stir fries… "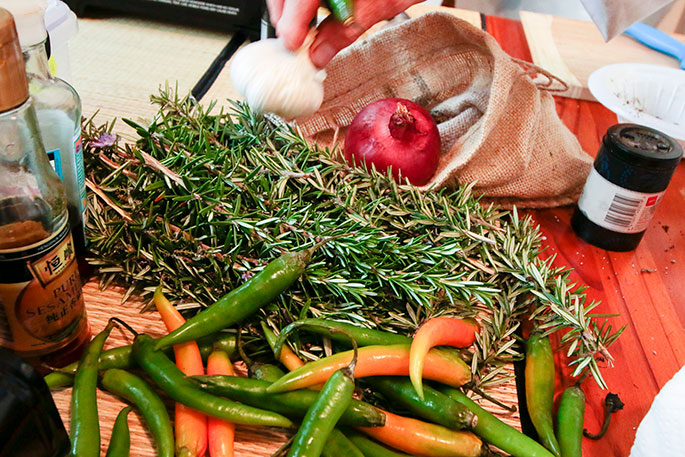 He explains how to cut an onion correctly.
"If you cut it all different sizes, then some is overcooked and some is undercooked. I work a lot with kids from difficult situations and they can do it! They can cut the onion.
"One of my boys was accepted for cheffing at the polytech!"
Stephen often finds herbs growing on roadsides or places where he can gather it at no cost. Wild fennel. Rosemary.
"I teach them that you can flavour food without using lots of salt. You can use zesting lemons and limes, freshly dried herbs, spices, garlic, onion, – that's what's important in kai. Good food brings people around the table.
"I learned the art of eating through the French. When life around the table thrives, you have community. We don't want bigger walls, we want longer tables."
Stephen is also on the committee for the Merivale Gardens where he teaches children about herbs and the basics of growing food.
"The most important thing is the taste. You learn to season, and not to have a heavy hand. I was in a Mount cafe yesterday, and they have what I call RAG cooking – Rough As Guts cooking because they use a heavy hand. You've got to have a light hand with seasoning. It shows focus and care to enhance and not to overpower the dish.
"When you're at the table in France, you have to add the salt yourself. We've got too much sugar and salt in our food, and before you know it obesity and diabetes comes knocking at our door."
"We've got to get away from carbs and fatty mince. Mince sold in some of NZ's supermarkets is 30 per cent fat. That's illegal in France.
"I get angry because people without enough money see mince on promotion but they don't realise that one third of it is pure white fat."
Stephen teaches diabetes courses, having worked for the Green Prescription for Sport Bay of Plenty in Bay of Plenty maraes.
"I see that there's a growing awareness – when I talk to the young kids I ask them what their favourite food is. Their second is sushi. You wouldn't have heard that 10 years ago. In the maraes I'm noticing more salads, the ship is going in the right direction." This month two more emergency houses will open.
"For the opening we'll make our own flat breads. We'll do a tzatziki – that's Greek, with low-fat Greek yoghurt, garlic, mint and cucumber. Then we'll do hummus - that's Lebanese. And we'll do the chicken on rosemary sticks as a marriage of Mediterranean and Asian dishes. Look at all those cultures together. Fantastic.
"Celebrating life, people and food!
"In NZ we don't put enough value on what we grow here, kiwifruit, the avocado, manuka honey. I want chefs to be putting it into our dishes so that tourists come and see what our kai is.
"I teach people to use what is in their backyard, to put it together and start creating. That's what it is all about."