Bambinas, minis and kombi vans, they all roared through Piccadilly Arcade.
"That's what took the bricks out of the entrance -the kombi van," says jeweller Neville Stewart. We have bollards there now."
His father, Don Stewart, remembers back in 1971 when he moved his shop, Stewart's Jewellers, across from where the chocolate shop is.
"We moved here into what used to be Joan Hadley's frock shop," says Don. "The owner of Granny's Parlour came around and took photos, he used to do Photo News."
Piccadilly Arcade has seen many shops come and go, but it still retains a sense of a close-knit village, mostly full of destination shops, unusual in this day of large malls and anchor tenants.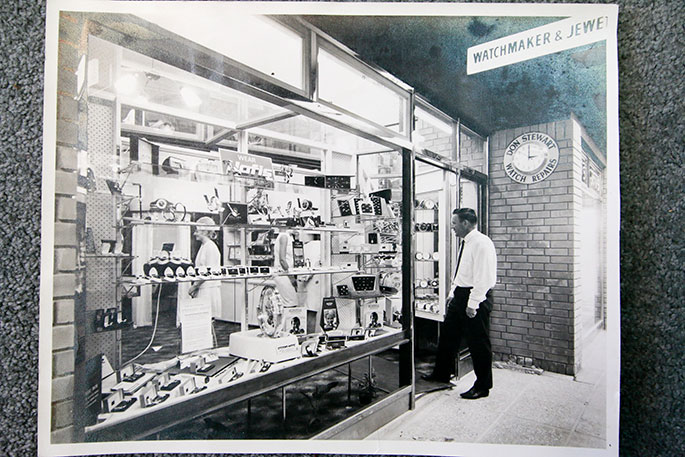 "The arcade was built by Mr Selwyn Decke,"says Don. "I haven't seen him for years, his father was a builder."
Trades seem to run in families. Don's father Fred, also a retailer, owned a bargain store in Red Square. When Don's wife died in her 40s his two young sons Neville and Lawrence came in to the shop after school each day, eventually staying close and following in their father's trade, working alongside him.
Don is now 88 years old.
"I started with Mr Jack Fenn, at Fenn's Jewellers in Tauranga when I was nine years old, sweeping the street after school," says Don. "He went to the war and gave me all the bits and pieces and I used to do the school clocks and watches."
"Jack Fenn ended up going into the air force as an instrument technician when the war started," continues Neville. "That left Don with nowhere to go, so he ended up taking on another apprenticeship with John Potts."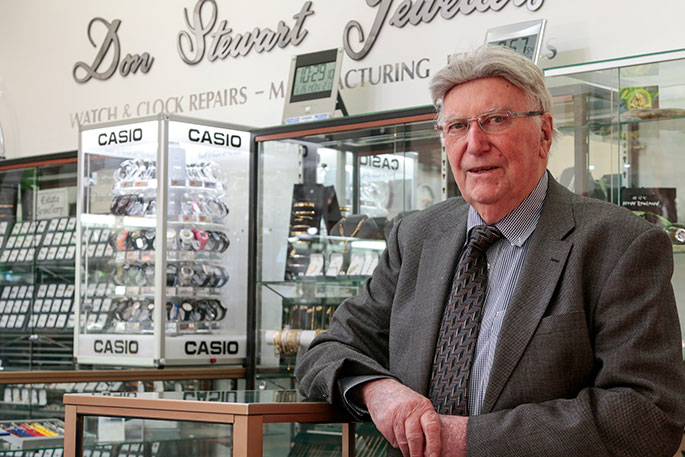 When Jack came back from the war, Don did trade work with him, then at age 21 started out on his own after finishing a six-year apprenticeship.
He brings out his apprenticeship papers. He was earning two pounds per week.
We go for a walk through the arcade.
"Steve Hunt had a menswear shop two shops down from here," says Don. "There was a locksmith then a dry-cleaning shop, then a curtain shop further down. When we shifted here the drycleaner moved to Greerton."
"There was a BNZ bank, a restaurant with a mezzanine floor and a fountain. There's been a lot of changes," says Neville.
"It changed because of the general rents and costs, and they sold the arcade," says Don.
The owner Richard Seaton, sold off the shops individually in the 1990s.
At the end of the arcade there had been a grocery shop with vegetables. And Ken Allen Chemist, the longest-serving tenant, who moved to Australia.
"He was the king of the arcade, and now I'm the king," laughs Don. "But don't write that!"
"One Christmas we put on a big do where we got everyone to bring presents and bring them to the shop here."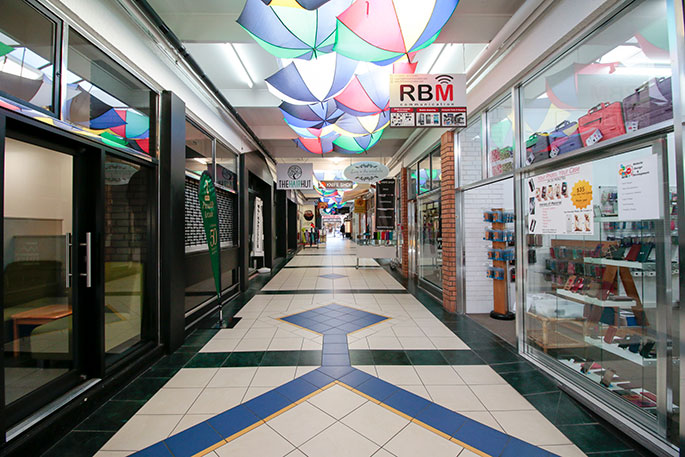 The sons recall their father being nearly arrested.
"We were doing a promotion where we gave away a bottle of wine. If you spent over a certain value you'd also receive a bottle of wine. It was so popular. The police came in and took Don off for a chat." Don remembers sitting out on the steps in the early hours of the next morning with a couple of mates drinking the leftover wine.
We stop at the site of the missing brass plaque. It was once on the wall next to the steps, but removed when a ramp was put in.
"It's 1968 since the official opening so it's 50 years next year," says Don.
Piccadilly Arcade celebrated the 50 year milestone in 2016, with the mayor and a cake, and flags made.
"Piccadilly was built in 1966, and had some shops," says Don. "We moved into the arcade in late '67 and we were in here for the Christmas of '67-68. The official arcade opening was in 1968 but there were shops in here in 1967. The official opening date will be on the brass plaque."
The name Piccadilly has inspired some English-themed promotions.
"We brought an English taxi car with a big crown into the arcade. It was one of the vehicles used by the Queen when she visited New Zealand."
Manager of the arcade Alex Were also went with an English-themed promotion for his United Travel agency which has since relocated to Grey St, rebranding as You Travel.
"We parked a double decker bus outside the arcade and took everyone on a UK promotion trip with fish and chips wrapped up in paper."
Alec has hung hundreds of umbrellas from the arcade ceiling.
"I'd been through Europe a few times and thought it was a nice way to bring up some colour with a diffusion of light through there. Cruise ship passengers stop and take photos.
"The strength of the arcade I think is that all the shopkeepers are very creative in their own right. So you have a lovely mix of shops. Because there's no massive big store-type set up, you have very interesting shops like the chocolate shop, massage, jewellers and the one that sells soaps."
Subscribe to our weekly Newsletter
Email: