It's the king of all workouts. Your speed, stamina, power and agility are tested in one extreme gym session that includes swimming, running, gymnastics and weightlifting one day – and walking on your hands and feet, and flipping tyres the next.
"Every day is different," says self-confessed sports fanatic Kevin Manuel.
The 29-year-old switched provincial rugby for CrossFit about five years ago and has never looked back. It was a decision that led him to world recognition in the sport.
Kevin is the first Kiwi male to qualify for the 2015 CrossFit Games in Los Angeles in July, where he placed fourth, earning his spot as 17th best CrossFit athlete in the world.
"It was a very humbling experience," says Kevin. "It's every CrossFit athlete's dream to make it to the games. For me to finally get there was an incredible honour."
This is a guy who pushes himself to the absolute limit. But why?
"I honestly do it because I love it," says Kevin. "It's the type of sport where the more you can push yourself, the better you do at it. The more it hurts, the better you do at it."
CrossFit is not only his sport, but his family's. He does it, his wife Jade does it and his almost four-year-old Brody joins in too. Eleven-month-old Mason will probably be learning CrossFit before he learns how to walk.
"My four-year-old boy actually cries when he doesn't get to go to the gym with me, he loves it."
Kevin says the sport has taught him a lot of lessons. "I feel like it builds a lot of character within me and has improved my personality. I feel it's made me a better business owner, husband and father."
How? "Because it teaches you patience."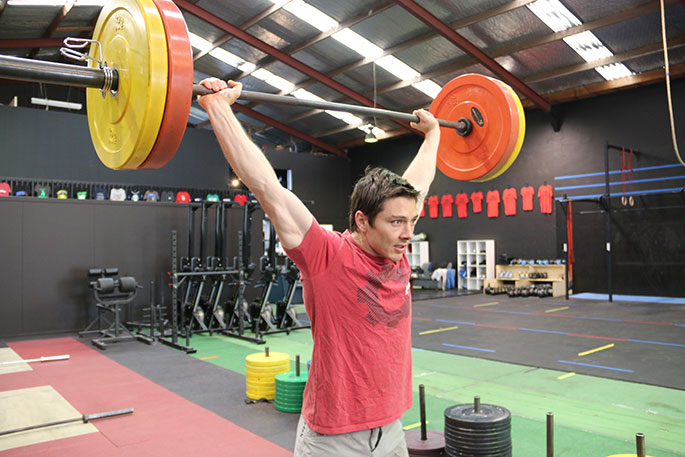 It's a sport that not only gives him abs and big biceps, but it teaches discipline.
"It's not an easy sport. You need to really knuckle down and put the work in. It shows you what you really can do.
"If you're able to push yourself to a place that's very uncomfortable and you're able to stay there for an extensive period of time, which is what this sport requires, everyday life doesn't seem so hard. You handle situations a lot easier and you're able to stay calmer and teaches you to handle pressure."
It's the pressure that comes from being a good father, a husband, a business owner and an athlete.
Kevin juggles a full-time job as a viticulture contractor, building vineyards, which he says complements his CrossFit activities perfectly. He's also the co-owner of Tauranga CrossFit and Mount CrossFit, alongside five-year regional athlete Luke McGruer.
Luke is the only New Zealander to compete in all five Australian/Pacific CrossFit Nationals.
He spent eight years in the army, four years holding different roles in the First Battalion in Linton Army Camp and four years as a physical trainer training different units and some of NZ's best sports teams for team building and training.
"During this time I was exposed to a lot of different training styles and methods but it's not until I found CrossFit that my strength, power and overall fitness skyrocketed. "We started using CrossFit to train the army units and we noticed huge gains in their overall fitness, and a lot of injuries decreased, as they got stronger."
Bringing the idea to Tauranga five years ago, Luke says no-one knew what is was and were afraid of it. Now, there are six CrossFit gyms in Tauranga, and Luke runs two of them. So why has the fitness fad become so popular in the Bay?
"Everyone here is really fitness orientated and it's great to see," says Luke. "It has such a great community feel and because of the kinds of classes we run, it's hard not to be buzzing after.
"It can be addictive, but that's great! There's nothing wrong with being addicted to fitness. The main thing people need to understand is it's not what you watch on YouTube. Anyone of any fitness level can join the class."
A fitness guru himself, Luke's tips and tricks for staying on top of one's general health and wellbeing are simple.
"It's the same no matter who you are, from the grandma carrying her groceries to the athlete playing professional sports.
"Lift heavy weights, run or walk around outside and eat real food. If you do these you will keep your body fit and healthy."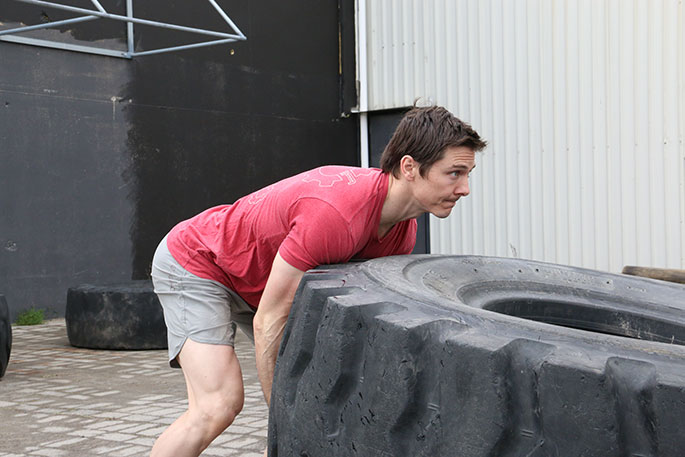 From their gyms on Montgomery Rd and Newton St, they run yoga, a barbell club, Olympic powerlifting, boot camps, a commercial gym and offer nutritional advice. It's clear these two men know what they're talking about when it comes to building that bikini-ready body for summer – but that's not what it's all about, says Kevin.
CrossFit begins with belief in fitness, working to an evidence-based programme. "Try it," says Kevin, who follows the adage: 'Don't dis something until you've tried it'.
"All of our coaches make sure everybody works to their own ability. Nobody should be scared of trying it, because there's nothing to be scared about.
"In no time they'll be doing things they never thought they were capable of."