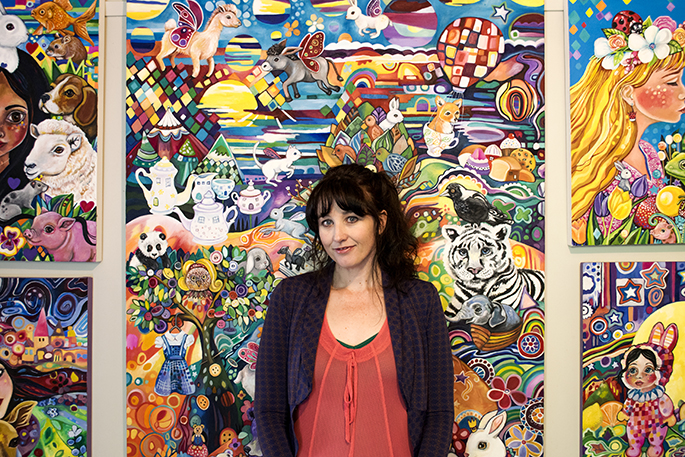 It's art that is travelling more than 1000 kilometers, crossing Cook Straight and making its way up here to be displayed at The Art Lounge NZ in Tauranga.
It has been created by Christchurch artist Lynda Bell and will holiday in the sunny Bay while she stays in the Garden City.
"It was through a Facebook group that The Art Lounge NZ's Mira Corbova and I were both members.
"I posted some of my art on there and she liked it and we got chatting. That's sort of how it came about really."
So now Lynda's art is on display on Devonport Rd, but she won't be able to visit the display herself, no matter how much she'd like to.
And it's a quirky style of art – very bright, colourful depictions of big-eyed animals and adorable humans in utopic settings. She creates busy, engaging pieces that you can stare at for hours.
The layered paintings are usually painted freehand, with little to no sketching done beforehand, says Lynda.
"I pretty much freehand, so I paint directly onto the canvas. My whole creative process is just to paint and paint and paint and paint until it looks good."
And look good they do – one was even recently shipped off to Scotland, a whole 18,545 kilometers away from its point of origin.
But it's more than just paint-on-canvas for Lynda.
There's a passion and a message behind the artwork.
"Animals inspire me, which is pretty obvious. I am vegan so that is a huge drive really.
"My art shows my ideal world and how the world could be if we treated animals and each other properly; if we showed our humanity and just embraced our compassion that we all have."
It's a passion that Lynda has had for as long as she can remember – saying she can't remember a time that she didn't love art.
"Ever since before I started school I had a dream of writing and illustrating children's books because I love to write too," she says.
"That was my goal; that was what I was going to do.
"You know how as a child you just know what you're going to do? It never really changed for me.
"It wasn't until later on, after I'd had children that I went to art school and really developed my passion.
"I always felt very frustrated when I wasn't doing it."
To see Lynda's incredible art, visit The Art Lounge NZ at 32 Devonport Rd.
Her exhibition is running until August 31.