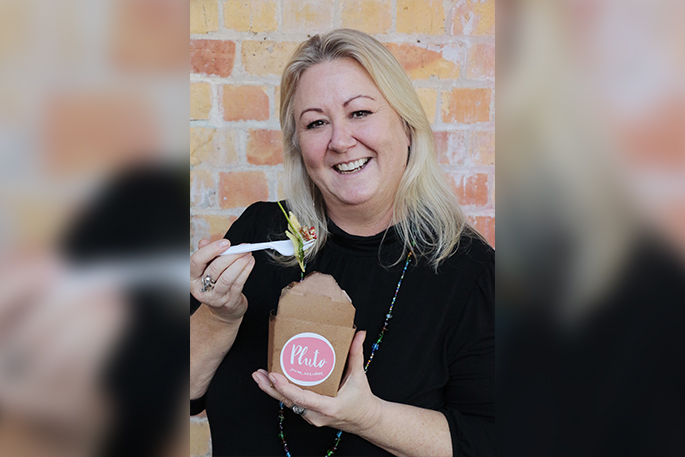 Kerri Wheeler, a graphic designer at Sun Media on The Strand, has four reasons for being delighted with her new-found 'Pluto' diet.
Living in Katikati, Kerri works in Tauranga's CBD.
During winter, this means leaving home and arriving back there in the dark. The rest of the time she's busy working at her desk upstairs in one of Tauranga's most historic and iconic buildings.
She has half an hour for lunch.
"By the time I walked up Devonport Rd to Pluto Juice Bar and back, my lunch break was over," says Kerri, while opening up her Pluto salad which
has just arrived in a 100 per cent recycled paperboard box.
"The main reasons for my Pluto diet are it's healthy, cost-efficient, has no wastage and is super convenient."
The free delivery into the Tauranga CBD area was also a major attraction.
"Now I get to take a break from the computer and enjoy my lunch without feeling puffed and having to eat while still working," says Kerri.
She emails Pluto on a Friday, selecting all of her following week's lunches from the online menu. The range includes salads made with roasted vegetables, baby spinach, avocado, beetroot, bacon, parmesan or feta cheese, sundried tomatoes and more. Pad Thai, couscous, chorizo sausage penne, and roasted potato with fire-roasted pepper pesto mayo are just some of the huge variety available.
Over winter, soups are also available.
"Payment is made via internet. It's quite exciting picking out a variety, as you can have two to three mixes in a large order, or one to two in a small order."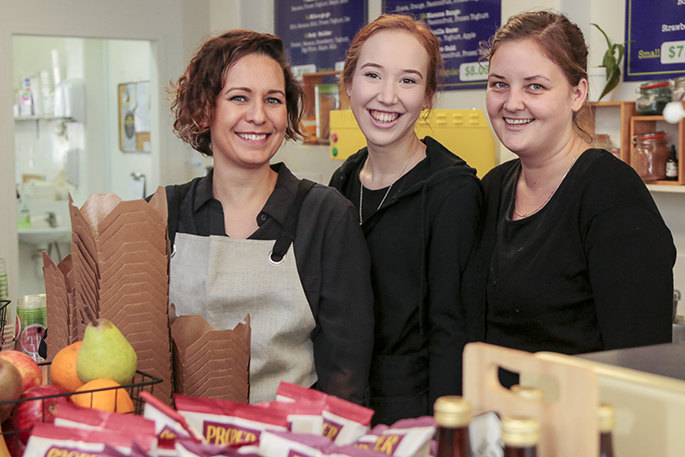 Victoria Thomas, Kayla Richardson and Jessica Smith
Up at Pluto, owner Victoria Thomas has been making their creative salads fresh each day for nearly two years.
She was Greerton's Mainstreet manager and has brought her characteristic vibrancy to Pluto.
"It's the perfect balance of creativity and I love people," says Victoria. "We get the same people in most days so you get to know them. If they're not in we wonder if they're okay. It's a community."
She's busy making salads, juices and smoothies.
Near lunchtime she will head out to deliver the lunchtime orders around Tauranga's CBD.
"We make everything from scratch with fresh vegetables and fruit. And then in the winter time we do soups, with six crockpots on the go. And we do a hot pot which changes every week.
"This week we have a beef bourguignon."
She delivers the hot pots and soups as well as the salads. "We sell about 35 litres of soup per day in the winter time.
"Everything is made on-site, in our little store."
There's vegetable and lentil soup, seafood chowder, curried cauliflower soup, and tomato and basil soup. And a pot of slow-cooked apple and boysenberry oats.
There's also frozen yoghurts, protein and health boosters, breakfast smoothies and juices.
Victoria, along with her husband Paul, Paul's brother Grant, and Paul's parents Lloyd and Rae Thomas used to own the Naked Grape, now called Takara, on The Strand, selling it about seven years ago. From there she went to manage Greerton Mainstreet, then took a break before buying the Pluto Juice Bar in August 2015. Husband Paul works at Telfer Young and her parents moved to the Gold Coast.
Established as Pluto for about 12 years, Victoria is working on franchising the business.
She has added to the range of food options, sourcing the fresh vegetables and fruit from local suppliers.
Open six days a week, Monday to Saturday, the store has developed a
large following.
Cruise ship passengers come in too.
"They like the vegetable juices and green juices," says Victoria. "After a week or so on the ship they need a hit."
She laughs. Funny stories come out, like the time one of the four staff members dropped turmeric and had yellow toes for a week.
It's a humming place.
Back at Sun Media, Kerri finds there is so much in her lunch salad that she's able to take half of it home for dinner.
"Cooking an additive like chicken or fish in the evening doesn't take as much time as it would if I was to prepare even one of their delicious salads," says Kerri.
"Most of us don't have the ingredient variety on hand that they have in some of the meals, or you have too much of something and end up having to throw it out as it doesn't get used in time.
"Some of the salads can be heated up which is nice for these colder days, or have a soup. And they have a weekly hotpot option which I haven't gotten around to trying yet."
One day Kerri felt like she was getting a cold, so Pluto sent her a 'Flu Fighter' followed by a 'Soupa Juice' the next day, both with a good hit of ginger in them.
"Boom! Cold gone," smiles Kerri.
"I'm into week seven and I have noticed my trips to the supermarket have decreased," she says.
"So long as I haven't run out of wine," she quickly adds.
"After a long day at work, then tackling the traffic, it's dark and cold, but the bonus now is being able to sit down and relax when I get home to Katikati, with a glass of wine knowing that dinner is only minutes away by simply tipping it out onto a plate and 'voila' dinner is served. Fantastic for one or two people, hassle free, nutritious and time-saving. Thanks for making my life easier Pluto."