The Friday night after-work beer – a customary ritual in New Zealand to mark a job well done and the start of the weekend to come.
But where once calls across the bar for a Stella, Waikato or a Corona with lime might have been commonplace, more and more people are turning their attentions away from commercial beverages and to a more artisanal phenomenon: the craft beer.
Not just for Wellington trendsetters, who were the big movers and shakers in the Kiwi scene during the mid-2000s, the desire for more flavourful yet equally thirst-quenching beers has made its way to the Bay in the past 18 months, with business booming in the sector.
"People are searching for something more – in their coffee, wine and food" says David Stanway, owner of The Hop House craft brew bar in the Mount. "They are choosing quality over quantity, seeking richer flavours."
The Bay currently boasts five breweries: Mount-based businesses Mount Brewing Co and Rocky Knob, Fitzpatrick's Brewing Co in Pyes Pa, Mata in Kawerau, and Croucher in Rotorua.
Mount Brewing Co, operating out of Brewers Bar, has been the longest running – starting in 1996, they made their own beer to service the front of house. But as the craft beer scene took off around New Zealand, managing director Glenn Meikle says it was time to explore other options and in 2013, Mount Brewing Co was launched.
"Back then, people were a lot more closed minded towards beer – it was, 'I drink Waikato or Lion Red', but now people are more willing to experience different things, as well as support local brands. It's a huge change."
What does he attribute to the growth in popularity? As well as an influence from the American market, who he says we are currently 10 years or so behind, and their "big beers – the IPAs and the APAs", an eye for detail goes a long way.
"The key for us is quality. We make the best we can and only supply to people who will look after the beer – store it properly, move it well etcetera."
On the team is brewer Steve Edkins, a former engineer with "very good tastebuds", who began developing their range. Their brews have been so popular that Glenn has since hired two more brewers, Tom Balland and Michael Bradford, and is currently in the process of expanding the brewery's capacity.
"We're at 6-7000L a month, but with this new equipment we will double that."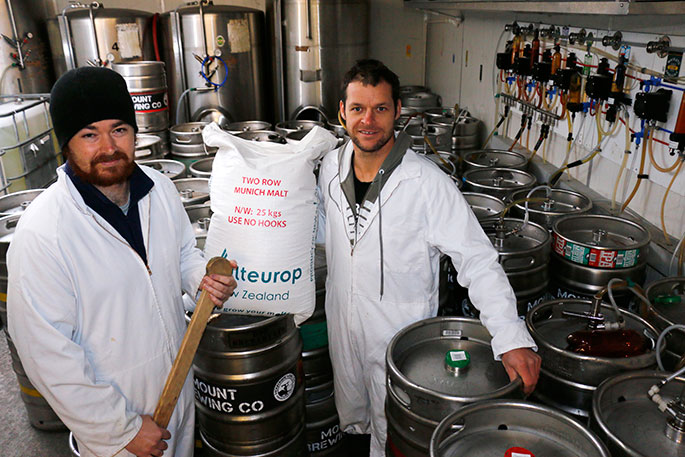 Tom Balland and Steve Edkins from Mount Brewing Co. Photo: Bruce Barnard.

He's not the only one feeling the demand: Stu and Bron Marshalls' Rocky Knob Brewing Company is based in Mount Maunganui and currently utilises spare capacity available in other breweries. In just under two years of operation, they are already looking to expand.
"The first of October hit this year, and everyone went crazy for craft beer," says Bronwyn. "Stu looked at our figures and we've had 100 per cent growth in the last 12 months – we are now looking for additional spots to contract brew from."
Homebrewer Stu, who works fulltime in forestry, had always dabbled in creating his own brews but it wasn't until he and Bronwyn lived in craft beer's second home, Nelson, that he decided to become a brewer before turning 40.
Although Bronwyn is a recent convert to the golden drop, she's become an active member of Rocky Knob team.
"I really enjoy being able to pick an aroma on the nose or flavour on the palate. More and more women are coming through the industry, which is great to see. I've been part of the brew – I'll help grind the grain and do the mash and things like that."
The pair are obviously doing something right, taking home a gold, two silvers and a bronze medal at the recent Brewers Guild Awards in their first year.
But despite being able to put a little gold label on their Snapperhead IPA, the craft beer scene in New Zealand, particularly the Bay, is anything but competitive, she adds.
"Communication and relationships are key. It's good to support local and help each other out – you know, if we have too much of one hop and we know that another brewery uses it, we'll ask if they need it, or if I'm doing a sales run in Auckland I see Mount Brewing Co has kegs that need taken back, I'll pick them up. It's just general collaboration."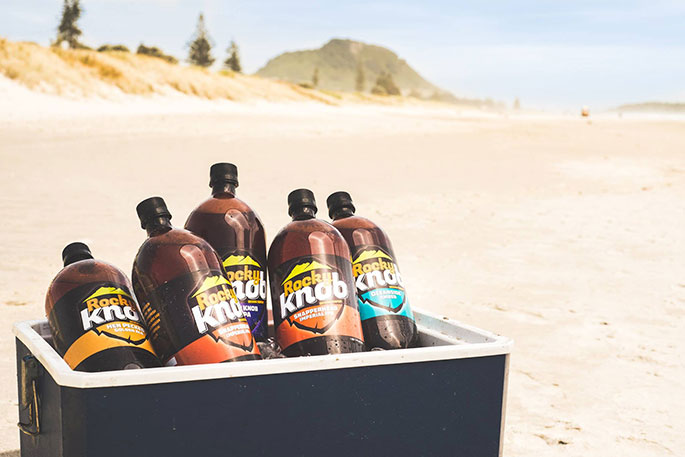 But while local breweries have the goods, they need a platform to sell and present it in. As Wellington bars look after locals first, the next phase of the Bay scene is to get more bars on-board – something that's slowly developing.
As Brew on The Strand, owner by Croucher founders Paul Croucher and Nigel Gregory, is dedicated to showcasing local craft brews, so too is David's Hop House. It's been a longstanding passion project of David's, to own and operate a specialist craft beer bar and in its first six months is reflecting a need for such a location.
"We've had four quiet days since June," he says. "A lot of business owners in the Mount are doom and gloom about winter, but if that's an indication of summer, I can only imagine it will get better and better."
One of David's primary focuses is knowledge – bringing both his own to the front of house and also brewers from around the country, who share their wisdom in his popular Meet the Brewer series. He also holds regular Brew Club nights, where local homebrewers can swap tips and learn new skills with likeminded people.
"Just to meet people that are doing something they love inspires others to follow their example. There's plenty of brewers who have left good jobs to do what they love and while it might not be a financial reward, I back that 100 per cent."
And with the Bay craft beer scene still in its development phase, no doubt there will be plenty of room for more homebrewers to get out of the garage and into the business.
"The Bay needs something like what we're trying to do," says David. "And it's only the beginning of what we can offer in terms of unique, craft beer events and experiences."
"Wellington really has a head start – they have more craft beer bars than commercial ones," says Bronwyn. "The Bay is just reaching that phase where everyone is starting to get behind it."
"It's an exciting time," adds Glenn. "It's hard to find good brewers so I tell ours, you know, hang in there, there will be plenty of opportunities down the track."
Subscribe to our weekly Newsletter
Email: