I heard that Carolie de Koster was running her cooking classes from her new kitchen in Omokoroa so I went along and joined in with the cheesemaking class.
It was the coldest day in July but possibly the warmest-hearted kitchen in the Bay.
The previous week she had been teaching children how to make Italian breakfast tarts with filo pastry.
Today we were going to be learning how to make ricotta, mozzarella, feta, halloumi and mascarpone cheese.
Carolie brought her culinary skills with her when she came to New Zealand from South Africa, becoming a resident in 2011 and just recently a citizen.
She and husband Adri have settled into the Western Bay of Plenty, with Adri designing their home to provide ample space for a training kitchen.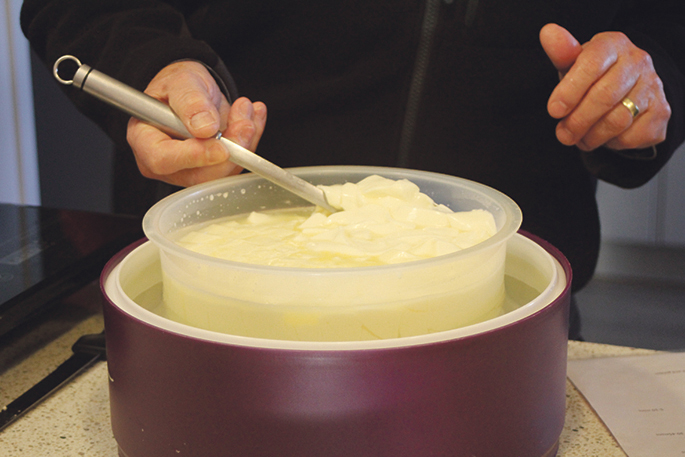 Previously a businessman, software designer and consultant, Adri has taken up cheesemaking.
And it appears, kitchen design.
"In New Zealand kitchens, often the microwave is above the oven," says Adri. "So if you have something hot you are reaching up to get out of the microwave, you could spill it." It made total sense. So did his methodical approach to cheesemaking.
Step by step, he and Carolie took us through heating milk using a thermometer, adding citric acid to make curds and whey, draining the curds and then stretching them gently into smooth-shaped mozzarella balls.
We start with full fat un-homogenised milk, and learn texture, heating, stirring and draining.
It seems surprisingly simple.
Ricotta means 're-cooked', and consists of slightly uneven, moist yet crumbly curds, separated from the whey. Carolie says it's the simplest cheese, easy and quick to make, and delicious for sweet or savoury use.
Carolie stretches the curds for mozzarella into two 'ropes' of cheese and proceeds to plait them before plunging them into ice cold water. Small portions of mozzarella are pinched off into small balls called bocconcini. She presents me with baby tomatoes and the bocconcini skewered with fresh basil and sprinkled with dressing. So delicious.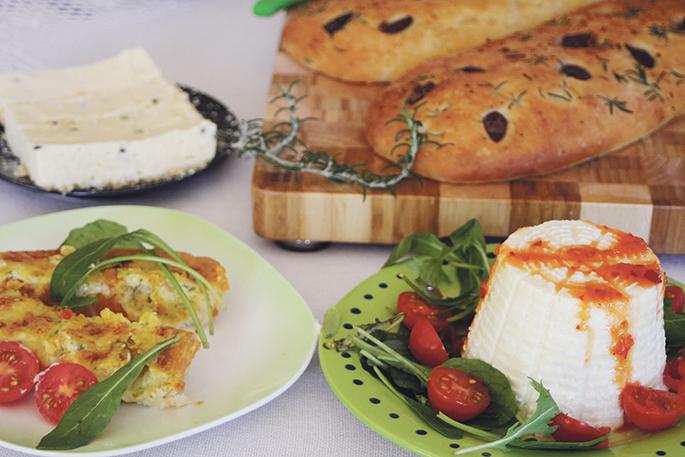 I didn't know feta can be made with cow's milk.
Four litres of milk make about 800g of feta. It's made in baskets, draining overnight.
The next day, it's salted by submerging in a deep container of brine.
Carolie has cheese kits available, including a vegan cheese kit. She also directs us to check out Mad Millie, the New Zealand website that has all the tools of the trade available.
Adri jokes about needing 'cheesesitters' if hard cheeses are made when he and Carolie want to go away for a few days.
Someone needs to babysit the cheeses, turning them daily while they're drying and maturing.
They've been running many cooking classes since arriving in New Zealand. The most popular so far have been Middle Eastern Marvels, Moroccan Cuisine, Winning Ways without Wheat and Gluten, Thai Temptations, Global Yeast Baking, Fun with Filo Pastry, and for juniors – three-day Holiday Cooking and Festive Biscuit Baking classes.
Carolie has written many recipe books over the years, including the 'Art of Cooking', a 1001 page cookery manual, published by Van Schaiks in 1998.
This book is a cooking bible, used for training in cookery schools, colleges and universities. She has also developed recipes for food columns in magazines, and for advertising for food companies.
Her magazine work has included writing articles on all aspects of running a guest house and doing demonstrations to improve the quality of catering in a guest house. As a lecturer at universities she taught event management and presented modules on 'food service in a guest house or lodge' for many years and wrote these sections in the hospitality books used for training. The information included design and lay-out of the kitchen, personal and kitchen hygiene, menu planning, food preparation, staff training and the presentation of meals. She's also designed menus for new restaurants and cafes.
There are many stories about the origin of cheese, and while we can't be certain about who made the first cheese, it appears that it came about by accident.
Legend has it that nomadic tribes carried milk in animal skin bags, possibly made from the stomach which contains the coagulating enzyme known as rennin. The galloping motion of their horses caused churning, separating the milk into curds.
Lightly salting the curds would have made a tasty, nourishing high protein meal.
The afternoon has warmed up. We stop to sample the various cheeses, with the dozen participants enjoying the warm winter sunshine and a coffee on the patio. Carolie has prepared extra dishes featuring the cheeses with roast vegetables, ciabatta bread and a simply scrumptious mocha-choc chip ricotta cheesecake.
Some in the class have come on their own, others have come with a friend, and it's clear there's a high level of enjoyment and interest.
Next it's on to mascarpone and halloumi. Halloumi cheese originates from Cyprus and can be made from cow's milk. This time we add only rennet to form the curds. It's ideal for grilling or frying to serve at breakfast or with salads and stir-fries.
One litre of cream yields approximately 625ml of mascarpone.
It's creamy and perfect for desserts and sauces.
I can't believe how easy it is to make cheese. It's a timeless art brought to life in our modern kitchens, fun and delicious.
Subscribe to our weekly Newsletter
Email: