Iain Bibby has a long rope as part of his bicycle kit.
"If anyone breaks down I can tow them," he says.
He is meaning the possibility of any 'Papamoa Cruiser' mobility scooter breaking down on one of their jaunts. Iain loads mobility scooters onto his trailer and takes the owners off to locations around Tauranga where they can go on a 'cruise' together.
They've gone from Bell Rd towards Paengaroa, and over to the Daisy Hardwick Walk.
He cycles along with them.
Alf Owen, age 92, is a keen member of the group.
"Ian's full of mischief," says Alf. "We've been out to Palm Springs, and over to Golden Sands. Over the tsunami bridge, and then come back to Santa Cruz."
Iain Bibby used to work as a special needs teacher at Goldfield's School in Paeroa and at a special needs school in Kea St, Rotorua.
"Before I retired I worked for Lifestyle Choices," says Iain. "I got people out and about and got a real buzz out of it."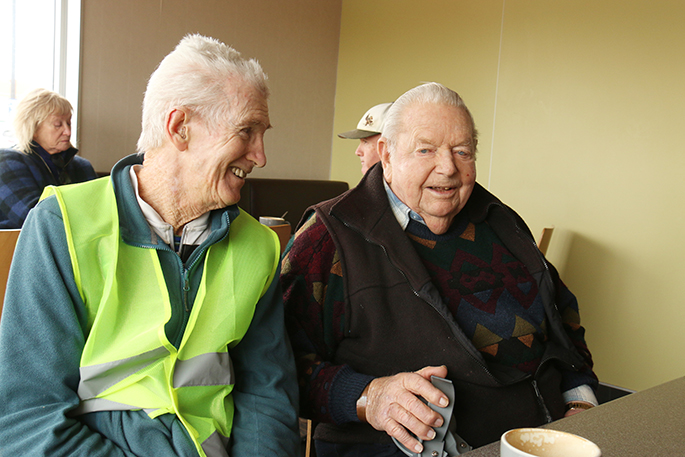 The idea of combining forces with Ian Birse happened across Facebook, when Ian Birse saw a message that Iain Bibby posted. Ian Birse has had his scooter since April.
"I can't drive," says Ian. "And I can't walk a great distance. I said to my daughter it would be really good if we could get some people together for a coffee and a chat. So she set up our Facebook group and then we saw the post by Iain Bibby in Papamoa Link."
Iain and Ian contacted each other, compared notes, discussed what they could do and where they could go and organised a 'meet and greet' in a meeting room at Papamoa McDonalds for other cyclists and mobility scooter users.
"The most I've had out on the trailer is three mobility scooters and five bikes," says Iain Bibby.
"We're getting to the stage now where it would be good to have somebody else with a trailer."
Papamoa Link, a Facebook group, has been a significant linking place for people finding connections and forming groups such as a young dads at home group, social dog group, young mums, surfcasting, a weekly running group and craft and help groups.
For those with reduced mobility, being able to connect and find others reduces isolation and fosters new friendships and opportunities.
Iain and Ian's groups have combined under the Facebook name 'Papamoa Cruisers'.
"It's better if we work together,' says Ian Birse.
"Yes, and coordinate things," says Iain Bibby
Subscribe to our weekly Newsletter
Email: