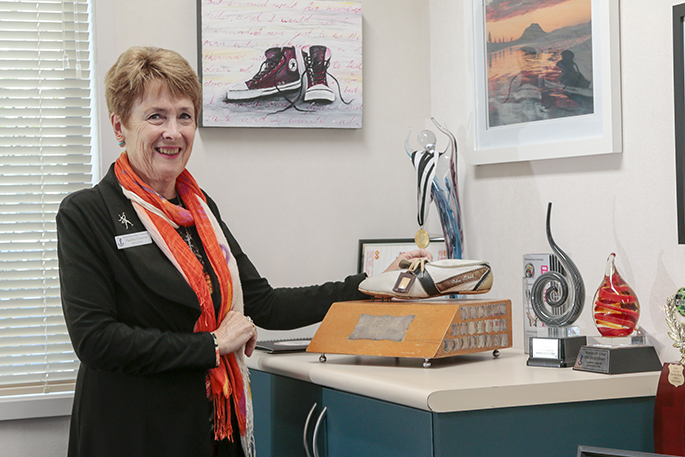 The question for outgoing Tauranga Girls' College Principal Pauline Cowens is not about retiring, it's about what's coming next.
And why she hardly has any selfies in her phone.
Outside of college she photographs everyone, everywhere. "On the weekend my grandson had to get me a storage device because I had 7000 photos on my phone."
Surrounding herself constantly with young, busy sporting people, when she does find herself in a photo, she wonders who the short person in the middle is.
Passionate about teaching, educational leadership and science, her stature though is huge.
So what is life like as a college principal?
"The joy of the job, and the thing I'm going to miss the most, is that every single day I come to school and other people have done things.
"I get the joy of that. And then I get the joy of fixing those who have made mistakes, because that's the other part of the job.'"
During her teaching career she found she has moved her practice into a more relational style of teaching.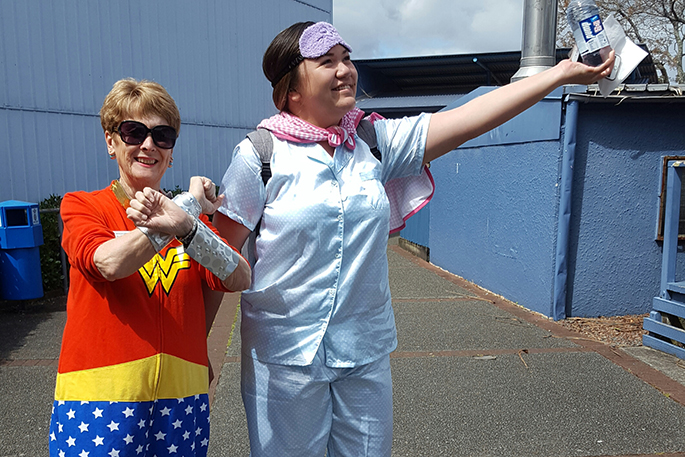 "I would prefer to have restorative conversations with students.
"For them to understand what they've done wrong. You need to have the whole climate for that."
Ahead of the school year starting, she began a practice of meeting with families of girls who would have found the education process challenging.
The conversation was "now you're coming to secondary school, this is going to be a whole new journey. What are you looking forward to here? How did it go at your last school? Starting here today you have 100 per cent attendance, you have 100 per cent achievement. Because you haven't started yet.
"So shall we see how much of that you can keep? I need to know what support you need to walk through the door every day. And you need to tell me what you need to change so the teachers will be pleased to see you."
There's a clear spark in her eye as she says this.
This positive and inspiring climate has nurtured some stunning achievers of which the college is rightly proud of.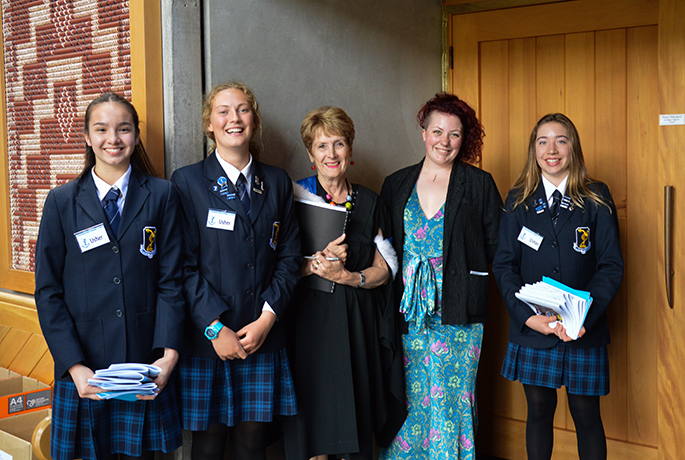 World champions. Top athletes and performers.
In one corner of her office sits Peter Snell's left shoe that he won the 1968 Rome Olympic 800m with.
He gifted it for competition with Pauline's old school Rotorua Girls' College and the two girls' schools compete for the shoe each year.
There's a fierce sporting rivalry between the two.
"The principal there said she wouldn't retire until they won the shoe back. On the 50th anniversary of the shoe I had a cake made identical to the shoe and took that across so she could retire. Our school is so strong in athletics, they'll never get the trophy back."
Every mufti day Pauline dresses up. This year she was Wonder Woman.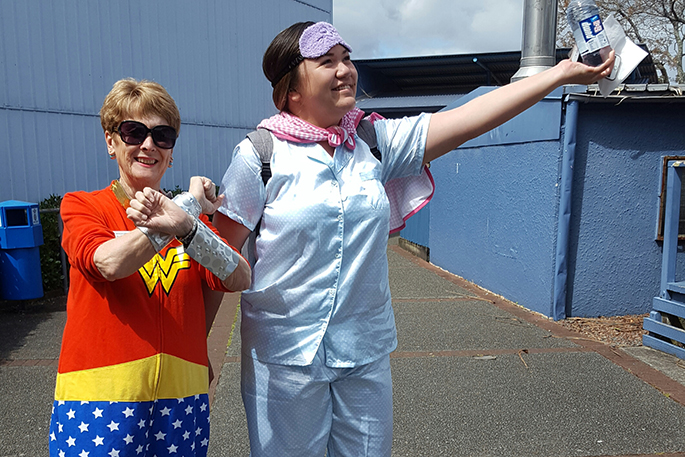 She also captivated the school by stalking out onto stage as Cruella de Ville at one of the arts prizegiving events and told the girls how dreadful they were getting her out at night to do a speech. Another year, she delivered a speech made up of 46 movie titles for the film-themed arts prizegiving.
Fun and pragmatic, she's built resilience and a robust quality into her girls.
"When you're planning your day, someone somewhere else is planning for you to have a different day. The girls all know that. They live by that. It's what I say."
Moving around her office, there's not one thing she can't tell a story about. A great fan of all her students, she's bought hundreds of pieces of their artwork over the years.
Entering teaching in her early 30s, Pauline was a later starter than most, having a family first and working in IT.
"I think it was the best thing, to have a break and do something else. The world is about learning. So you bring the world into the classroom."
Teaching in Auckland and Hamilton, her main subjects were science and biology.
Waikato Diocesan was her first return to a girl's school. Extra activities included rowing, netball and doing prep work at night with the girls.
"I had a real knowledge of every single student in the place.
"I loved that and did it for about five years."
Then the job at Tauranga Girls' College came up.
She stepped into the associate principal role in 1999.
"So I tell the girls I've been here since last century."
"I once spoke at the Royal Society conference on animal care in learning.
"I got up and told 120 lovely bearded medical men how there was no way on earth that
I could guarantee that Year 10 boys wouldn't cut the eyes off snails. At the end of the conference they put me on the Royal Society Board for the care of animals in research and teaching."
She was also secretary of the New Zealand Science Teachers Association and is a founding member of Tauranga's House of Science. She had to make the choice to come out of teaching into principalship.
"The thing I love most in the world is interacting with and building relationships with students. I'm a teacher, it's what I do."
Being a principal though has meant that Pauline has found she's had a lot more influence in the direction of learning.
And a lot more power to say how things should be structured.
Her daughter's booked her into a silversmithing course. She plans to make jewellery with double meanings.
"Like catastrophe would be a cat and a washing machine."
She's taking a lot of things with her into 'retirement'. Her love of playing, punning, photographing everyone and everything.
And language.
"The climate when I first arrived was where the girls saw me as the absolute authority and there are girls who are still terrified to come and see me. But I need to leave before I mellow completely."