"A banging new haircut can make you stand taller, make you puff your chest out a bit," says Faded Barbershop's Mike Perring. "It can change you in a million ways."
It's a quiet Monday moment before the daily influx of clients. Mike and I sit under Optimus Prime and Megatron spray-painted onto the back wall of the Cameron Road shop. There's a spacie machine next to the front door flashing sporadically while the sound of hip-hop fills the room.
A lone client stares into the mirror watching the barber weaving circles around him, snipping bits here, shaving bits there, pausing and meditating before repeating the process until perfection is achieved.
Faded observes the 'new-school' of barbering, which Mike explains features harsher, cleaner line-ups, higher cuts, longer hairstyles, and the practice of shaving designs and patterns into people's hair.
"Those'd be the main differences between the two schools," says Mike. "The old-school doesn't tend to do those styles, it's more about 'short back and sides'.
"We respect what the old-school offers, but we want to add that little bit extra. I trained in the old-school to learn the rules so I could break them. The new-school allows for more creativity."
Mike picked up the clippers five years ago, training at one of Auckland's barbering schools, but admits he really learned and honed his craft while working on the shop floor.
"I've always had a passion for cutting hair and just serving people in general I guess. It's also better than working with kiwifruit," he says with a laugh.
Come midday Friday and the shop is buzzing. Three chairs, three clients, three waiting their turn, three barbers going about their jobs diligently like synchronised swimmers with scissors and razors.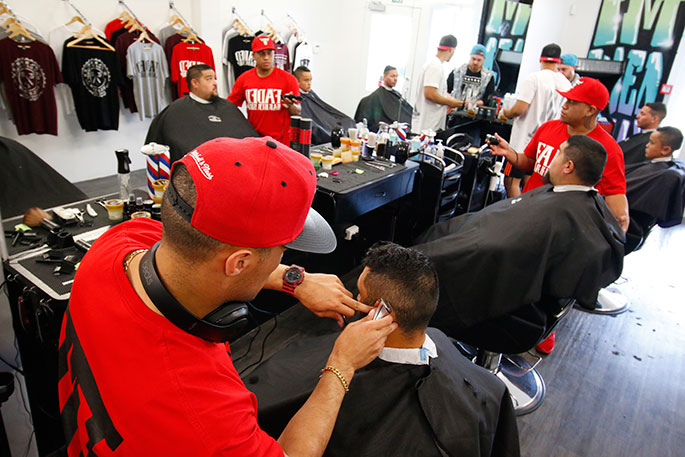 Since opening last year in December, Faded has built a solid clientele, mainly men, though they get the occasional lady who wants a shorter cut or side-shave and don't trust their regular hairdressers to do a good job.
The hair styles of the day clients request are largely influenced by hip-hop culture, sports stars, and musicians. At the moment, it's the 'slick back' and the 'new style comb-over', Mike says.
All sorts of people will wander through their door, he adds. On any given moment there'll be young'uns sitting next to old folk, road workers next to lawyers - Faded makes anyone look and feel like a million bucks.
"The ones that really get me are high school students. When I was at school my mum cut my hair and I never liked it. So when you cut their hair and they go 'yeeeeah I look flash', that's cool for me.
"The kids walk out the door differently, they speak differently, they hold themselves differently."
Subscribe to our weekly Newsletter
Email: