When I was nine, we moved from a dairy farm in Aka Aka, Waiuku to a citrus fruit orchard in Bethlehem. It was 1969 and I filled up my first film on my first camera with photos of the cows we'd left behind.
Another 'first' memory was my mother bringing my sisters and me into Tauranga City.
The big smoke. Downtown. She parked outside the Regent Cinema and we all hopped out. In our gumboots. I vaguely remember her being rather mortified as we were meeting visitors from Waiuku.
As a teenager Friday nights consisted of walking around the shops and ending up at The Down Under, a Spring St cafe. Located down an alleyway, I think near the Federated Farmers building, it was close to Bond and Bond on the corner, with Hannahs and Woolworths next door.
Sinel Francis pharmacy across the road. The heart of the city came alive on these Friday nights and I eventually found a holiday job working at Sticks 'n Stones, a Devonport Rd souvenir shop.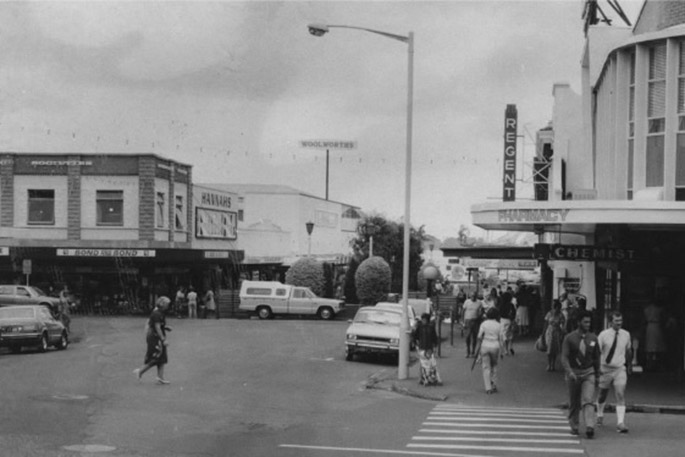 Tauranga's commercial core was consolidated mostly during the 1950s and 1960s with significant developments expanding the city centre and substantial commercial buildings constructed.
The multi-storey Bay Savings Bank opened in 1975 with the first escalator in the Bay of Plenty. Opposite was the Star Hotel.
The heart of all this was, in my view, the Regent Cinema. I tried to figure out where it once stood and found myself in 'Blur'.
I didn't realise it was an eye care shop as it was the oddities in the window that pulled me in.
Devon Palairet, the dispensing optician, was inside perched on his knees peering at his 21st century computer screen on his early 20th century desk.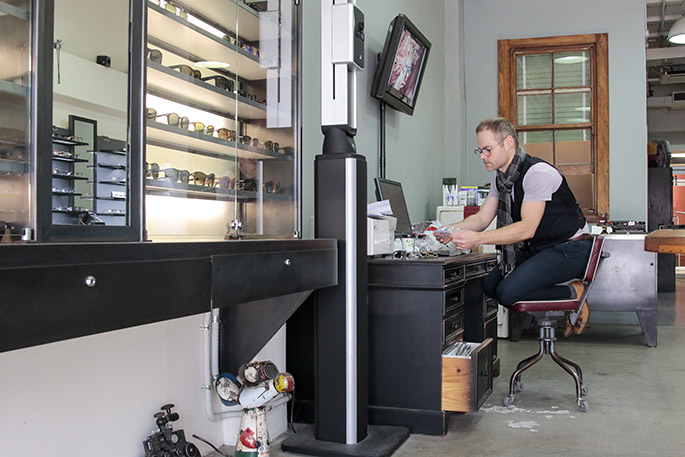 I was captivated by the many references to yesteryear and the old cinema. There are vintage cameras, an ancient phoropter, cinema seats, binoculars, and very old gold-filled, nickel and imitation shell spectacle frames encased within a box frame leaning against a wall.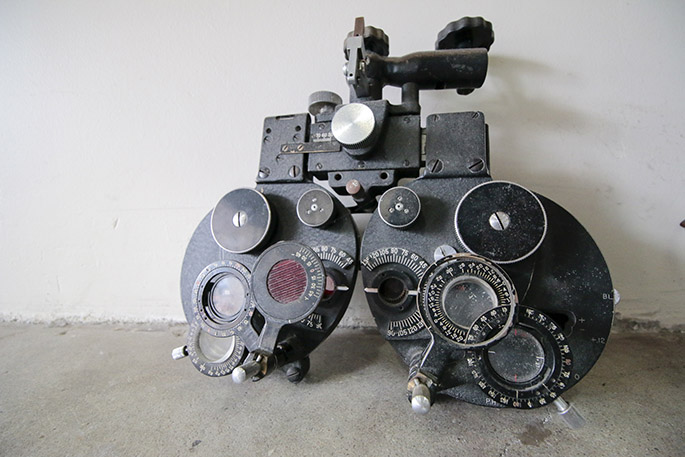 A table in the middle is made from a concrete mould from an old factory, an old plate from a boiler, and an arm off a grain silo. A cabinet at the back is from the old Wellington Post office.
"We could tell it was built in a different time with lots of character," says Devon. "We ripped everything out and left the shell behind because that was what was interesting."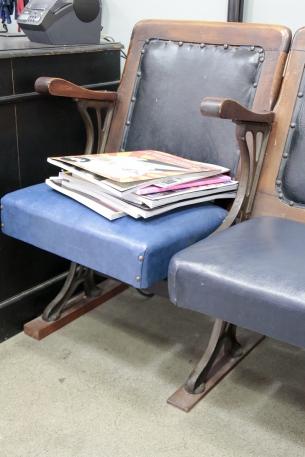 One of the main talking points is the false floor at the back of the shop.
"Down a metre underneath is a layer of the concrete floor. It was something to do with the cinema and the way you walked through."
I remember that I was originally on a hunt for the old Regent.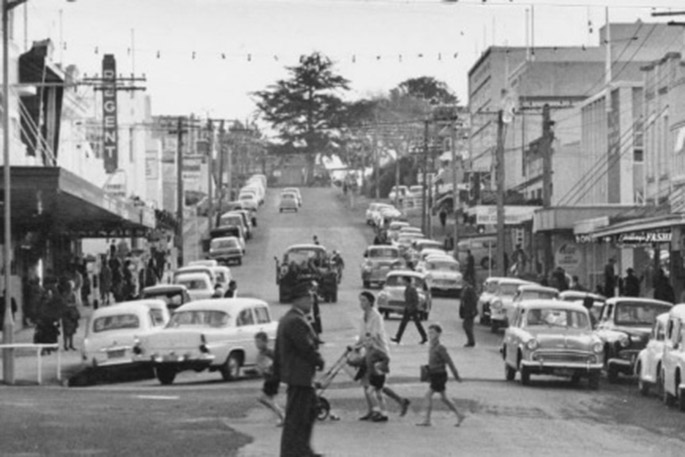 The Theatre Royal was the first theatre in Tauranga, built in Harington St in 1866, and showed 'living pictures', giving audiences a glimpse of Boer War troops, royalty and Maori gathering at Rotorua. Film became popular and a rival theatre, The Opera House, opened in Durham St. It later had a name change to 'Civic Theatre' and then 'The San Francisco'.
Robert Kerridge opened The Regent in 1929. Attendances increased every year, peaking in 1960, the year that television arrived in New Zealand.
The Theatre Royal was demolished in 1967, the San Francisco in 1971, The Regent in 1985, and Tauranga Town Hall in 1987.
The Tauranga Heritage Collection holds some of Tauranga's movie-going history with more than 2000 glass plate advertising slides, programme sheets, music cue sheets for silent movies, and hundreds of movie posters and stills.
Devon says there's something Michelangelic about the proportion of the space that Blur now inhabits.
"We just wanted it to have a human forever-ness about it. It was already old so it hasn't aged."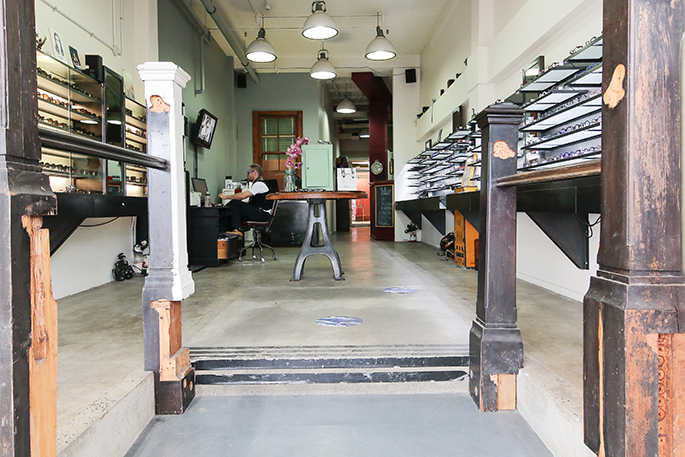 It all looks like it doesn't make sense. But it does. Perfectly. We pause and talk about an old camera and the conversation draws me back to early memories. Where have the cameras come from?
"There was a box of old cameras that a friend had," says Devon. "People come in, see them and tell us stories about their grandparents with their cameras.
"They leave their old cameras with us because they feel like it's a home for them."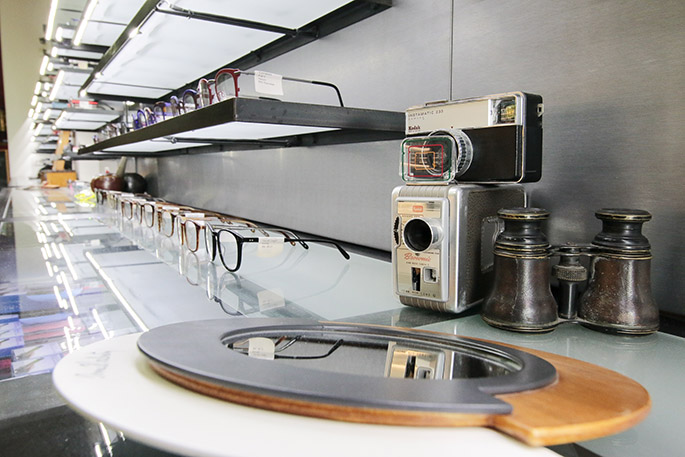 At the back of the shop is the consulting room and office where clients have their eyes examined by the two optometrists, Stuart Laing and Haidee Mannix. Stuart and Haidee bought the practice from Devon in 2014 and Devon stayed on.
"We all work so well together that it just kept rolling," says Stuart.
They started their Mount Maunganui practice at the Cruise Deck in 2015.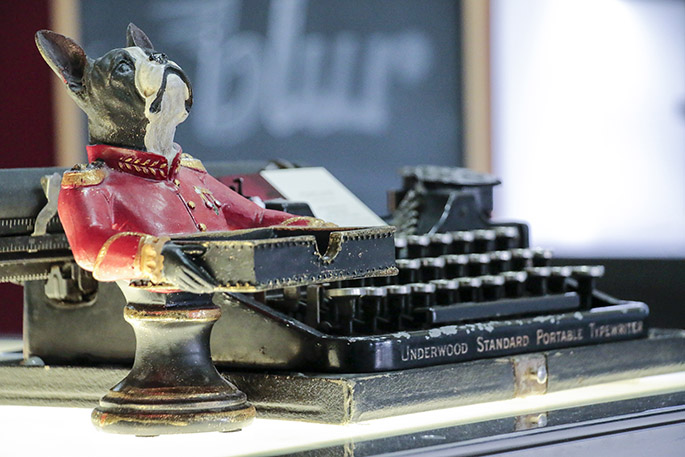 "Mum fossicks and drops in stuff that she feels fits with the space," says Stuart.
"She brought in the old collection of glasses." Near it is an old film dispensary.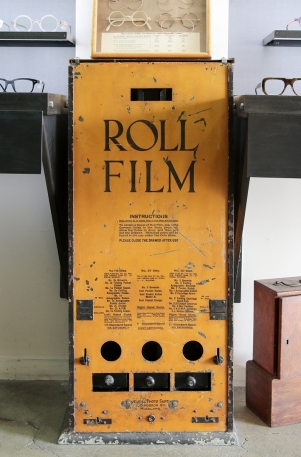 I remembered back to when it was possible to buy a film on the street outside a chemist.
Put your money in and get a film out.
I close my eyes for a moment and step back into childhood.
It's a soft and happy blur.