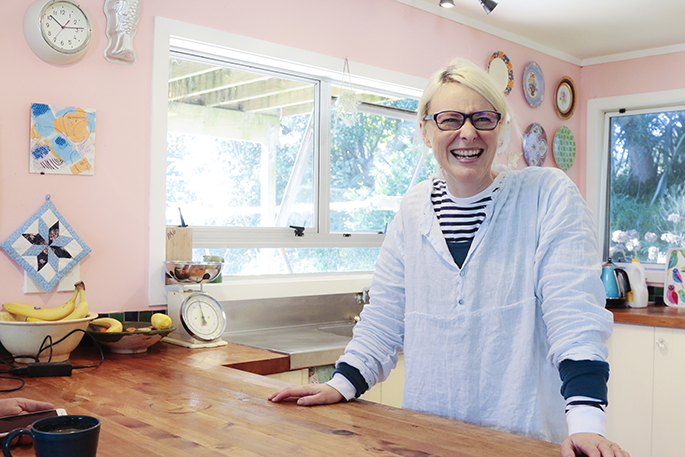 There's lots to love about Kate Bruning. Her kitchen is pink. There are swans heads floating out of platters on the walls. She has a large farmhouse table covered in a blue and white polka dot tablecloth. But it's her laughter while pouring a cuppa for me that makes me feel immediately at home.
Kate is famous around the globe for her crotchet art. Her online blog 'Greedy for Colour' is a rich tapestry of ideas, 'how-to-make' lists and creative rambling interwoven with interesting, comforting and sometimes random thoughts on things like the value of friendship.
She not only creates her art, but she sets out very clear step-by-step instructions with plenty of great photographs to guide any crotchet enthusiast to replicate her pieces.
Patterns, books and blogs – she's also had her work published in magazines. She runs tutorials on topics like 'how to crochet bicycle basket bunting' because, of course, all bicycles must have baskets and all baskets must have bunting.
And it's important to know how to crochet eyelashes to go on bears who read books.
Growing out of her bowls and plates are crocheted plants. "I kill indoor plants so I find this is a much better way to go for me."
I'm enthralled by Kate's whimsical viewpoint.
It's easy to lose an hour 'discovering' her crocheted toadstools, angel wings and rabbits. She lifts each one lovingly out of a box and, as she sets up the scene, whether it's a camping or beach tableau, the characters come to life, standing tall and carefree on the polka dotted table.
These treasures take you into a world of tiny crocheted canoes, surfboards, vintage caravans and even a Mr Whippy van. In the background – a crocheted cricket ball, bat and stumps.
Australian-born, Kate lives in a Whakamarama farmhouse with husband Jonno and sons Archie, 14, and Hugo, 11. Surrounded by lush paddocks, she refers to the large two-story blue barn they call home as 'Lego house', due to the additions made as each child arrived.
As well as family, a cat and a dog, there seem to be invisible zoetic personalities between the walls.
I get to meet Stanley the rabbit who travels in a hot air balloon. After awakening at the end of Kate's crotchet hook, he became world famous, gracing the cover of one of her books.
Another book 'Let's Go Camping! Crochet Your Own Adventure' was published by Kyle Books UK and features the crochet caravan as well as all sorts of camping elements such as the tents, ice-cream truck, and a lakeside cabin and has been translated into many languages.
"My great aunt and uncle taught me to embroider when I was eight and I have been obsessed with fabric and thread ever since", says Kate.
"I now crochet, knit, paint, sew, print fabric, embroider, write and all sorts of other things that raises serotonin. I am also lucky enough to design projects for Simply Crochet UK."
Another book 'A Day at the Circus' is a visual feast overflowing with crochet charm. You can make your own big top tent, a troupe of performing pups, a foxy ringmaster and more. Kate's in-depth tutorials packed with instructive photographs and whimsical scenes take the reader step by step through 52 pages and nine patterns to completion.
Kate works mainly in cotton for anything structural, followed by wool and especially alpaca for anything she would wear.
This opens up an exciting exploration of the hats and scarves she has created, and she displays her first crotchet jumper, made to someone else's pattern.
"I go through stages with colour. I make really bright scarves for myself. It depends. I went through a stage of being obsessed with these colours."
She dives into her wardrobe and pulls out more of what appears to be living colour.
This year Kate wants to sell her art pieces.
"That's been my plan, to do the paintings and start selling them as one-offs. I'm just slowly building it together. It requires lots of bravery. As I'm gathering my skills I gather my bravery and start thinking about where it would be good.
"It has been a year to develop my creativity. I've been so on the hop with doing things that I love doing, but it wasn't really stretching me. I started to feel boxed in by it. So by picking up the painting, the pottery, it's all refreshing me."
"I've decided to halt on the books for a little while.
"This year is about pushing creative boundaries.
"Next year I'm going to get back into pattern-writing again but probably releasing a lot more online." She has been writing a quarterly column for 'Simply Crotchet' which is 'Mollie Makes' sister magazine. She's also provided the odd pattern for 'Mollie Makes' too.
Travelling has taken her to England and Australia where she has run popular workshops.
"They're my favourite things to do. I just love them.
"And I would really love to be doing them in New Zealand and working out how to get everybody to come to me rather than me having to travel to them.
"Everything I do is simple, you just need to know the steps to get there."
Kate's website greedyforcolour.com links to the blog and books, and her Instagram @greedyforcolour is where photos of most of her work is uploaded.