Olive Love phoned me.
"I've got something you need to see."
I knew she had a dozen or so donkeys, a large St Bernard dog named Frodo and a tortoise named Yoda.
And a cat. I wondered what else she could possibly have, I was intrigued.
She rang back.
"I'm off to rescue a donkey, you'll have to come another day." Eighty-seven, she was off to adopt a donkey in Rotorua. I put my curiosity on hold.
Olive has walked her dogs through Yatton Park for many years. Aware that the trees carry plaques, she only realised one had gone when she saw the Lawson cypress it was attached to cut and lying on the ground.
"I can't tell you when I first saw the plaque. I've watched that tree grow."
Over the years the plaque had embedded itself into the bark. Made of a tough resin type compound it had withstood weather and the tree's growth, floating steadily upwards as the tree grew.
"I rang the council and asked if I could have the sign," says Olive.
"And the next thing it's here."
She was surprised to find it intact and delivered to her door complete with wire attached with which to hang it. We wondered when the plaque had been made and attached to the tree.
Known by tangata whenua as Te Tutarawananga a Tamatea-arikinui, Yatton Park was once the location of a pa site to which Nga Te Ahi, Ngati Ruahine and Ngai Tamarawaho have connections.
After the battles of Gate Pa and Te Ranga in 1864, gifts of land were made to Maori who had not fought against the imperial troops.
One of these, Hamiora Tu, who had guided the 68th Durham regiment to the rear of the pa, was allocated land in the locality. This land was bought by John Chadwick in 1867. By 1872 John and his son John Alfred had purchased most of the area between 18th Ave, Cameron Road, Church St and the Waimapu estuary.
The park's collection of exotic and native trees were mostly planted around 1866. A four-room homestead was built by the Chadwick family and at the foot of the bluff below, small steamers would draw alongside a
wharf.
Tauranga City Council has added large signs along the paths showing photos and text that tell the history of the area. It doesn't escape notice that the plinths may be acting as a sort of historical 'filler' while Tauranga continues without a museum. I realise it may be controversial to suggest that, but one does wonder. Olive breaks into my pondering.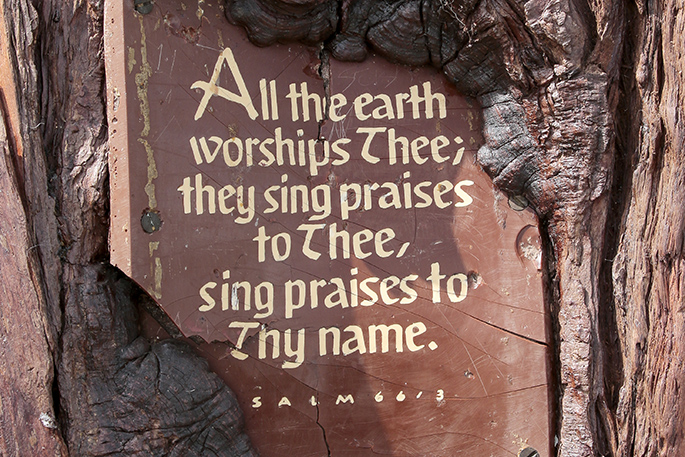 "The text on the plaque is wrong," she points out. She's right.
The text says it's from Psalm 66:3 but actually it's from verse four "All the earth worships Thee; they sing praises to Thee, sing praises to They name."
Olive would like to see the plaque go to a museum.
"I think we should have a museum here. There's a lot of conflict about that. But its history and it belongs. A museum should be here. "It's like restoring the Christchurch Cathedral.They should never knock it down. It's one of those things isn't it? We haven't got a lot of aged things.
"I think we definitely need a museum. Tauranga does seem to be leaning that way. We hope."
Olive was nine, living in Folkestone, Dover when the war started.
"They were bombing one of the cathedrals and you never get them back, that's the thing.
"I can remember going to a museum on the way home from school, and we used to ask to see the butterflies. There was a big Kodiak bear in there, it used to stand half way up the stairs. As kids we always used to go and have a look."
Yatton Park plays a commemorative role for the Tauranga district. Notable among the memorials are an olive tree for the war in Crete, Kate Sheppard camellias for the centennial of Women's Suffrage and gardens denoting the relationship with our sister cities of Hitachi, Yantai and San Bernardino.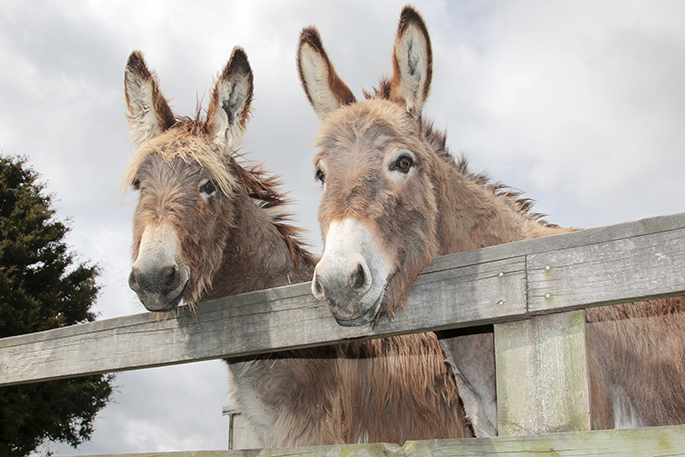 Olive tells me about her son Andrew and his wife Louise who are travelling through Europe.
"Louise does a wonderful blog each week called 'Roaming with Love'. It's absolutely lovely. All those beautiful buildings. They don't knock them down over there. All the cathedrals and castles and all those things, they look after them."
"This is why so many people troop around Europe," muses Olive. "It's full of history.
"Thousands of people do that."
She feels that the little bit of history we do have here we chop down and get rid of.
"For goodness sake what's wrong with people?" she asks.
"If I have to get to 87 to think things like that, well, don't take any notice of what youngsters think at the moment, when they get to a serious age, they'll agree with me."
"I think it's very important to look after our history. And tell stories of the past. And photos of the past. In a way I live in the past."
She laughs.
"How many donkeys do you have now?" I ask, distracted by the sight of them walking past.
"Fourteen."
I love these chats with Olive.