My sister Bev wasn't coping. We were in Taupo on a Friday night and she knew there would be garage sales the following morning but didn't know where.
Coming from the South Canterbury town of Fairlie, population about 1000, garage sales aren't as common an occurrence as they are in my neck of the woods.
When she comes up north the unspoken rule is she has to go garage sale-ing.
The local Taupo petrol station had run out of papers, so she was now looking on Google.
"Just type in 'Taupo garage sale' to Facebook," I said, typing it myself. Immediately up came a local group with 500 members. I asked to join.
"They won't let us join, we don't belong here," said Bev. "Yes they will," I responded, quietly perturbed, because if she doesn't get her garage sale fix we'd have to go to Rotorua early the next morning.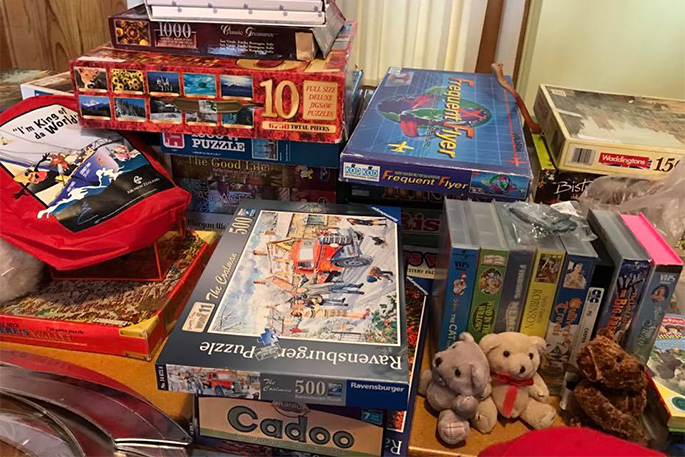 We were actually in Taupo to celebrate my mother's 80th birthday. I have four younger sisters, two of them live in the South Island, and two in the North Island. The two southerners were born in the same year and married men from Fairlie, both friends.
The two northern sisters are twins and married brothers. This may seem a little weird, but it's not, it's my family. When one of us has a birthday the six of us meet up and visit another town or city for a weekend.
Within minutes we were accepted into the Taupo Facebook group, and I asked where the garage sales were the following day. Immediately there were friendly replies.
Bev loaded up her phone's Google map and plotted the most efficient path to get us to as many as possible in the shortest timeframe. We were already deep into the strategy that is the Liddle family 'art of the garage sale' planning.
Importantly, she was happy. The next morning she was in the bathroom at 5am, hairdryer blowing, singing loudly. Another great strategy to ensure all six participants were awake and moving.
Did I say I love my sister?
Speed being our top priority, we all donned bright red wigs. It means a fast getaway from one garage sale or market to the next if we can spot each other easily through the crowds.
My sister Yvonne has a rule – no running. Being a triathlon athlete she doesn't seem to believe sprinting is running and so we pour out of the van only to find she's already chatting to the homeowner. Everything on sale is brand new, from a shop closure.
Yvonne nudges me. She's spotted something she really wants. Immediately I recognise the start of the distraction move. I play along, bemused. She ignores the item and picks up something else nearby and makes a point of holding it up high, looking inside and under it. She has the owner's attention.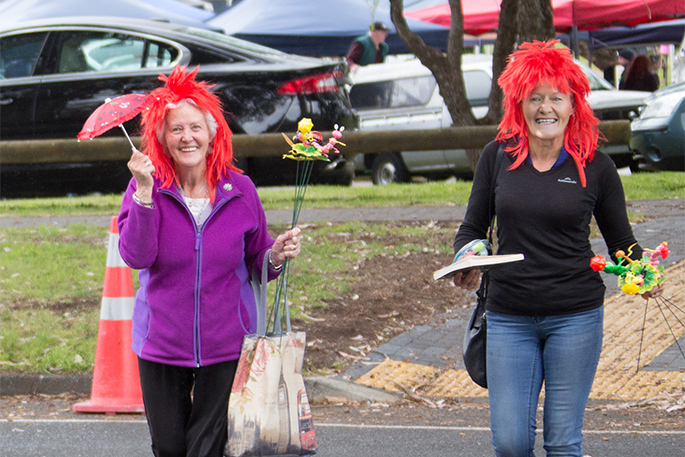 "How much for this?" Yvonne asks.
The owner replies. Yvonne looks a little dismayed but smiles and puts it down. She picks up something else at random.
'What about this?" The owner gives a price. Yvonne eventually finds her way to the object she really wants. Looking disinterested, she asks 'What if I buy this along with those?"
The owner pauses and ponders and comes up with a discounted figure for all three.
Yvonne mulls on that, I point out other things, and she says "Well I don't know. I think I'll leave it, thanks".
Immediately the owner makes another offer and Yvonne decides to just take the third item, the one she wanted all along. She gets it for about one third of the original price.
We're off again. I haven't bought anything yet.
We stop at three more places, arriving fast, spilling out of the van, aware that the owners are goggling at the wave of six red-wigged women race-walking up their driveways.
We come across one estate sale where family members are selling the personal treasures built up over a lifetime of someone they loved. I wonder how people part with what I like to think of as breadcrumbs that lead us to memories, but then one person's memory of their aunt or mother is not someone else's. We talk for a while about her life. She was an artist. I pick up some of her sketches, canvases and drawings and ask "how much?"
"You can just have them," the niece replies. I tuck them away in the back of the van.
It's an extraordinary feeling having something that was once an expression of another person.
We arrive at a church fair. Hundreds of people! I'm grateful for the wigs. One of the men on the barbecue flirts with my mother. Lots of laughter. The tables inside are a mass of colour and excellent bargains. I meet an author who has written a book about her brother. I buy it. Everyone walks out with bags full.
We leave behind a trail of chuckles and hilarity.
Garage sale-ing is more than just finding a bargain. It's time together laughing, and finding things that remind us of shared memories. And creating new ones.
Subscribe to our weekly Newsletter
Email: