How many ways can I say 'how marvellous'? I'm lost in the timelessness of the paintings of Susan Harrison-Tustain.
Transcended to another place and time; and awed, I find her work quietly astonishing.
Softly colourful and atmospheric, gifting me hushed moments, they also bemuse me with their sometimes gentle surrealism.
I find myself adrift in the overlays of light caught between the layers of paint.
How is that even possible?
Moving around the canvases, I find they bathe the room. Some are whimsical yet all are meaningful.
In fact deeply so, with hidden thoughts and suggestions that reflect the artist's inner unconscious desire to beckon us to touch our stilled hearts to time and show us the gift that is life.
The joy of viewing Susan Harrison-Tustain's newest collection of paintings is deepened on meeting the painter herself. She steps lightly through her kitchen with a floral caftan flowing around her; her soft auburn hair piled high into a French knot of glamorous waves.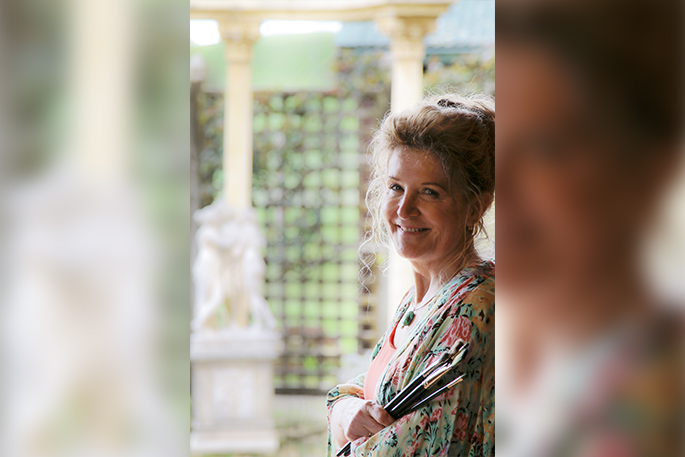 Asking her about life as an artist, her eyes soften with that well-known gentle smile seen in her books and online painting tutorial videos. She reflects on the immense joy that painting gives her and how nourished she feels by her idyllic country surrounds.
Susan has lived in the Oropi hills with husband Richard for about 20 years – their French-styled ivy-clad house elegantly placed with its rolling countryside view of Mauao.
"The house flows really well. It's a sanctuary. It has that lovely peaceful view over the hills, and so much bird life."
Driving into the road at the bottom of the hill, she says she feels like she's coming home.
"It's amazing. Going to your peaceful place."
It's from this pastoral space that her latest collection of paintings has flowed, full of imagination, and inspired by nature. And wonderfully, also by a newly discovered muse.
This divine inspiration is Alice Sea, who captivated Susan during a Tarnished Frocks and Divas event.
Alice's fluid movements as she swirls and allows the music to flow through her reflects a similar kindred free spirit fluent within Susan. Weaving sound and paint from brush to canvas, Susan has captured the dance musical moments in time, when golden music notes entwine with ivy leaves, and vibrations through tapping feet tremble the golden eggs in the soil beneath. Alice, inspired by earth, sky, and nature, has played this timeless quality into her own journey of sound, her music influenced by calypso, traditional folk, hip-hop and dub.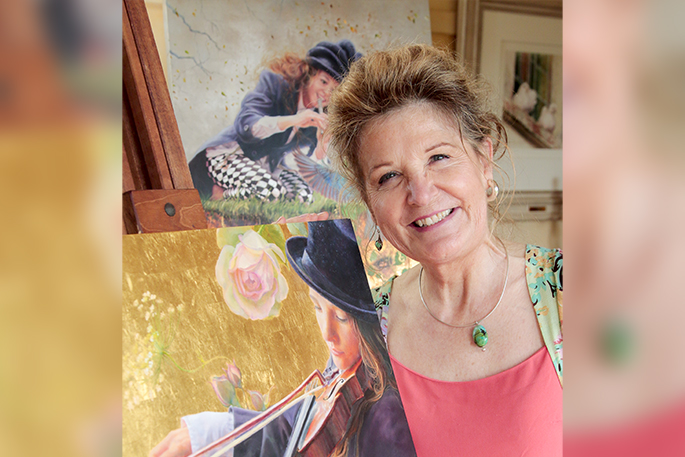 'Her Song', a painting of Alice with bow barely brushing violin strings, blends a gilded surround, a visual fusion of golden sound.
An anonymous quote Susan includes in her catalogue: "Music has the power to make us smile, and bring us to all types of tears. It can carry us back in time, and inspire us to dance in the moment.
"For all our happiest days, and our saddest, there is music."
During the exhibition, Alice will be playing her instruments, evoking and weaving the sense of captivating atmosphere that emanates from the collection of artworks.
Susan's fascination with this passing of time is supremely reflected in 'Tempus Fugit', a miniature oil on palladium leaf painted on a poplar wood panel. A perky fantail perches on a pendulum-swinging fob-watch, oblivious to its precarious predicament.
'Will the last thread of the fraying twine unravel before we open the doors of the gilded icon frame so she can discover the freedom to fly with the beat of her own wings?' is the question posed in the exhibition catalogue.
"To be able to fly to the beat of your own wings, that's a really important thing," says Susan. "For me painting is so exciting, and it's such a thrill.
"I get withdrawal symptoms if I can't paint."
Her oil on 24-carat gold leaf and palladium leaf on poplar wood panels, or on Belgian Linen, open up the beautiful spaces in her spirit that Susan inhabits. They are truly and simply beautiful, and full of sustenance for a tired soul.
Innocence, imagination, nature's moments and the beauty of childhood waft through further scenes that offer quiet introspection.
Susan is a master of both oil and watercolour.
Klimt's use of gold leaf in his paintings has resonated with her, and she has devised her own techniques, combining the use of gold and palladium leaf with oils to develop these unique works.
Her 2017 exhibition of paintings, titled 'Gilded Edge – A Celebration of Gold and Colours' has already generated much anticipation. Renowned internationally, she has foreseen the considerable interest that will be generated by providing two opportunities to view the new works. The first is in Auckland, at Mahoenui at Coatesville, with 2010 New Zealander of the Year Sir Ray Avery officially opening the exhibition. The second is in Tauranga at Design on James in Te Puna from October 21-22.
Subscribe to our weekly Newsletter
Email: